After caucus catastrophe, Buttigieg wins most Iowa delegates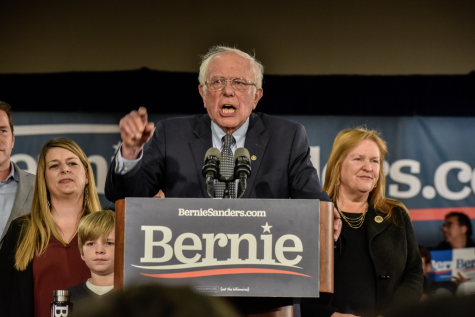 Updated 02/10/20 at 9:27 a.m.: On Sunday night, the Democratic National Committee announced South Bend, Indiana Mayor Pete Buttigieg won the most delegates in the contentious Iowa caucuses.
Buttigieg took 14 delegates, followed closely by Sen. Bernie Sanders (I-Vt.) with 12, Sen. Elizabeth Warren (D-Mass.) with eight, former Vice President Joe Biden with six and Sen. Amy Klobuchar (D-Minn.) with one.
The Sanders campaign is expected to request a partial recanvass of the final results by the Iowa Democratic Party after voters pointed out inconsistencies in the final tally, as reported Sunday, Feb. 9 by The Hill.
Because of the muddled results, some media organizations, including The New York Times and the Associated Press, have refrained from officially calling the race.
Updated 02/05/20 at 2:01 p.m.: Two days after technical difficulties delayed results from the Iowa caucuses, only 75% of the 99 precincts have reported results. South Bend, Ind., Mayor Pete Buttigieg is in first place with 27% of state delegates, followed closely by Sen. Bernie Sanders (I-Vt.), who has 25% of state delegates. The race is still too close to call.
In third place is Sen. Elizabeth Warren (D-Mass.) with 18% of state delegates, followed by former Vice President Joe Biden with 15% and Sen. Amy Klobuchar (D-Minn.) with 13%.
Check back here for more updates. 
DES MOINES, IOWA—The Iowa Democratic Party was left scrambling Monday night after reporting errors delayed results from the Iowa caucuses hours after precincts finished voting.
After contentious conference calls among several of the campaigns and state party officials, the party announced 1 a.m. Tuesday they would release caucus results later that day after hand-checking data. Earlier, party officials said the delays are not the result of a "hack or an intrusion."
Rather than wait for the results to be announced, one by one the candidates addressed crowds of supporters, then raced to New Hampshire to begin campaigning before the state's Tuesday, Feb. 11 primary.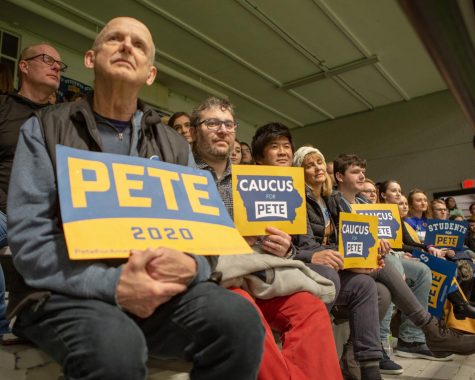 "For months we've been having rigorous debate about the course of this party. And tonight, Iowa chose a new path," said former South Bend, Ind., Mayor Pete Buttigieg, the last to deliver remarks, at an energetic post-caucus rally at Drake University. "We're going on to New Hampshire, on to a new country and on to chart a new course for this nation."
Before Buttigieg took to the stage around 11:20 p.m., supporters standing on a riser behind the podium chanted "Boot-edge-edge" and "We love Pete" on-and-off for more than an hour.
Despite knowing how just 1.9% voted, many of the candidates touted success in their speeches.
"You probably heard we don't know the results, but I did not want to let another minute go by without thanking all of you," said Sen. Amy Klobuchar (D-Minn.), who took the stage at the downtown Marriott about 9:30. p.m., becoming the first candidate to speak. "We know there's delays, but we know one thing: we are punching above our weight."
In their addresses, candidates also reaffirmed what many Democrats identify as the ultimate goal — beating President Donald Trump.
"This isn't just another election," said former Vice President Joe Biden at a Monday night rally in an anxious Drake University room. "I'm ready to give him a new nickname — former President Donald Trump."
Hundreds of enthusiastic supporters waited for Sanders to appear at a Holiday Inn by the Des Moines airport. When he eventually did, at 10:45 p.m., the crowd interjected roaring cheers between every sentence.
"Together we will defeat Donald Trump, but we're going do more than that," Sanders said. "Our message to Wall Street and the insurance companies and the drug companies and the fossil fuel industry and the military-industrial complex and the prison industrial complex — our message to them is, 'Change is coming.'"
For several months, Sanders and Biden have led in the polls to win Iowa's 56 delegates, with Warren and Buttigieg not far behind in some polls.
In a room overflowing with spirited supporters cycling through campaign chants, Warren appeared onstage at 10 p.m. Monday at her after-caucus party.
"Tonight, as a party, we are one step closer to defeating the most corrupt president in American history," Warren said. "Tonight showed that our path to victory is to fight hard for the changes Americans are demanding — changes that Democrats, Independents and Republicans are demanding."
By 10 p.m., no results had been reported. At the same time in 2016, 90% of the results had been reported.
According to POLITICO's Elena Schneider, precinct chairs in Polk County, where Des Moines is located, were instructed to take photos of the results on paper and text them to the Polk County executive director, who would then drive them to the offices of the Iowa Democratic Party.
MORE: Polk County precinct chairs are being advised to take pictures of the results and text them over to the Polk County executive director, who is driving them to the HQ, according to a Democratic operative familiar with the situation

— Elena Schneider (@ec_schneider) February 4, 2020
The botched results were not the only surprise of the night. At Precinct 38's caucus in a Drake University fieldhouse, Buttigieg, Sanders and Warren were the only viable candidates — garnering at least 15% of the 402 people present — leaving dozens without a candidate. Rather than realign with the three viable choices, the non-viable caucusgoers banded together to vote for Sen. Cory Booker (D-N.J.), who dropped out of the presidential race Jan. 14.
The move won Booker one delegate from the precinct, while Sanders and Warren took one delegate each and Buttigieg took the remaining two delegates to the county convention.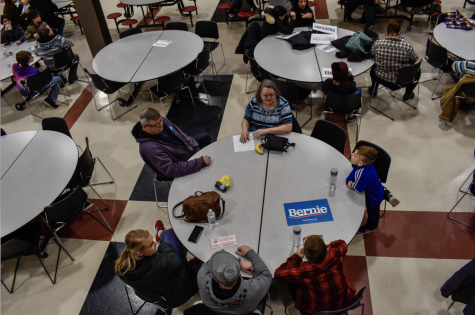 Part of the rush to New Hampshire has to do with many candidates losing time on the campaign trail this past week to sit in on the conclusion of Trump's impeachment trial in the U.S. Senate.
Tweeting from Washington, D.C., Trump counted the Democrats' reporting failure as a win for him. Trump won 97% of Republicans' votes in the Iowa caucus, with former Illinois Congressman Joe Walsh and former Massachusetts Gov. Bill Weld each taking 1% of the total 32,320 votes.
Big WIN for us in Iowa tonight. Thank you!

— Donald J. Trump (@realDonaldTrump) February 4, 2020
Additional reporting by Dyana Daniels, Isabella Eliopulous, Mateusz Janik and Lauren Leazenby.