Columbia offers new High Deductible Health Plan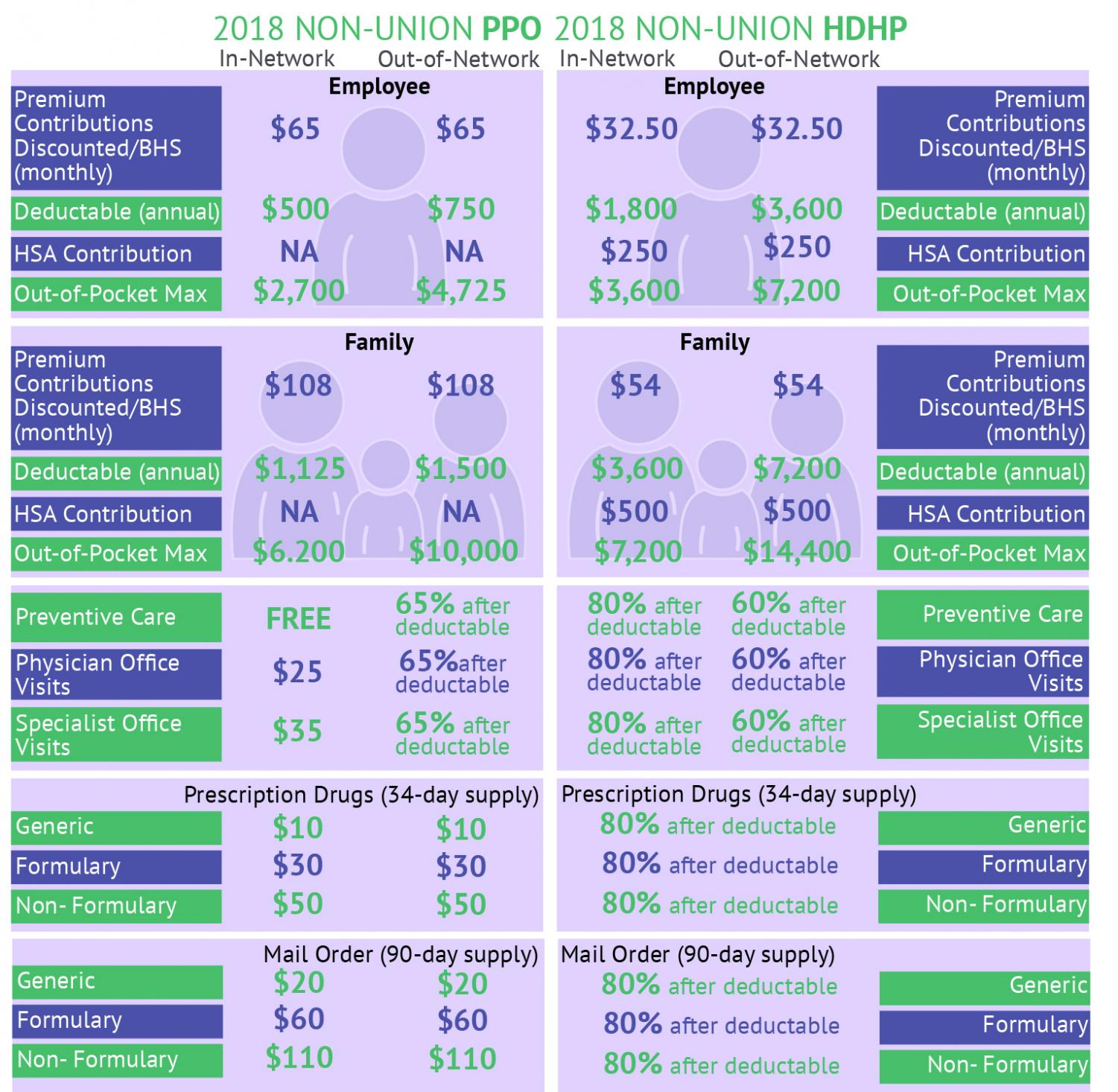 As Columbia prepares to increase non-union faculty and staff cost for its most popular health insurance benefit plan, the college is offering an alternative with lower premiums but costly plan options. 
The new choice, titled a High Deductible Health Plan, has faculty pay more expensive deductibles before insurance groups begin paying for various medical expenses—$1800 for single faculty and $3,600 for families—for services provided by an approved medical network.
The plan is combined with a Health Savings Account that lets employees save for uncovered costs with payroll deductions to a tax-advantaged account. Employees can, but are not mandated to, annually contribute $3,450 for single-employee coverage and $6,900 for family coverage.
Single faculty would pay $32.50 per month and families $54 but would also receive a Health Spending Account contribution of $250 for singles and $500 for families from the college annually. 
However, the most popular plan from previous years will cost single faculty $65 per month, up from $50 in 2017, and $150 for families, up from $82.50. 
This Preferred Provider Organization plan from BlueCross/Blue Shield of Illinois also includes a $500 deductible —up from $250 in 2017— for single faculty and a $1,125 deductible —up from $750— for families on services from a preferred medical network.
Employees will be able to enroll in the new High Deductible Health Plan for 2018 from Nov. 1–17 and can learn about the new plan at educational forums, according to associate vice president of Human Resources Norma De Jesus. 
The new plan comes on the heels of benefit reductions in fall 2016 as well as a spring 2017 increase in premiums, deductibles and out-of-pocket maximums in Columbia's Blue Cross/Blue Shield Preferred Provider Organization health care plan, as reported Sept. 26, 2016, and April 17 by The Chronicle.
De Jesus said the new plan is part of a five-year effort to assess benefit offerings and align them with market trends. She said she is unsure what the college's health care will look like in five years. 
"We are hoping that if employees take advantage of this plan and reduce their health cost and need for health care, that overall our health-care expenses will go down," De Jesus said. "If I take advantage of the plan and it costs less overall and I use it less, there will obviously be both cost savings to the college and to the employee." 
Keith Kostecka, associate professor in the Science and Mathematics Department and chair of the Faculty Senate's Financial Affairs Committee, said he understands why the college needed to make a change amid uncertainties in the health-care industry, but he is unhappy about how the new plan will affect his finances. 
"Everybody has to realize among the full-time faculty that there are going to be some changes to our health care and they are going to lead to, effectively, what one might term a reduction in our overall pay," Kostecka said. "It might not really come out of our pocket at this time, [but] with changes in our health care, we are going to have to pay more for similar services or for the same service we had." 
Kostecka said he was upset with the higher deductible cost, but he and his family will have to rely on it for coverage because it is the best they can access. 
"I need to have, for some of my medical issues, doctor visits, and the idea of paying a higher deductible is going to very problematic for me," Kostecka said. 
Out-of-pocket maximums, the most employees have to pay per year before insurance companies cover all costs, are also higher in the HDHP than the BCBSIL PPO Plan. Maximums for individuals on the 2017 plan are $2,700 for in network and $4,725 for out of network while families pay $6,200 for in network and $10,000 for out of network. 
For the HDHP Plan, individual maximums are $3,600 for in network and $7,200 for out of network, while family rates are $7,200 for in network and $14,400 for out of network. 
Elizabeth Davis-Berg, associate professor in the Science and Mathematics Department and parliamentarian in the Faculty Senate's executive committee, said faculty members have expressed dissatisfaction with the new plan costing hundreds of dollars more out of pocket for the same coverage, but they will take it because it is the best or only plan they can access. Davis-Berg added that she thinks the new plan makes Columbia's health care resemble other local colleges' plans more, but she still has reservations about how it will affect her finances. 
"It's not that the benefits are changing, but your take-home every month, if it goes down because your benefits have become more expensive, it will feel like a pay cut and that's a problem, and I think that will affect people's attitude toward things," Davis-Berg said. 
De Jesus said the college will maintain the BCBSIL PPO Plan to allow faculty to choose their most cost-effective option. 
"If any particular person feels that this plan is not to their benefit, they have the option of maintaining the current benefit coverage they have now," De Jesus said. 
Kostecka said although he cannot tell how the plan will affect the specific situation of every faculty member, he can see why faculty members might be concerned about how the new plan could impact their finances. 
"Overall, this is a reduction in our compensation and I do not see anybody that this will necessarily benefit in the short or long term," Kostecka said. "I see it as a necessary step by the college in making our health care the best it can possibly be."