Pitchfork festivalgoers sprawl out across Union Park's grass fields; some gather in groups, enjoying drinks on picnic blankets, while others dance as the first day of the festival kicks off with performers playing across three stages.
Union Park hosts the 17th annual Pitchfork Music Festival in Chicago's West Loop neighborhood. Since 2006, the festival has brought music fans together to celebrate and enjoy a diverse set of artists. From hard rock and rap, to reggae and electronic, Pitchfork curates artists that keep its attendees coming back.
Baltimore-native artist Nourished by Time, also known as Marcus Brown, performed the festival's first set on the green stage Friday afternoon. This being their first time performing at Pitchfork, Brown said the mood of their set was "confident." 
During their set, they noticed some fans in the crowd singing along. "I think I'm still kind of figuring out my audience," they said. At the beginning of this year, they went on tour with the London-based band Dry Cleaning, and will be going on tour with Vagabon this fall.
Jake Kleinbaum, who manages jazz/soul artist Contour, said he's excited to see The Smile and King Krule this weekend. "I've enjoyed Nourished by Time," he said, reflecting on today's performances. "I've seen [Brown] play a bunch before. But I feel like he had a lot of commentary and that was pretty fun."
In between songs, Nourished by Time cracked a joke about the downsides of his time working at Whole Foods where he wiped down shopping carts during the pandemic. 
When the evening performances kicked off, many attendees made their way to the next sets, grabbing spots in the front row. 
As Ric Wilson introduced his set, Shilpa Balaji, from London, sat on the grass, enjoying food.  A first-time Pitchfork attendee, Balaji said, in terms of festivalgoers, Pitchfork is "a lot whiter" than other festivals she's attended. 
Balaji came to the festival with fresh eyes, having only been familiar with Leikeli47, one of the Friday evening performers. Earlier in the day she had played Wilson's music for the first time and said it's energetic. "I like that there's personality to it," she said. "He brings himself to it."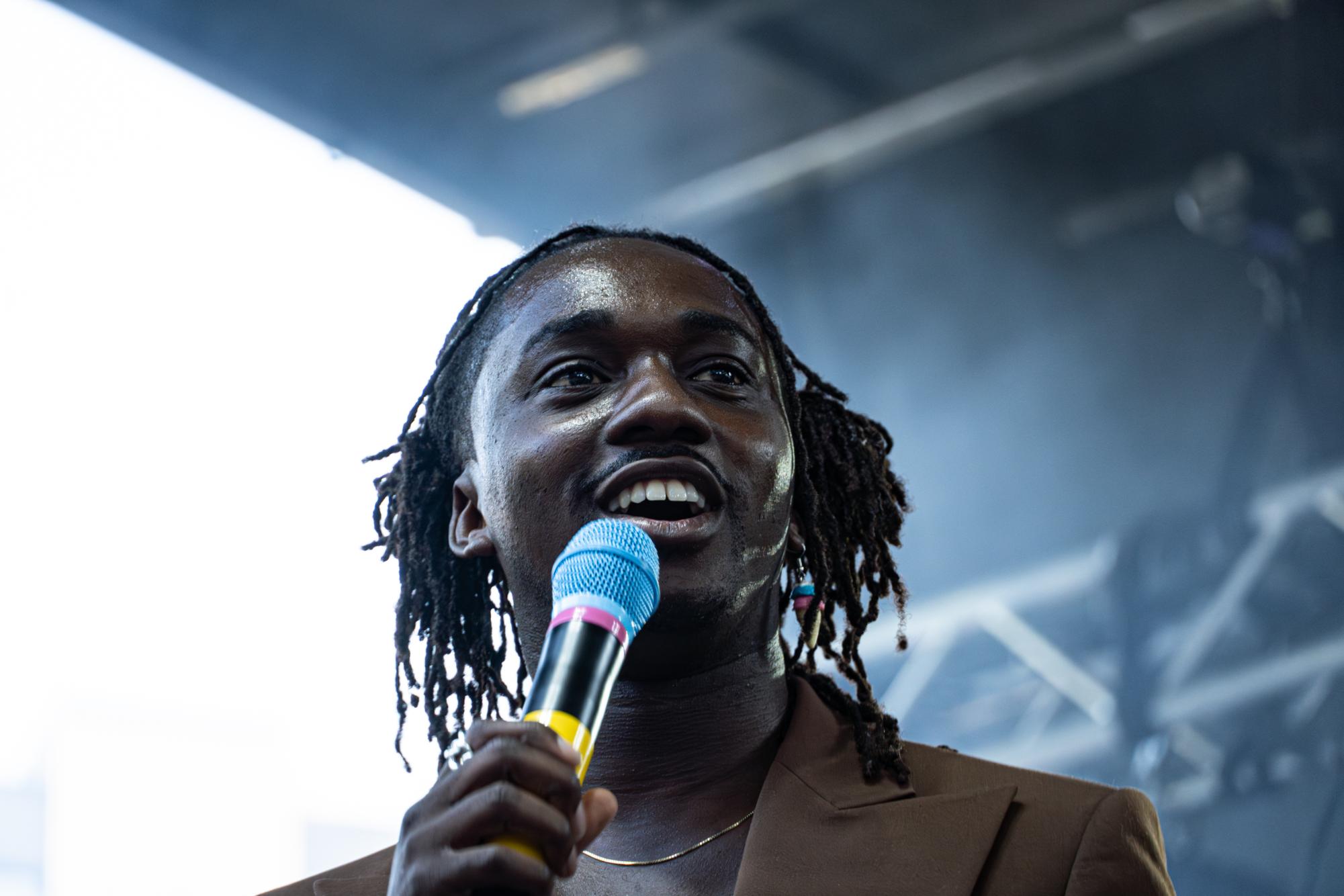 Ben Lipka from Chicago said they really enjoyed the brass instrumentation in Wilson's performance. "The set was insane; they had three giant disco balls. I just really liked the funk elements; it was super cool," he said.
Pitchfork's first day will be closed out with artists Leikei47 and The Smile; and as the sun begins to set, crowd members move closer to the stages while others exit early to rest for tomorrow's set.  Chicago-based band Deeper is scheduled to open in the early afternoon. 
"I just want as many people from as many walks of lives to vibe with the music together," Brown said after their set. "They're welcome; anyone is welcome."