Dark academia: It's not just argyle sweaters, oversized blazers and Harry Potter glasses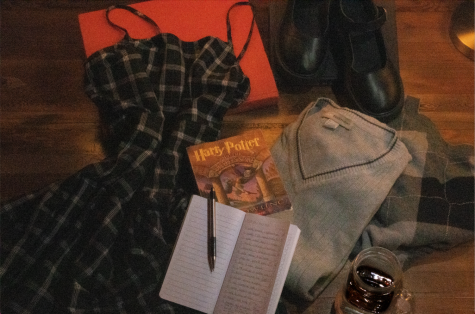 Editor's note: This article is from the Communication Department's award-winning Echo magazine.
Sipping a cup of Earl Grey tea on a rainy day. Reading John Keats by candlelight. Wearing a Draco Malfoy-esque outfit to the grocery store. This moody aesthetic, known as dark academia, can create a portal back in time to the British romanticism era. 
The dark academia subculture, which flourishes on Instagram and TikTok, emphasizes an appreciation for education, self-discovery and the quirkier details of life.
Its aesthetic goes beyond argyle sweater vests and oversized blazers. Holly Errington, owner of the dark-academia Instagram account @stardustville, says there are modern-day locations  enthusiasts can visit, also. To get that edgy, private-school student vibe, she suggests visiting art galleries and museums — even graveyards, if you're feeling extra.
Carol Menegatti uses photos to document her life on her dark academia inspired Instagram account, @thesecretacademia. Using a dark color palette, she captures details ranging from the texture of her loafers to the brush strokes in a painting to the fluidity of her cursive penmanship. 
"I consider art and literature to be the central pillars of dark academia," she says.
A major Harry Potter fanboy, Michael Levandoski says that as a kid he wore similar glasses to Harry's and dressed as him for Halloween.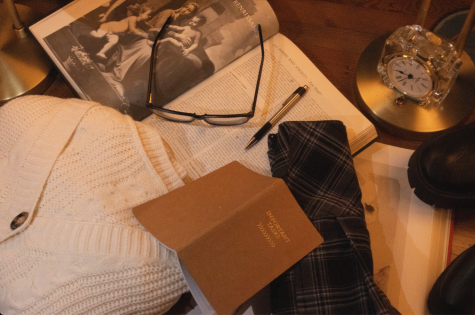 "As I aged, my overt fanboy-ish love for the series melded into my style, and I loved the dark colors of [the books' characters' clothes]," he says. "The general, magical whimsicality of the universe has always been something I've tried to think about in my day-to-day life."
Sydney Decker curates mood boards inspired by dark academia for her Instagram followers. Decker, whose account is @myfairesttreasure, says that vintage clothing pieces are at the forefront of the aesthetic — in short, anything with the feel of a 1950s boarding school. 
"Literature is mostly emphasized within the aesthetic, and I enjoy reading classic literature and other literature that's involved with dark academia," she says. She particularly recommends the mystery "The Lake of Dead Languages" by Carol Goodman, which is about a student who leaves boarding school after a roommate dies, only to return as a teacher and see the past repeat itself. 
"I would also recommend journaling, especially with a fountain pen," Goodman says. "Writing with one initially was certainly difficult, but became enjoyable once I got the hang of it."
As niche as the dark academia aesthetic may sound, its appeal stems largely from its accessibility — all you really need is to have an appreciation for the arts, learning and its process. If all of these pointers sound like interests right up your alley, perhaps now is the time for you to dive into the exciting world of the dark academia aesthetic; it's just one hashtag away.
You can read the entire 2022 issue of Echo, as well as previous issues, on our website.