Danny Fenster encourages Columbia graduates to 'make art your sustenance before your income'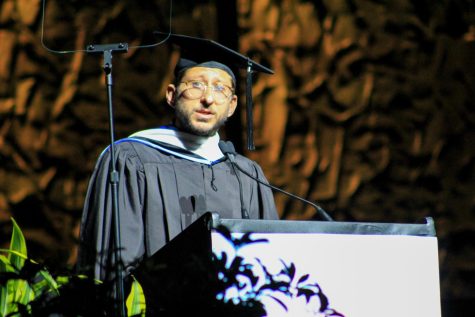 When Danny Fenster was studying journalism at Columbia more than a decade ago, he recalled reading three newspapers a day in the orange hallway on the second floor of the 33 E. Ida B. Wells Drive building. He said there used to be different newspapers available for students to read such as The New York Times and The Wall Street Journal.
Access to those newspapers may have played a role in inspiring his worldview and future vocation. On Saturday, it was Fenster's turn to offer words of inspiration to Columbia graduates.
Fenster received an honorary degree and congratulated Columbia's graduating class of 2022 during his address at the commencement ceremonies at 10 a.m. and 2 p.m. May 14 at the Auditorium Theatre, 50 E. Ida B. Wells Drive.
In his speech, Fenster described the school as "interdisciplinary" in that few other journalism schools create an environment where students are connected to artists across other mediums.
Fenster is an award-winning journalist and former managing editor for Frontier Myanmar, a publication based in Yangon, Myanmar.
A year ago he was imprisoned in Myanmar for 176 days by the country's military junta and convicted of three charges: incitement, unlawful association and violation of immigration laws. The Columbia community showed support for Fenster until his release in November 2021, facilitated with the help of U.S. diplomat Bill Richardson, as reported by the Chronicle.
In an interview with the Chronicle after the first commencement ceremony on Saturday, Fenster said he felt flattered to receive the honorary degree. He had the opportunity to revisit Columbia's campus and see student journalism work showcased in this year's Manifest, Columbia's end of the year urban arts festival. Fenster said the college feels the same, and he can still feel the contagious creative energy around campus.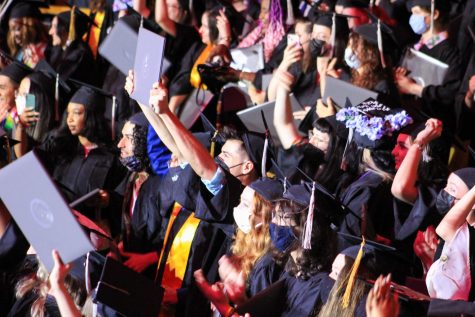 During his speech, Fenster highlighted some of the ways he learned journalism as an artistic practice at Columbia.
Fenster said his former professor Dan Sinker's mobile journalism class was his first exposure to nonfiction storytelling as an art, where students created news videos with creative attributes.
Fenster said he began to realize the power of anecdotal storytelling in his creative writing classes at Columbia, with instructors such as Sinker, Noah Isackson and Communication Department Interim Chair Erin McCarthy.
He shared a specific story with the audience on the impact the military coup has had on his close friend's son in Myanmar who wants to study film but cannot at the time being because, since the coup, most universities in Myanmar are closed.
"These sorts of anecdotes don't usually make it into newspaper reports, but they're more telling, I think, of what a military coup in a faraway land really means," Fenster said.
Fenster connected this to the disparity of the public support between the war in Ukraine compared to the war in Myanmar, which has been transpiring since February 2021, and he viewed this issue through the lens of racism.
"The reactions of [the] American and European publics, the wide-open doors to refugees in one case, the locked doors and complete lack of interest in other cases, has been particularly demoralizing to many of us concentrating on these other parts of the world," Fenster said.
Fenster said he has hope the graduates of Columbia can use their artistry to actually move people, no matter how distant the story is that is being told. Because of this, Fenster called the graduating students "among the most powerful people in the world," and by the same token, he encouraged thoughtfulness with every creation.
"No practitioner or professional is as able to move hearts and change attitudes as artists," Fenster said. "This might not always be enough, but it's always a start. We work in mediums of the heart."
Fenster was candid with students about his initial uncertainty about working in journalism because it is not always the highest paying job, but it is ultimately where he found his passion.
"Make your art your sustenance before your income, despite your income," Fenster said.
Fenster said while he was imprisoned, he thought about every time he scrolled on social media or on the internet instead of embarking on his passions, like writing.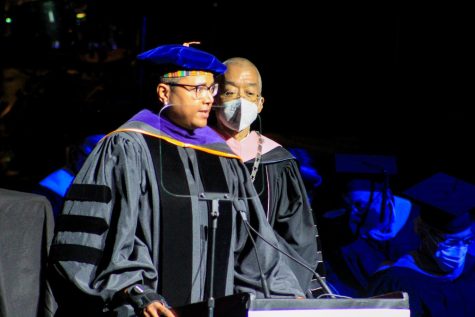 The Chronicle spoke with Columbia President and CEO Kwang-Wu Kim after the first commencement ceremony, and he said he was especially moved when Fenster said this.
"I hope [students] felt encouraged because really, it was also a message about being who you are and believing in yourself and believing that if you really follow that path things will open up," Kim said. "So I hope the students, and also I hope the families heard it in a way of, this is okay. It's a risk, but it's okay to take these risks because it's coming from the right place."
Vinessa Gabrielle Russell, a journalism alum as of Saturday and former editor of ChicagoTalks, said she related to Fenster when he said he switched majors at Columbia and took longer than expected to finish his degree.
"He's very courageous, and his speech basically was just very moving and very motivating and inspirational because sometimes you do want to give up, and you want to make sure like, 'Is my work good enough? Is my voice good enough?'" Russell said.
Fenster is still working remotely as an editor at Frontier Myanmar but said he misses being in person with reporters.
In August, Fenster will begin his next chapter, studying the relationship between foreign policy and press freedom in the Nieman Journalism Fellowship program at Harvard University.
"You know, economically, professionally, everything is very uncertain. But I think a creative arts degree or just a liberal degree, in general, should teach you deeper things that'll help sustain you as a person," Fenster said. "Through all those changes, there's a core of what you're doing and practicing that hopefully, you're able to dissociate from your job because that's what's going to make you keep doing it."