'Be open to being surprised': 46th Dance Presenting Series kicks-off
With its diverse mix of dance styles, Emily Johnson's production was exactly what Ellen Chenoweth was looking for to start the Dance Center of Columbia College Chicago's 46th season.
Johnson's "Then a Cunning Voice and a Night We Spend Gazing at Stars" has had only one previous presentation in New York City, and in September will kick off the Dance Presenting Series off-site in Calumet Park, just south of the city.
Chenoweth, director of the Dance Presenting Series and assistant professor of instruction in the Dance Department, said, as an indigenous artist, Johnson is good at sparking community conversations. Having her perform, according to Chenoweth, is a good opportunity to push the Presenting Series in an interesting direction and toward non-Western ways of thinking.
Through a night of Native American drummers, a 2-mile silent walk, 84 handmade quilts and live performance, the season opener will call attention to the history of Calumet Park, which is based in the Calumet region—an area that was inhabited by Native American tribes in the 1600s. The performance will take place at the Calumet Park Cultural Center & Fieldhouse, 9801 S. Ave. G.
Although this upcoming season does not have a specific theme, Chenoweth said the lineup for each year is based on artists who support the curriculum of Columbia's Dance Department, with an emphasis on West African, hip-hop, ballet and modern.
"I look for artists who are pushing those forms in interesting ways and doing work that contemporary art students should experience in-person," Chenoweth said.
The event, to be held Sept. 28, is open to the public with a suggested donation price of $1–$10, making it accessible for a wide audience, Chenoweth said.
Along with Johnson, the series will include nine other performances and will present local artists for the first time.

"[It is] a vote of confidence [for] Chicago choreographers," Chenoweth said.

Abby Zbikowski from Abby Z and the New Utility, one of the spring season's presenters, said she looks forward to bringing her work, "Radioactive Practice," to a new community in April. She said Columbia's Dance Department is progressive in how it looks within the practice of dance.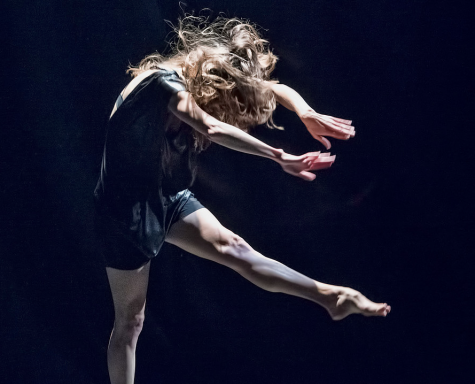 The piece will draw from histories in hip-hop, modern dance, West African culture, tap, synchronized swimming and basketball to question the purpose and practice of dance.
It will call everyone into the room and understand the differences and similarities of all who attend, Zbikowski said.
"Miscommunication is something I am inspired by," Zbikowski said. "There are so many interpretations of what something means in the room. When someone views dance, there's infinite ways to break something down—perspectives, viewpoints [and] lenses to look through."
"[Its] philosophy and mission is really the mission of me and my company," Zbikowski said. "Trying to frame practices in new ways that make people consider their relevance differently."
Molly Shanahan, a Chicago-based choreographer, has been involved with the series for nearly two decades and last created a piece in 2018, "Of Whales, Time, and Your Last Attempt To Reach Me."
"The presenting series has been, and continues to be, a vitally important part of the Chicago dance scene," Shanahan said. "It is only increasing in that vitality as the work becomes more diverse."
Chenoweth said the series holds a unique niche both in the city and nationally. She said there is no other organization in the city that is doing what Columbia is with a large space of 268 seats, and a focus on dance, exclusively.
The series takes a leap toward larger visibility this season, according to Chenoweth. She said dance can connect to everyone because the body connects to everything.
"Even people who think they don't like dance, I would encourage them to come see a performance, check it out and be open to being surprised," Chenoweth said.