Dance Center's B-Series celebrates inclusion and accessibility through dance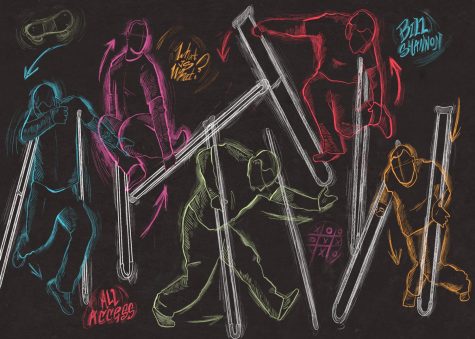 When Kelsa Robinson, assistant professor of instruction in the Dance Department, was experiencing physical struggles, she found it hard to keep up in the dance spaces in which she was involved.
Robinson discovered a safe space that addressed her needs in dance while in the underground street dance community known as the house community. House is a freestyle, social dance that has roots in Chicago and New York and is typically performed at nightclubs.
"The house community became a space where I was able to dance all night long," Robinson said. "Now, I still had a lot of pain, but I was able to maintain a consistent relationship in that space."
Robinson's experience and hearing the stories of others in the dance community inspired her to make accessibility and inclusion the theme of this semester's B-Series. The three-day festival, put on by the Columbia Dance Center, focuses on a different theme in dance each year.
This year's B-Series featured event is called "B-All Access: Break Open Battle and Jam," a dance jam taking place on Friday, Nov. 4 from 5-10 p.m.
"I've always been interested in looking at what hip-hop can share to the world about embracing all bodies and ripping up the cannon," Robinson said. "And also, how can we learn more about accessibility in dance?"
The B-series' social media design and volunteer coordination intern Ruth Prayitno, a junior interactive design major, discussed the goals for the festival's theme.
"We wanted to break the stereotype of the typical dancer image and then also highlight invisible and visible disabilities in dance," Prayitno said. "Really break the stereotype of what a dancer would be like, and that anybody can dance."
The three-day festival that began Thursday features workshops on accessibility, conversations about inclusivity and a dance jam. There will also be a solo performance by dancer and activist Bill Shannon on Saturday at 7:30 p.m. Shannon is a Chicago dancer who uses his crutches — a tool necessary for his disability — as a part of his dance style.
Shannon described himself as an "interdisciplinary artist creating performance and visual art."
Early on, Shannon was pushed to create new paths for himself because he found it difficult to physically keep up with his peers. He said his peers often left him alone, leaving him to play on his own, which pushed him to be creative.
"I now, in hindsight, classify that period of my life from ages 5-12 as a period of creative necessity because it was not a creativity of choice; it was a creativity of need," Shannon said.
This inspired his style of dance which uses his crutches, as well as a skateboard.
Shannon will be performing an hour-long solo, as well as judging for the dance jam. He will be judging alongside notable dancers B-Boy Junior, Fabulous Freddy, Diamond and Crumbles.
Robinson said the Dance Center is working hard to have the proper accessibility measures at the event, including American Sign Language interpreters, wheelchair accessible seating and a sensory room.
The dance jam is free but tickets must be reserved on the Dance Center's website. Shannon's performance is $10 for students, $15 for faculty and staff and $30 for the public.