Dance Center begins to intertwine cultural dance and performance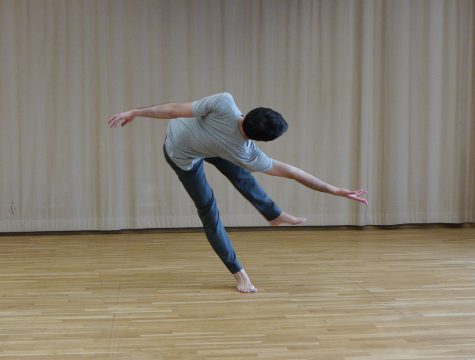 Tanguy Accart moved to Chicago two years ago with one goal in mind—to build cultural connections between the Midwest and Europe, particularly France. Accart said there was barely any connection between them regarding contemporary dance specifically.
The focus of his work is to facilitate connections and bring projects and people from Europe to the U.S., and vice versa, said Accart, cultural attaché for the Consulate General of France in Chicago. His efforts include the first Between Gestures festival for performance and dance in partnership with Columbia's Dance Presenting Series. It will take place Oct. 24 through Nov. 2 at The Dance Center, 1306 S. Michigan Ave.
Soon after Accart made his move to the city, he got in touch with Petra Roggel, director of the Goethe-Institut Chicago, 150 N. Michigan Ave. Together, the two wanted to develop a project involving European connections, and since both have a background in performance art, putting on a performance and dance festival fit perfectly.
Accart said the idea for the festival started small, with only four performances originally set to take place. Now, with a total of eight performances, panel discussions and film screenings, he is proud of what the project has become.
"[This will] provide a better understanding of what the creation is today in dance and performance," Accart said.
Roggel said when first beginning to develop the festival, she and Accart were in search of strong partnerships and institutions and said, so far, Columbia is the best partner they could have imagined.
It was more than a year ago when a group of students went to Paris for two weeks to take master classes through the Centre national de la Danse, said Ellen Chenoweth, the director of the Dance Presenting Series, who also joined the students on the trip. She said the festival will allow Columbia students to continue to build on the relationship.
"It is a rare opportunity to get to see what is going on in the contemporary European scene without actually traveling there," Chenoweth said. "This is a rare chance to see what is happening … and be exposed to new ideas."
Accart said in the U.S., dance is used to describe movement, while performance is used to describe the art of that movement. In Europe, however, he said the distinction between the two words is not used and dance, overall, is about questioning the body.
The festival will highlight the differences between the two dance and performance art forms through a number of panel discussions, which Roggel said she hopes will give the right context in order to define and connect more quickly with audiences.
Along with performances at Columbia's Dance Center, the festival is also in partnership with a variety of places in the city that will host events as well, such as the Poetry Foundation, Stony Island Arts Bank, the Art Institute of Chicago and the Museum of Contemporary Art. Admission for students will be $5 for performances and free for panel discussions.
Although the performances will not include Columbia students, there will be a few students taking part in panel discussions and in masterclasses with Raquel Monroe, associate professor in the Dance Department.
Chenoweth said the festival will allow the college to embrace a spirit of openness and  connect students with international networks, which was her main motivation. She said the training students receive at the college prepares them to be part of international conversations, such as this festival.
Performances at the Dance Center will include Pol Pi—a Brazilian dance artist based in France—with his performance ECCE (H)OMO at 7:30 p.m. on Oct. 24. Noé Soulier—a Centre national de la Danse affiliated artist born in Paris—will perform Movement on Movement at 7:30 p.m. on Oct. 25. It is both performers' first time appearing in Chicago.
"It is a sensibilization … how to look at a body," Roggel said. "The more we talk about it, the more we see. This will help to overcome the differences and juggle with it. … It will reflect much better where we come from, and why we talk of dance or performance art."