Dance and discussion comes to Chicago parks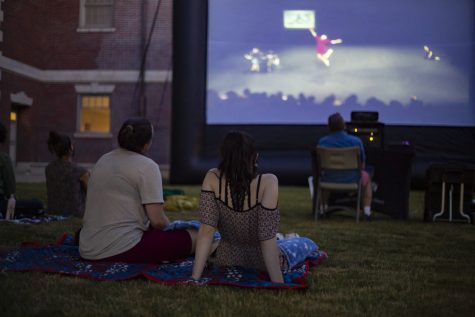 The Dance Center Summer Screenings program is hosting a hybrid experience of Netta Yerushalmy's "Paramodernities," a series of dance and theory based experimental performances that reflect on the canon of modern dance.
On Thursday, June 10, 30 people—including Columbia faculty and students— gathered at Austin Town Hall Park, 5610 W. Lake St., to witness two out of the six part series of the filmed version of "Paramodernities."
Ellen Chenoweth, assistant professor of instruction and director of the Dance Performing Series at the Dance Center of Columbia College, said the work was meant to be presented live, but because of COVID-19 they had the rethink their plan.
In 2018, Yerushalmy premiered the six part series of Paramodernities in New York City and filmed it in 2019.
In total there are six events planned in June, with three virtual conferences and three in-person screenings.
The first event on June 10 was a virtual lunchtime pre-performance conversation with Yerushalmy, a dance artist based in New York and choreographer of "Paramodernities," and Chicago-based performance artists Sandra Kaufman, Lin Hixon and Matthew Goulish.
Artists and Columbia participants met through Zoom to discuss Yerushalmy's performances in relation to the two iconic dances from the 20th century to be showcased later that day, "Paramodernities #1: The Work of Dance in the Age of Sacred Lives, a response to Vaslav Nijinsky's Le sacre du printemps (1913)" and "Paramodernities #2: Female Trauma, Interdiction, and Agency in 'The House of Pelvic Truth,' a response to Martha Graham's Night Journey (1947)."
"We're really interested in the discourse around the work and the ideas around the work," Chenoweth said. "The pre-performance conversations are a way to kind of prime the pump and get people thinking about some of the issues in the piece."
Yerushalmy's idea for these performances originated when she was invited to be part of the "Centennial of the Rite of Spring" in Berlin in 2013, a variety of festivals and conferences in commemoration of the iconic ballet and orchestral from 1913.
Yerushalmy said after performing the piece for three years, she noticed the interesting marriage between famous movements and essays and decided to create a series deconstructing and reacting to various canonical performances of modern dance.
In partnership with the Chicago Park District and their "Night Out in the Parks" program, the screenings of the filmed performances are happening in three different cultural centers around the city.
MJ Hawks, a senior dance major, said the screening on June 10 was an opportunity to reconnect with the dance community.
"It's been so difficult trying to create and feel part of a community, but I think everyone is doing a really good job making the effort to adapt," Hawks said.
Chenoweth said she was excited to be back in person.
"We just wanted to give people a reason or an excuse to come together in person in as safe a way as possible," Chenoweth said.
The next lunch talks and screenings are scheduled for Thursday, June 17 and Thursday, June 24 through Zoom and at Indian Boundary Park, 2500 W. Lunt Ave., and South Shore Cultural Center Park, 7059 S. South Shore Dr., respectively, using the same format as June 10, a noon Zoom meeting and an 8:30 p.m. screening.