The Chronicle is still No. 1 in Illinois
By Zoë Eitel, Editor-In-Chief
February 23, 2018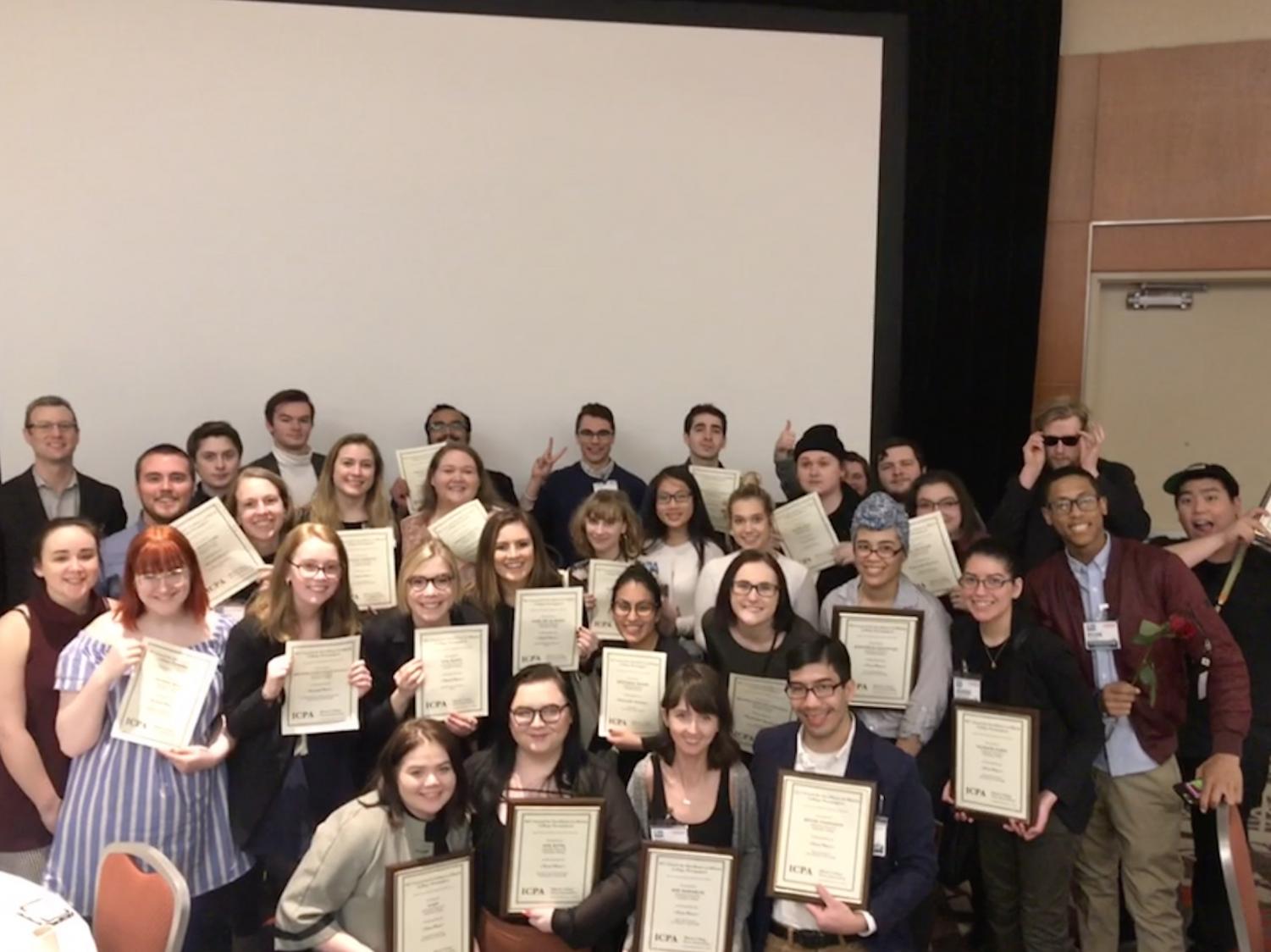 For the third year in a row, The Chronicle has been named the top non-daily newspaper in the state by industry professionals judging the 2017 Illinois College Press Association awards.
Every year, The Chronicle's staff spends two days learning from industry professionals, bonding as a team, meeting other college newspaper staffs and collecting awards from the previous year at the Illinois College Press Association's annual convention and award luncheon.
At the 2017 ICPA convention, which took place Feb. 16–17 at the Embassy Suites Hotel, 511 N. Columbus Drive, The Chronicle took home 20 awards for work produced during the Spring 2017 and Fall 2017 semesters, including first place in General Excellence for non-dailies with enrollments more than 4,000.
Anyone who has walked around the second floor of the 33 E. Congress Parkway Building has seen the walls covered in plaques—some of which date back more than a decade. These are the many first place awards that The Chronicle has earned over its history.
Not even all of the awards are displayed  because we have to cycle them out due to a lack of wall space. Seven of the awards received at this year's ICPA were also for first place.
Those first place awards are: General Excellence for The Chronicle's staff; Front-Page Layout for Creative Director Zoë Haworth and former Graphic Designer Patrick Casey; Column Writing Excluding Sports for Editor-in-Chief Zoë Eitel; Feature Page Design for former Graphic Designer James Tsitiridis; Feature Photo for Senior Photo Editor Kevin Tiongson; Spot News Photo for former Senior Photo Editor Wesley Herold; and Headline Writing for former Arts & Culture Editor Jonathon Sadowski.
Most of the awards are grouped by categories corresponding to the size of the school and the frequency of publication, such as dailies, non-dailies with enrollments less than 4,000 and non-dailies with enrollments more than 4,000. All of The Chronicle's first place awards were won in its category of non-dailies with enrollments more than 4,000 in which we were competing against about a dozen other college papers.
Some awards are also judged in an open category in which all 34 newspapers compete for the same honors. The Chronicle won four awards judged in an open category: second place for Critical Review Other Than Film for Digital Managing Editor Brooke Pawling Stennett; second place for Full Page Advertisement Design for former Manifest Creative Director J.J. McLuckie; third place for Graphic Illustration for Haworth; and third place for In-House Promotional Ad for former Graphic Designer Gabriel de la Mora.
Other second place awards include Spot News Photo and General News Photo both for former Photo Editor Esther Bell and Feature Story Other Than Sports for Pawling Stennett. Herold also received a third place award for Feature Photo, and Haworth received third place for Sports Page Design.
The Chronicle also received four honorable mentions including Photo Essay for Herold and former Senior Photo Editor G-Jun Yam; Sports Column for Managing Editor Eric Bradach; Feature Story Other Than Sports for Arts & Culture Reporter Miranda Manier; and Editorial for The Chronicle's Editorial Board and Pawling Stennett when she was serving as Opinions editor.
None of these awards would be earned without the amount of work, dedication and talent The Chronicle's staff put in every week. So, The Chronicle would like to offer a thank you to everyone who has contributed to the newspaper and made it the award-winning news organization it is today. Whether you spent a semester or three years on staff, we appreciate the time you put in and wish you nothing but the best.