Farmstand in the city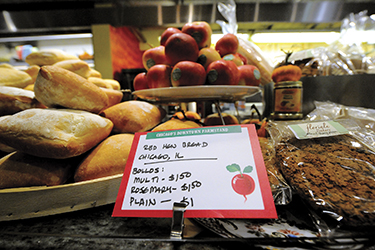 Crunched between towering skyscrapers and bustling traffic sits a small shop in the Loop specializing in serving fresh, locally grown food.
Chicago's Farmstand market, 66 E. Randolph St., opened its doors on Oct. 1 to cheerful and curious patrons. The city-sponsored market is a pilot program that offers fresh locally grown food from farmers within a 250-mile radius of Chicago.
"We've shortened the food chain; we're going right to the source," said Judith Hines, the Department of Cultural Affairs director of Culinary Arts and Events.
The focus of the program is to emphasize what's local, available and sustainable. The Farmstand market is a pilot program that will close in mid-December. But if this test-run is successful, the market will reopen in the spring with a possibility of acquiring a year-round site, event manager Nina Winston said.
As visitors enter the market, they will find it's a small, quaint spot, but easily accessible.  Cleanly organized, food is situated to the left, a dining bar is along the right and locally brewed Intelligentsia coffee is served in the back.
Stacked on refrigerated shelves along the wall, an assortment of fresh produce from apples, peaches and squash to Berghoff root beer can be found.
Small tables stacked with dry goods such as seasoning, honey and bread guide patrons to the back where they make the purchase.
On Wednesdays and Fridays at noon, personnel and vendors demonstrate how to prepare dishes using the food available in the market.
"I'm all about growing unique, interesting, tasty foods," said vendor Peter Klein, who runs an orchard in South Haven, Mich., that sells apples, ciders, jams, dry fruit and smoothies at the market.
Currently, 35 vendors sell their products at the Farmstand market, but that number is subject to change as the program continues, Hines said.
"I always thought the product tastes so much better when only one other person touched it," Klein said. "Things you find at Jewel or Dominick's probably traveled 1,300 miles and changed hands seven times."
Selling locally grown food shortens the time and distance a product has to travel and ensures its freshness.
"You are eating a fresher product," Winston said. "You're learning what's important to your area from an economic and agricultural standpoint."
The program offers small-time vendors a chance to market their item and see how the consumer base responds, Hines said.
"It gets you close to the consumer, and it raises their awareness of what's seasonal," Klein said.
Lyle Allen, executive director of the Green City Market, a similarly themed market in Lincoln Park, said he believes the Farmstand program will be successful."There is a need for it in the Loop," he said.
Allen has organized the Green City Market in Lincoln Park for 10 years. On Oct. 4, it reached its highest attendance record of 70,000 visitors.
The Green City Market has had so much success, in fact, that it will move to its new location at the Peggy Notebaert Nature Museum, 2430 N. Cannon Drive, on Nov. 1, and will sell year-round.
"The demand is there," said Klein, who also sells at the market.
The Midwest winter season hinders some farming crops, but there is still food available worth keeping a lively market, mainly dry fruits and vegetables, Klein said.
The Farmstand Market is open from Tuesday to Friday, 11 a.m.-7 p. m., and Saturday, 11 a.m. -4 p.m. For more information, visit ChicagoFarmstand.com.