Blood Ball royalty decrees inclusivity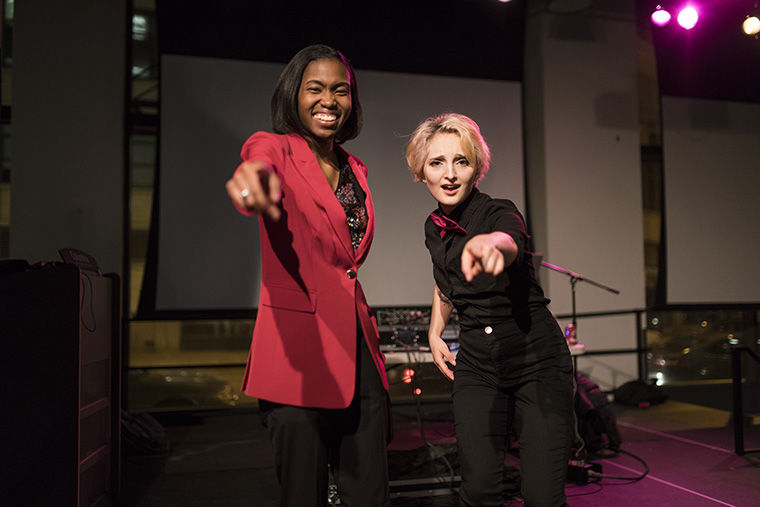 As music played through the night, students flooded the dance floor—some bobbing gently to the beat, others flailing wildly at a pace no cadence could match—all with fervor and a willingness to momentarily forget about impending midterms during Columbia's 11th annual Blood Ball.
The theme of the March 9 dance, held in the Conaway Center, 1104 S. Wabash Ave., was inspired by Lewis Caroll's "Through the Looking Glass." The yearly event was created to pay homage to Mary Ann Blood, who co-founded the college with Ida Morey Riley in 1890, and planned by student representatives from the Student Government Association, Student Organization Council, Student Athletic Association, Student Programming Board and Residence Hall Association.
Sporting a flattering dress and high heels, Mary Blood—played in drag by SPB President Jake Dagit—greeted people as they entered the ball, participated in photo-ops with attendees and hosted the dance.
According to the planning committee's Faculty Adviser David Keys, Mary Blood is typically played by someone in drag because it exemplifies the inclusive nature of the dance, regardless of participants' gender identities or expressions. Keys said the embracive culture of the event is something organizers try to celebrate every year.
Winners of the dance's king and queen titles were sophomore radio major Jocelyn Hudson as queen and sophomore cinema art and science major Kevin Dean as king. The titles given to two women follow the Blood Ball's tradition of gender inclusivity.
"I love the gender inclusivity of the titles, so it was really nice being able to be in that setting," Dean said.
Kaela Ritter, senior business and entrepreneurship major and SGA president awarded the sashes, crowns and a small gift bag to this year's winners. Ritter said she enjoyed awarding the titles to the two, adding that they both seemed excited to receive the crowns.
"I'm glad I took this chance this year," Hudson said after being crowned. "There's been nothing but opportunities for me this year. I took a jump, and I'm glad."
As part of the honor in winning the title, Hudson and Dean will be featured in Columbia's Manifest parade May 13.
As per tradition, ballots were also distributed to attendees to vote for "best dressed," "best in dress" and "best in slacks." Freshman theatre major Sara Abirached was awarded "best in dress," junior cinema art and science major Parker Bradford won "best in slacks," and freshman fashion studies major Brock Langel received the "best dressed" award. Abirached wore a two-piece dress with a sequined top; Bradford sported a blue blazer, red tie and khakis; Langel was dressed in a black and red velvet suit with dangling earnings, a feathered bowtie and platform boots.
Throughout the night, students also had opportunities to participate in themed events including flamingo croquet and mad hatter speed-friending , in which students swap seats and talk to whomever they landed next to, using guided questions. The Renegades and Rated E! dance teams also performed throughout the evening.
Alyssa Runnels, Blood Ball planning committee president and senior American Sign Language-English interpretation major, and Keys both said the speed-friending event was added to the dance to give attendees a chance to meet people.
"By students actually attending the event, they are supporting the student leaders who have put in all the planning and the effort and the time to create such a wonderful Blood Ball," Keys said. "It promotes community engagement and hopefully will foster new or stronger relationships between students by attending the dance."
Signey Engstrand, junior music major, attended the ball dressed as Alice from "Alice in Wonderland" and said she wanted to attend because she had not been to a dance since high school. She added that getting groups of people at Columbia together can be difficult because of the scattered arrangement of the campus buildings.
"As a junior, I still sometimes feel like I don't have a campus, but it is starting to feel way better than it did freshman year," Engstrand said.
Runnels said she was excited to organize the dance because it could help attendees create relationships they may not have had before.
"I hope people get to know each other a little better so people can gain that community sense at Columbia, since it's a little harder with our campus being the way it is to feel like you're part of the community," Runnels said.