Innovative teaching methods used in gallery creation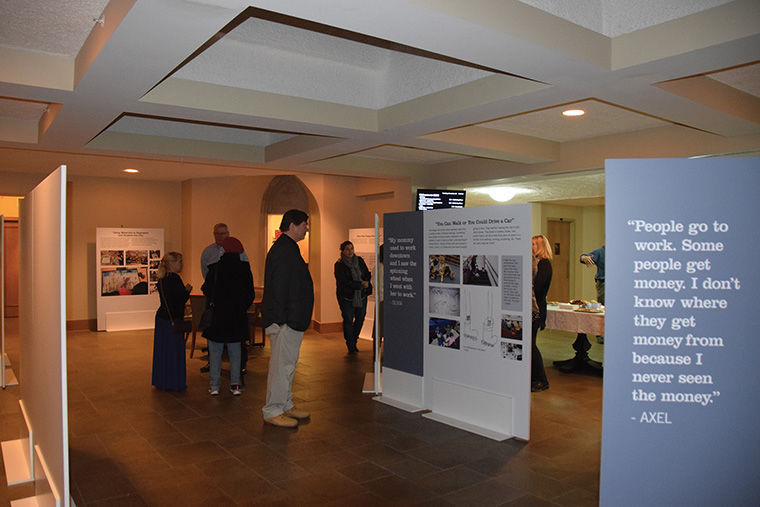 A gallery featuring work by preschool students throughout the city, organized with help from Columbia's Education Department, will be featured in the Union Church of Hinsdale until late January.
"Children Connecting to the City: A Study of People, Places and Relationships" is an exhibit of drawings, photographs and text collected from a series of seminars conducted in 2014 and 2015 in which teachers asked preschool students what they thought about their home city.
Teachers gathered student responses and gave the materials to members of Columbia's Education Department, the Crossroads for Learning Organization and the Chicago Department for Family Support Services. The seminars, which enabled teachers, students and childhood development programs to collaborate, resulted in eight panels that comprise the exhibit, according to Karen Haigh, project coordinator and an associate professor in the Education Department. Each of the panels feature spoken and visual responses students gave to questions like, "What does Chicago look like?" or "Where do you go in Chicago?"
Carol Lloyd Rozansky, chair of the Education Department, said teachers used the Reggio Emillia approach, an educational style that draws on a child's interests and engagement as a basis for teaching lessons instead of following a typical fixed lesson plan.
Haigh said the exhibit allows teachers to look at this innovative method and develop unique approaches to teaching the younger students they                             work with.
The exhibit was also featured in the C33 gallery, 33 E. Congress Parkway Building, last year and has been moving to other venues that expressed interest in the display, such as the Hinsdale Union Church. The exhibit also has a chance to be featured at the Chicago-hosted National Head Start Conference in April 2017, according to Haigh.
"We want this exhibit to be around so adults and people from society can look at young children, their ideas, their thinking and their expressions to see they are much more than just people [who] memorize their colors and shapes," Haigh said.
Jennifer Keldahl, program director for the church's preschool, said she has brought in groups of childhood education professionals to see the exhibit so they could learn to focus more on children's abilities.
"The more possibilities you give [preschoolers], the stronger that foundation is going to be for them," Keldahl said. "By offering something so limiting as a vocabulary test or something that is more standardized, you are limiting those possibilities at a time where the most growth is happening."
Lloyd Rozansky said she hopes childhood development educators, both in and out of Columbia, go to the exhibit, so  they can apply the Reggio Emillia approach to their own lessons.
"[The approach] a very expansive way to look at children's learning," Lloyd Rozansky said. "It encourages teachers and children to develop goals together. It is extremely cooperative and collaborative, both between kids and between kids and teachers. These are young children doing marvelous types of explorations and thinking."