Enrollment goes down, retention picks up
By Campus Editor & Assistant Campus Editor
February 17, 2014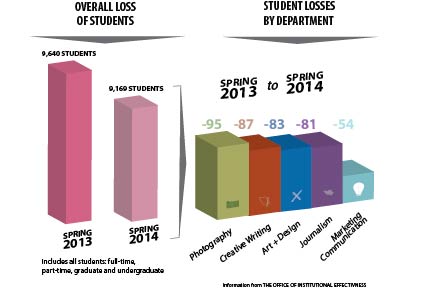 Columbia enrolled 471 fewer students this semester than it did in the spring of 2013, a loss the administration anticipated because of similar losses in the fall.
The college's total enrollment dropped 4.9 percent from spring 2013 to spring 2014, but freshman retention rates went up, meaning more students are choosing to continue at the college, according to a Feb. 10 report from the Office of Institutional Effectiveness.
Mark Kelly, vice president of Student Affairs, said the college is focusing on its retention rates because it will stabilize future enrollment trends. In the past, Columbia has had low spring enrollment, according to Kelly.
This spring's enrollment was expected to show fewer students because there was a decrease in the number of students who registered for fall 2013, Kelly said. But while the college had 700 fewer students than in fall 2012, the administration projected it would retain about 90 percent of those students for the spring semester, Kelly said.
According to statistics from the Office of Institutional Effectiveness, Columbia's freshman retention rates have risen from 83.7 percent in spring 2013 to 87.3 percent in spring 2014.
The college received 1,303 more applications than last year, but the freshman yield rate and the percentage of admitted students who enroll decreased by 3 percentage points, the report stated.
"It's not necessarily about a huge number of students entering at the front door, but rather students who are a good fit," Kelly said. "Our enrollment begins to build over time based on … how many [students Columbia] retains, matriculates and graduates."
Despite the loss of students, Kelly said he is optimistic about Columbia's future because the college is beginning to selectively admit new students who are more likely to enroll in and complete their degrees at Columbia.
The college will continue to admit diverse students but aims to retain more students over time, he added.
The Art + Design, Photography, Creative Writing, Journalism and Marketing Communication Departments suffered the worst enrollment dips, each losing more than 50 students. The Theatre Department gained 53 students, the most of all the undergraduate programs, the report showed.
The School of Media Arts lost 167 students compared to Spring 2013 enrollment.
The school has added new courses and will attempt to market its offerings more effectively in order to attract more prospective students, said Robin Bargar, dean of the School of Media Arts. Bargar said he thinks Columbia's enrollment figures will improve in the future because the college offers a niche education that integrates liberal arts, media and technology.
Having fewer students means the college has to adjust its budget, efficiently use its resources to meet students' needs and match curricula to changing industries, Bargar said.
To combat the decreased budget, the school has consolidated the roles of some support staff to assist departments with similar needs, Bargar said.
"We would expect as enrollments decline that we have to be more strategic about where we put our resources," Bargar said. "That doesn't mean we're not going to have our basics."
Suzanne Blum Malley, associate professor in the English Department and director of the Professional Writing program, said having fewer students this semester is not a surprise but means the college must work harder to retain students. Because the English Department serves most Columbia students, the decrease directly affects the department, Blum
Malley said. The college's increased freshman retention rates are a good sign because they demonstrate that Columbia is supporting new students more effectively from enrollment until graduation, Blum Malley said.
"What's heartening is the fact that our retention rates … overall are up and I don't think we're feeling a big impact in the English Department," Blum Malley said. "I don't see it as shocking or surprising. I see it as a call for the continued work that we have to do."
Despite the college steadily losing students since 2008, some Columbia students still think they are getting the most out of their education.
Andrew Peron, a junior marketing communication major, said Columbia is completely different from anything he has experienced and was blown away when he transferred from St. John's University in New York.
"It was almost uncanny how much the school fit what I was looking for," Peron said. "Every school gives you a sales pitch but everything seemed lackluster to the passion and energy I sensed at Columbia."
Peron said he thinks one of the conundra Columbia faces is that many students choose it because they think an art school will be easy, while other students take advantage of the resources Columbia has to offer and get the most out of their experience.
"There are professors who will bend over backwards to give you recommendations for internships and even hire you for their own projects," Peron said. "I really like that Columbia embodies the idea that you can do whatever you want to do. You are only limited by the amount of effort you put in."
For the students who are focused on making a career of their art, Columbia is the place to be, Peron said.
"A lot of students think that it's an easy ride, that they can just take some art classes and don't realize that Columbia is a real school," Peron said. "I think that is one of the stigmas of [an] arts college. The amount of passion and vigor [students have] for this school is something to be contended with."