Columbia grad 'rocks' in musical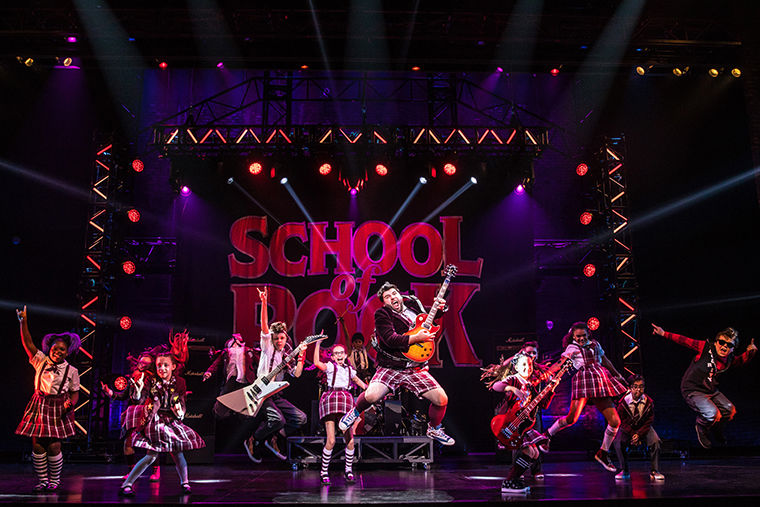 Playing the ultimate stick-it-to-the-man rocker that many grew familiar with following 2003's "School of Rock" film, Rob Colletti, a 2011 Columbia theatre alumnus, stars as Dewey Finn in the Broadway in Chicago production "School of Rock: The Musical."
The show debuted in Chicago Nov. 1 and will run through Nov. 19 at the Cadillac Palace Theatre, 151 W. Randolph St.
"School of Rock: The Musical" is about a failed rock musician posing as a substitute teacher at an elite prep school to make extra money after dealing with some roommate issues. His gift to the straight-A students studying classical music is teaching them not only to play rock music but also to live it.
"Rock 'n' roll is truly an emotional journey as much as it is a musical journey," Colletti told The Chronicle. "It's not so much about structure as it is about feeling."
Colletti said he and Dewey are essentially the same person because of their shared commitment to following dreams and staying genuine.
"What Dewey would say to any artist trying to make their way in the world is to keep going," Colletti said. "Commit yourself to what you love and be true to yourself and find what makes you tick and let that guide you toward your goals."
After telling his agent he was interested in being a part of "School of Rock: The Musical," Colletti said it was a long audition process that took several months to be cast, but playing Dewey has been an uplifting experience.
"I'm proud that I get to do what I love for a living," Colletti said. "It's kind of surreal to be able to say I kept going. I did what Dewey would have told me to do when I was in college. There were times I wanted to give up, change careers and get a desk job, but I stuck it out and I'm glad I did."
Colletti said Columbia's Theatre Department helped propel him forward toward a successful career in theater because the faculty were working professionals.
Theatre Department Associate Professor Kendra Thulin, who taught Colletti in her "Voice 3" class, said he brought a strong presence and energy to his work.
"[What] really struck me about [Colletti] was that he always knew what he wanted," Thulin said. "I'm not surprised he has gone on to do what he has done."
Colletti is a great example for current theatre students at Columbia to look up to as a role model, Thulin said.
Working on the show has been a fun and amazing experience, according to Melanie Evans, an ensemble member and understudy for the character Rosalie Mullins, the school's headmistress, who also happens to be Dewey's love interest.
"The show has such an incredible energy," Evans said. "You're dealing with people who really know how to tap into comedic improv who are also musicians."
Every performance blows the audience out of the water, Colletti said, because the crowd does not expect to see him and the kids playing the instruments live.
"They play their own instruments and they're between the age of 9 and 12 years old," Evans said. "They're at such a professional level at their age, it's just so incredible to watch every night.
Colletti said he feels the most like a rock star during the show's finale when he and the kids play the crowd a rock ballad.
"In that moment, it kind of transitions from the musical to the rock show," Colletti said. "All of a sudden we're playing this rock song for thousands of people and they clap along and they cheer and we throw [guitar] picks out. It's a real rock experience."