DEI open forum welcomes mission statement feedback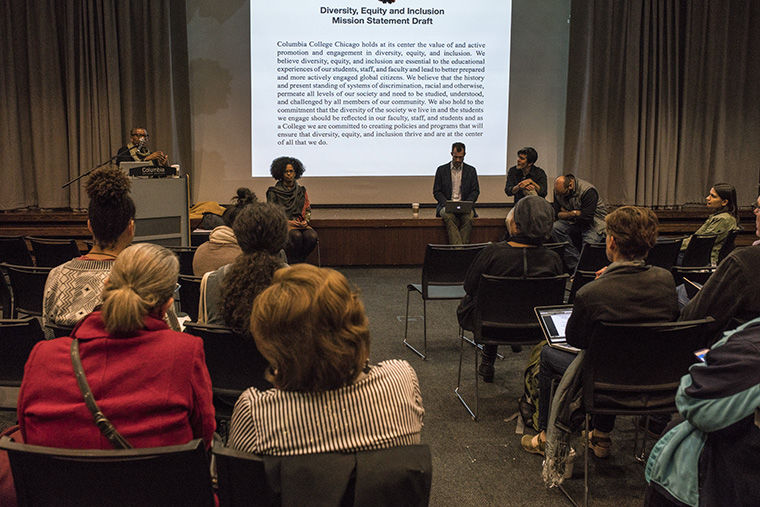 The majority of recently collected feedback on Columbia's Diversity, Equity and Inclusion Committee's drafted mission statement asked for definitions of the key terms "diversity, equity and inclusion," according to Peter Carpenter, DEI committee member and Dance and Theatre Department chair.
Comments were gathered Oct. 31, when faculty, staff and students offered their critiques and questions. An online survey also contributed data and responses.
The first draft mission statement was sent in a collegewide email Oct. 5, as reported Oct. 17 by The Chronicle. Following another collegewide email Oct. 26, the committee hosted an open forum asking for feedback from the college community.
According to the DEI committee, 51.72 percent of online respondents were students, 27.59 percent were faculty and 20.69 percent were staff.
"It's not just that there's multiple voices in the room, but all those voices have equal access to being heard and having access to the resources of the institution," Carpenter said.
Desiree Johnson, second-year graduate student in the Creative Writing Department who attended the forum, said the last sentence of the mission statement spoke to her the most. The final sentence states that Columbia is committed to creating policies and programs reflective of the diversity of the campus community.
Johnson said when she first arrived at Columbia, there was  no Hispanic faculty teaching in her department. This became an issue when faculty graded her work, as she is a multiracial, bilingual author, she added.
"In terms of curriculum [and] dealing with the discomfort of racism, that just wasn't executed well within my department," Johnson said. "I had one cohort member who wrote, 'taco language' on my manuscript when [I] had a bilingual integration of Spanish on my manuscript."
According to Elio Leturia, DEI committee member and associate professor in the Communication & Media Innovation Department, diversity, equity and inclusion should be worked on daily.
"It's not something we go through training [for], and we magically become what we are supposed to be," Leturia said. "We have to practice and to be conscious of who we are and every single action that we perform."
Following a Oct. 3 announcement that the DEI committee was looking for new members, President and CEO Kwang-Wu Kim extended the deadline for self-nomination for students and staff and will be making a decision on members within the next week. The new deadline was not specified as of press time.
Kim said the next step is for the Board of Trustees to approve the finalized mission statement. He also plans to hold a monthly gathering at which students can discuss their experiences with diversity, equity and inclusion, he said. 
"[The meetings are] a way to incorporate more voices, and we'll find a mechanism to make sure [student] feedback is feeding back into the committee," Kim said.
Johnson said the DEI's mission statement draft makes her more confident in attending Columbia.
"Reading that sentence that states there's going to be [diverse]faculty and staff, and this is a college that represents someone more reflective of our society, would be something that, even as a prospective student, I find intriguing," Johnson said. "It tells me there are going to be people like me who are teaching me."