Critique: 'The Santaland Diaries' sleighs holiday humor without a sugar plum of political correctness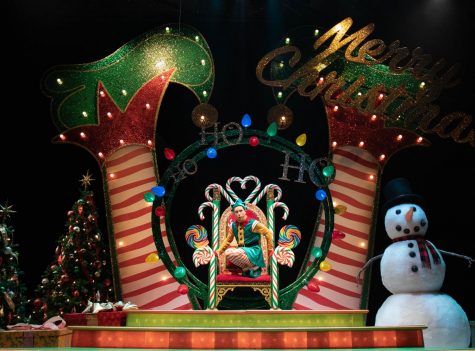 "The Santaland Diaries" is everything people are thinking during the holidays but does not dare to say.
Sardonic and humorous, "The Santaland Diaries"—based on David Sedaris' essay by the same name—is the one-man show of a struggling actor, played by Steven Strafford, who is strapped for cash and finds employment at Macy's Santaland as Crumpet the elf.
Strafford's hour-long monologue walks through an unfiltered account of his new job from holiday-crazed parents to the alter egos of other Santa Claus coworkers.
"You should come prepared to see the dark humor side of Christmas," Strafford said in an interview with the Chronicle. "Jokes are made about all kinds of things—some things can border on offensive."
Performing solo, Strafford said it can be challenging because he is vulnerable to the audience and its reaction. Although, he said it is rewarding knowing that when the audience laughs, it is because of him.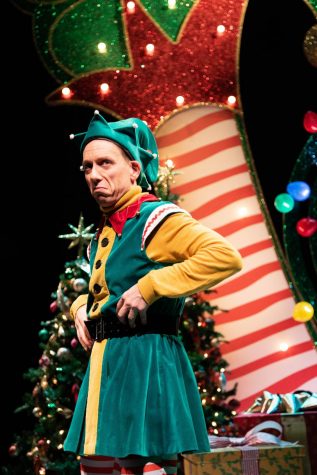 Though it is not the main punchline of the show, Stafford mimics the voices of his coworkers and customers, which gives him layered personas appearing to play more than one character. His impressions of nasty Santa, five-year-old children and spiteful parents are spot on. Nothing was off-limits to poke fun.
Dressed head-to-toe in an adult-sized green, belted, striped tunic, red and white striped tights and—Strafford's favorite part—an elf hat with jingle bells, Strafford described his costume as "perfectly ridiculous."
The costume builds on the punchlines, but it is Stafford's delivery that brings the show to life. Audience members are left to wonder if Crumpet has a moment to breathe because the show goes so quickly. The lights, sound and single set design are even underwhelming in contrast to Stafford's vibrant personality.
However, some of the show's script lines are quirky and take a specific type of humor to understand. Audience members laughed at almost every line, though, with some quirky jokes making people laugh for their own personal reasons.
For one hour only, audience members have a pass to laugh at slightly crude jokes poking fun at marginalized communities. They are the type of jokes that leave one feeling guilty for laughing too hard before quickly explaining "it was just a joke."
Based on Sedaris' 1992 essay, aspects of the show can feel uncomfortably outdated in 2019, such as the show's use of the word "r——d," to refer to people with cognitive abilities outside of the perceived norm.
Crumpet might have gotten away with poking fun at marginalized communities, but if a similar joke were to be made outside of the show, Stafford would have faced backlash. Any consideration for political correctness was left at the door—while keeping in mind that Stafford is playing a bitter character and not himself.
Political correctness is not killing comedy, though.
For those who don't laugh, it's possibly a reflection that society has become more progressive and their sensor of humor has changed. In contrast, "The Santaland Diaries" has remained stagnant.
That's not to say that most of the jokes were not funny. However, reflecting on what makes these jabs humorous is the fact that, under the surface, they are still topics that people of privilege do not understand hold deep-rooted insults.
Comedians should advance their sketches along with society without becoming audience pleasers. Instead of bullying identities that Crumpet does not identify with, he could have poked fun at himself to reflect that even the most cynical elf, possibly of all-time, could take the heat he was dishing out.
Overall, the show beats any sugar-coated or corny holiday classic and makes the holidays a little more enjoyable by poking fun at how the holidays can bring out the worst in us.
"Ultimately, the story, in the end, is a human one of what the stressors of the holidays can do to us," Strafford said.
The one-man show runs through Dec. 29 at the Goodman Theatre, 170 N. Dearborn St., and students can buy up to four tickets day-of with a student ID for $10 using promo code 10TIX.