Cringe and clap moments from the September debate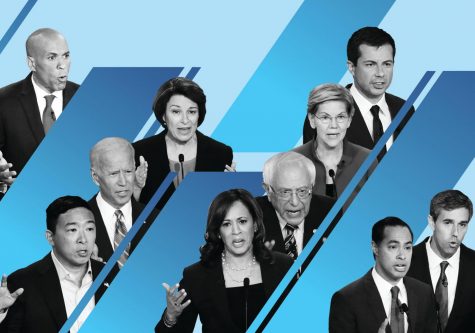 Ten of the top-polling Democratic presidential contenders walk onto a debate stage in Houston, and America says, "I guess it was okay."
Thursday's latest round of 2020 presidential debates—despite being the first debate narrowed down to the top- and middle-tier candidates, including heavyweights such as former Vice President Joe Biden, Sen. Bernie Sanders (I-Vt.) and Sen. Elizabeth Warren (D-Mass.)—was not the showdown viewers may have expected of the often-opposing candidates.
Rather, many of the standout moments, both cringe-worthy and applause-worthy, actually involved middle-tier candidates, such as former Housing and Urban Development Secretary Julián Castro and entrepreneur Andrew Yang. Here are a couple moments to either cringe or clap for:
Clap: O'Rourke on gun control
The debate stage was set in the state that has experienced numerous mass shootings, with one Aug. 3 mass shooting in an El Paso Walmart that left 22 people dead. As a former congressman for Texas, Beto O'Rourke was heralded by his fellow contenders for speaking out against the Trump administration's stance on gun violence.
"The way [O'Rourke] handled what happened in his hometown is meaningful," Biden said. "To look into the eyes of those people, to see those kids, to understand those parents, you understand the heartache."
O'Rourke did not shy away from his support for the mandatory AR-15 gun buyback proposals.
"If it's a weapon that was designed to kill people on a battlefield; if the high-impact, high-velocity round, when it hits your body, shreds everything inside of your body because it was designed to do that so that you would bleed to death on a battlefield … when we see that being used against children … hell yes, we're going to take your AR-15," O'Rourke said.
Cringe: Biden gets dated
One of Biden's biggest challenges is his age being called into question by other candidates. When responding to a question on his record with racial inequality in schools, Biden launched into a response that somehow went from paying teachers better to kids using record players.
"[Parents] don't know quite what to do [to teach their kids at home]," Biden said. "Play the radio. Make sure the television—excuse me, make sure you have the record player on at night. The phone—make sure the kids hear words. A kid coming from a very poor school—a very poor background—will hear 4 million words fewer spoken by the time they get there."
To drive the point home, Castro took every chance possible to paint Biden as senile. In one exchange, Castro accused Biden of switching his stance on public options for health insurance.
"Are you forgetting already what you said just two minutes ago?" Castro asked to audible gasps from the audience before Biden had to turn to Sanders to ask what Castro just said. "I'm fulfilling the legacy of Barack Obama, and you're not."
Biden did not miss a chance for the last word, though, biting back: "That'll be a surprise to him."
Cringe: Yang raffles
Minutes after Sen. Amy Klobuchar (D-Minn.) berated President Donald Trump for "running our country like a game show," Yang announced he would be giving 10 randomly-selected families $1,000 a month, in-line with his mainstage policy proposal—universal basic income, or what he called a "Freedom Dividend."
The announcement had the Twitter-verse abuzz, but whether or not the move is technically against Federal Election Committee rules is still up in the air depending on whether the FEC rules it as a bribery, which could be illegal, or gift, according to a Sept. 12 TIME article.
The next round of Democratic debates will take place in October in Ohio, with 11 candidates qualifying as of press time.