Corona classifieds: Students rely on virtual tours and chats during apartment and roommate searches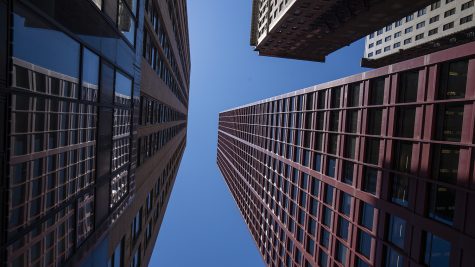 Like many students looking to move off-campus, junior animation major Five Verrier needed to find a place to live and roommates to split rent with, but searching for housing during the global pandemic required an unconventional approach.
After finding roommates via the ColumbiaChi app, Verrier said he began taking virtual tours of available units.
He spoke to his real estate agent over FaceTime, but said despite liking the unit from what he could see on his phone, he wishes he were able to physically be in the space he might rent.
Julia Everidge, a sophomore theatre major, is also in search of someone to live with her and her current roommate. She said they have had minimal success searching through social media, with only a few responses so far.
Everidge said she finds video calls awkward and uncomfortable and worries she will not be able to get to know her new roommate well enough over the internet.
"I know when we find someone who's really interested, we're going to have to video call instead of meet them for coffee," Everidge said. "When you're looking for a roommate, you're looking for somebody to live with for an indefinite period of time."
Currently, much of what's happening in the housing market is occurring virtually.
Infinite Chicago, 28 E. Jackson Blvd., which provides off-campus student apartments in the Loop, is now only offering video tours, according to Rhode Saint Fleurose, the leasing and marketing manager.
Searching for new housing and roommates has also been impacted by canceled or remote internships due to the coronavirus, leaving some students no longer in need of summer housing.
Infinite has discounted its rent by nearly $300 and waived application fees for students who sign a lease for the fall this year, Saint Fleurose said.
The Columbia residence hall 30 East, located at 30 E. Balbo Drive, also offers independent leases and is now offering in-person tours by appointment.
Kenya Thames, assistant community manager at 30 East, said the building has waived fees and implemented a refer-a-friend program which awards current residents $100 per person they refer who signs a lease.
Thames said summer internship cancellations have made summer leasing the "biggest issue" for 30 East. Thames did not comment on how 30 East is handling these situations, but she said leasing numbers for the fall are similar to previous years at this point.
Infinite has seen a mix of students wary of signing leases and others who are eager to sign, Saint Fleurose said. She said some students are waiting for their schools to formally announce plans for an on-campus fall semester.
"We've been 100% like, 'If you don't feel comfortable yet, that's completely okay,'" Saint Fleurose said. "[A lease] is a legally binding contract."
Saint Fleurose said Infinite is also continuously communicating with colleges in the area about their fall semester plans to get an idea of the likelihood of students needing housing for the fall.
Jin Man Lee, research director at the Institute for Housing Studies, said in a June 15 email to the Chronicle that a closed campus means fewer opportunities for work-study programs and on-campus employment, which help a lot of students living off-campus pay their rent. Lower-income students are especially impacted by this, he said.
Lee said nearly 70% of college students were working before the pandemic, and those who may not be able to return to their jobs this fall may no longer have the income they need to pay for alternative housing.
"The rental market is frozen right now due to a limited number of people who will move out and move in," Lee said. "Due to that, you don't see much of the market actually changing."
The frozen rental market means not much change in rent prices lately, Lee said. He said lower-income jobs will take the longest to bounce back because the stages of coronavirus recovery are slow, which means the rental market may remain in this frozen state until the regular business cycle takes off again.
Lee said cheaper rental properties or those with few tenants have also suffered, because when renters could not pay their rent, landlords also went unpaid.
Michael George, a sophomore fashion studies major, said anticipating what school will look like in the fall is why he has moved twice during the pandemic.
The first time was in mid-March when other colleges began campus and housing closures, before Columbia closed its residence halls. George had plans to move out of the University Center, 525 S. State St., in March, but the pandemic sped up the process, he said.
Now, George said he is looking to move into a larger space in Lincoln Park with his girlfriend, who is also a fashion major. In preparation for the possibility of limitations or lack of access to campus sewing facilities next semester, he said they want to set up a studio space to work on large projects at home.
George said he is also trying to find someone to take over his current room in Ravenswood, where he lives with a roommate, and has been holding showings of his apartment over FaceTime. His girlfriend is doing the same with her current apartment, he said.
In her search, Everidge said she often thinks about the possibility of her new roommate having or being in contact with someone with the coronavirus. But, she said her priority is to find someone to fill the empty room.
"At some point, it's just going to have to happen, and it's inevitable," Everidge said. "We have to let somebody in."