Communication Department loses its only full-time Black faculty member as Curtis Lawrence departs the college for Block Club Chicago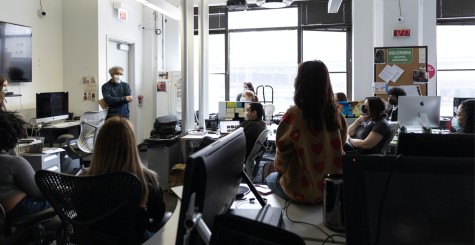 Curtis Lawrence, an associate journalism professor and the Communication Department's only remaining Black faculty member, is leaving the college after nearly 20 years teaching full-time.
Lawrence, a former Graduate Program director in the department and a fellow on the college's Antiracism Transformation Team, will become the senior editor of investigations with Block Club Chicago, a local media outlet he said has "strong Columbia connection."
Lawrence, who taught journalism and Columbia Experience courses, as well graduate courses, said he is "geeked up" by the new opportunity. 
"It's hard," Lawrence said,  because he is "walking away from some of my colleagues who I have a lot of respect for. I'm just happy to have the chance to expand what I am doing." 
Throughout his 30-year journalism career and then at Columbia, Lawrence's research interests have been in urban affairs reporting and diversity, equity and inclusion. 
According to a report by Columbia's Faculty Senate and Institutional Effectiveness, there were roughly 35 full-time faculty at the college in 2010 identifying as Black. In 2022, there were 15. 
The Communication Department has lost four Black tenured faculty members, including Lawrence, since 2019. The others are Yolanda Joe, Lillian Williams and Shanita Akintonde.
Lawrence served as the faculty advisor for both the Columbia Chronicle and ChicagoTalks since 2019. He also was the faculty advisor for Columbia chapter of the National Association of Black Journalists.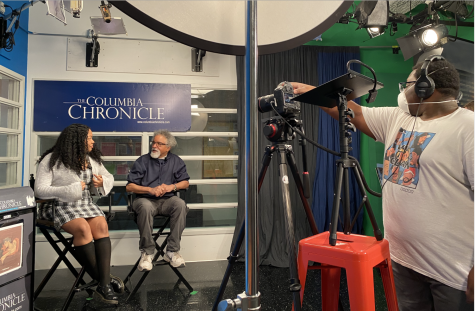 Charles Jefferson Jr. graduated from Columbia with a bachelor's degree in journalism in 2014. He called Lawrence's departure a "total shock" and said he "can't say enough great things about him." 
"As a Black man, it was nice to see a fellow Black male teaching and having an impact on student's careers and lives," Jefferson said. "The care and intention behind his teaching is a rare find these days." 
Jefferson said he enjoyed learning and working beside Lawrence.
"He's enthusiastic, caring and pushed his students to go above and beyond," Jefferson said. "I couldn't have asked for a better person to learn and work with during my time at Columbia. Columbia is losing a gem, but I'm glad that his greatness will continue to be witnessed by Chicago." 
Suzanne McBride, dean of Graduate Studies, who served as the chair of the Communication Department from August 2015 until May 2021, worked closely with Lawrence both at Columbia and at the Sun-Times, where he was a part-time editor.
"From my very first day at the college nearly 18 years ago, Curtis has been a wonderful colleague, mentor and friend to me," McBride said in an email to the Chronicle. "I learned so much teaching alongside him and watching how he engaged with and supported students in his classes and at the Chronicle."
McBride said his departure will leave a "huge void" at the college, but said she is "glad he'll be continuing his mission to support and develop young journalists and help diversify the journalism field in his new role at Block Club Chicago."
Before coming to Columbia in September 2004, Lawrence worked at five daily newspapers in the Midwest, including the Milwaukee Journal Sentinel working as an education reporter and as housing reporter for the Chicago Reporter. 
In the 1990s Lawrence worked as a reporter for the Chicago Sun-Times until 2004, when he later became a part-time editor. 
Lawrence won several awards in journalism, including a Studs Terkel Award for longstanding excellence in reporting on Chicago's diverse communities. 
Lawrence, a Chicago native, holds a bachelor's degree in English from Augusta College and a master's degree in Journalism from Northwestern University.