Comedian KevOnStage makes history with Chicago show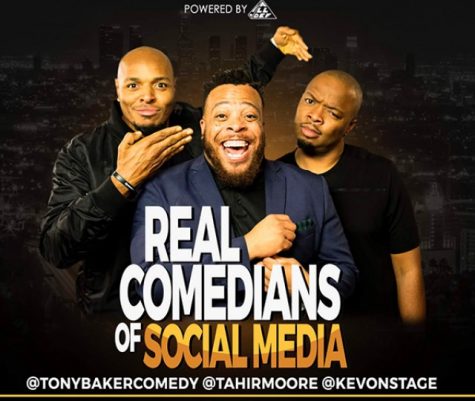 Texas-native and comedian Kevin Fredericks, also known as KevOnStage, made history by selling out a record-breaking 10,000 seats at an upcoming Chicago show during his U.S. Real Comedians of Social Media tour.
Fredericks grew in his career as a comedian and entertainer through his use of social media, with nearly 5 million combined followers across a number of platforms. Joining him on tour is Tahir Moore and Tony Baker; together they've sold out shows in 50 cities across the U.S. Their Chicago show will take place May 24 at House of Hope, 752 E. 114th St.
Fredericks spoke with The Chronicle about his journey in stand-up comedy, the influence of social media on his career, his current tour and what comedy means to him.
THE CHRONICLE: How did you first get started in comedy?
Fredericks: There was a talent show at our church, and I told my brother I was thinking about doing stand-up comedy there, and my brother told me that this girl we knew didn't think I would be funny. That was just the motivation I needed … I did it and loved it and found out a couple years ago my brother had made up that whole part of her not thinking I would be funny.
How has your social media presence affected your career?
Back in Washington, we were doing plays and … kind of hit the end of the road of doing that so we were [planning on quitting] our dreams. But before we did that [I saw] there were people who were making a living on YouTube and maybe, before we quit, we should try and do that. The first two videos [we] did went viral, that was in early 2012, and I never looked back.
What makes your show different from other stand-up comedians?
The only thing that makes us really different is our point of view. Stand-up is … people telling [others] about the world through the way they see it. We are all guys who have been doing stand-up comedy before social media even existed, but [people] are more than likely to know about us now as a result of social media.
Did you have any influences during your rise in comedy?
Tyler Perry was the biggest influence just because he was able to independently produce his own things, and I loved that about him. I have kind of taken his approach to touring and paired it with Kevin Hart's work ethic and stand-up. That is what I like to do.
What does comedy mean to you?
I love the live aspect of doing something and seeing someone's reaction. There is no joy I feel as strongly as when I make someone laugh. It is a great gift to give people.
What advice do you have for people trying to make their start in comedy?
The hardest part is just starting. Once you do it once, it gets progressively easier after that.