Column: The Chronicle took a chance on me, now it's my turn to take a chance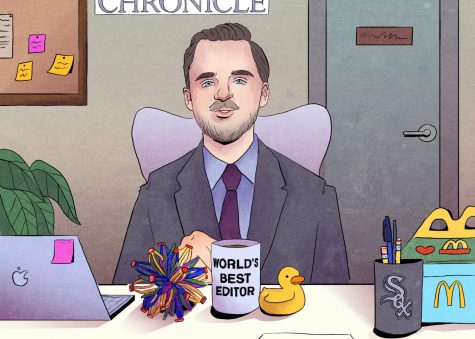 I've read 21 of my former colleagues' goodbye columns and edited 11 of them. You would think I'd have picked up a thing or two from them, and yet I'm somehow at a loss for words now that it's time to write mine.
But nonetheless, here we are. How do you begin to unpack an experience like working at the Chronicle?
Perhaps you start by looking back to the beginning. My resume would tell you it began two and half years ago when I started at the Chronicle as a staff reporter, but it really goes back much further.
I remember stepping foot in the Chronicle office when I took a tour of Columbia as a high school senior. Observing all the staffers working hard at their assigned desks and simply feeling the level of professionalism in the air was enough to tell me that Columbia was the next step I was looking for following my high school newspaper experience.
From there, time flew. The Chronicle, primarily General Manager Travis Truitt and Faculty Adviser Curtis Lawrence, took a chance on an 18-year-old kid, despite having a horrible working knowledge of how to operate Zoom during his job interview. They would take another chance a year later when they promoted the same kid to co-editor-in-chief, despite only having a year's worth of experience as a staff reporter. I can't begin to thank them enough.
As I start to look back on my time at the Chronicle, I realize how lucky I was to have people in my corner who were willing to take chances on me. I realize how lucky I was to have a space where I could not only grow as a journalist, but also consider it my on-campus home.
As a commuter student, the Chronicle office really became my central hub on campus, my home away from home. When I think of the Chronicle years from now, I know the office is the first thing I'll visualize in my mind.
I'll miss the daily shenanigans, the sense of excited urgency during a production night, my desk and all of the knick-knacks cluttered on it, but most importantly, I'll miss the people in the office.
I had 80 colleagues during my time at the Chronicle, and it was a privilege to work with each and every one of them. While I obviously can't list all of them here, there are two in particular that I need to thank: Camryn Cutinello and Anna Busalacchi.
Camryn stepped into the co-editor-in-chief role the same time I did. While we both had leadership experience from newspapers at previous schools, when it came to the Chronicle, we were both making a huge leap to the top from our reporter positions.
We were learning the ropes on the fly and had to rely on each other to figure it all out. We always said that the Chronicle is a living entity, and it has a "show must go on" type of quality to it. We knew that we had a job to do every day, and it was on us to figure out how to meet our goals by any means necessary.
I want to thank her for sticking through it with me and for being someone to talk to, whether through spoken word or telepathic communication, when we had no clue what was going on but needed to figure out a solution. There's no chance that I would've made it through my first year in this role without her in the desk right next to me.
After Camryn graduated this past May, Anna stepped into the role of co-editor-in-chief, and the same could be said for her — that I wouldn't have made it through these past six months without her presence.
While she had obviously been an integral part of our team during her time as managing editor, when Anna made the jump to co-editor-in-chief, she injected new life, new ideas and new perspective at the Chronicle, particularly from the leadership standpoint. We don't observe many extended breaks at the Chronicle, since we work through summer, so Curtis, Travis and I were pretty exhausted by the end of last school year.
But Anna's presence as co-editor-in-chief gave us a new sense of energy and renewed urgency to cover some of the big, daunting and draining stories happening on campus.
But above all of that, I think what I appreciated the most about my time working with Anna were the times that we could pause for a moment and just discuss how we were feeling about life. With both of us graduating, we're entering new phases of our lives simultaneously. I appreciate the moments we've had where we can detach from the work element and talk about leaving college and entering the workforce, among other things.
So I want to thank Anna for working alongside me and providing those additional perspectives and for maintaining the mutual support that we have for each other as we look ahead to our next chapters.
Something Travis has told me that I tend to agree with is: "There is no one who can understand what being a college newspaper's EIC is like other than a college newspaper's EIC." I cannot understate enough how much both Camryn and Anna have meant to me during this journey. We've got plenty of stories that only we would understand, and I look forward to reminiscing over them down the road.
To the staff of the Chronicle, thank you for your hard work that you put in day in and day out. Our jobs aren't easy by any means, but that never stopped you from pushing forward and continuing to report on the news important to the Columbia community.
I'm so proud of each of you and all that we accomplished together. You made me proud to hold this title every day.
Know that you are in very good hands moving forward, and I can't wait to see the amazing work you all produce. Come Dec. 17, the day I become a Columbia alum, the Chronicle will have a brand new number one fan. And for whatever you may need, don't be a stranger — my phone line is always open.
To the readers of the Chronicle, thank you for placing your trust in us to be your source of news within the Columbia community and for your never wavering support.
I think one of the biggest life lessons I learned from my time at the Chronicle is the importance of taking chances. My best stories only happened because of the chances I took. Whether it be inquiring for an interview with a potential source who I assumed was a long shot to respond, asking the outside-the-box question during an interview or taking time to research if a problem I thought may exist, actually exists.
Many times my intuition was right. The long-shot source left me on read (or more likely in the trash bin). A source refused to answer. But through all the failed chances, there were small victories that encouraged me to keep going.
I took a chance applying to be co-editor-in-chief in the first place, and the leadership at the Chronicle took a chance right back by picking me.
So, the ball is back in my court and it's once again my turn to take a chance or two, wherever it may lead me, as I start a new phase of my life.
And I suggest that you, too, keep taking chances. Who knows, you just might find yourself in the middle of a life-changing experience surrounded by amazing people.