Column: MARINA makes 'Ancient Dreams' come true in Chicagoland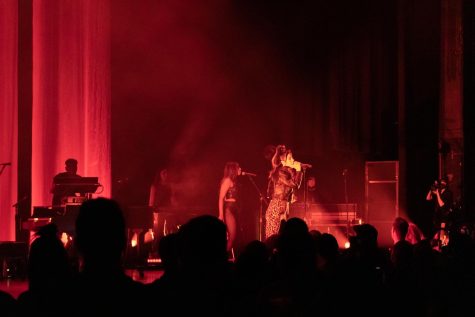 As I followed the crowd of sparkly, neon color-clad fans through the doors of The Chicago Theatre, I exited reality and entered a state of dreaming — where I got to give a younger version of myself a night to remember.
Fourteen-year-old Justice would not believe her eyes if she were met with 21-year-old me, dressed in monochromatic pink with butterfly clips in my hair, holding floor seats to a MARINA concert.
Imagine how she would react to it resulting in a published byline.
MARINA, formerly known as Marina and the Diamonds, made a pit stop in Chicago this month for her Ancient Dreams in a Modern Land Tour.
Enthusiastic fans eagerly awaited MARINA's appearance, waiting in the chilly February air for the doors of The Chicago Theatre to open well before the 7:30 p.m. showtime on Feb. 15.
The show opened with Swedish pop singer Tove Styrke's upbeat set largely consisting of tracks from her 2018 album "Sway," including songs like "Mistakes" and "Say My Name." However, the crowd favorite was her heartfelt rendition of "Super Trouper," a song Styrke dubbed her favorite song by the group ABBA.
The crowd began to murmur as they anxiously awaited MARINA taking the stage, but those murmurs rose to screams of excitement as the house lights turned off and the opening chords of "Ancient Dreams in a Modern Land" filled the theatre, with MARINA dancing at center stage.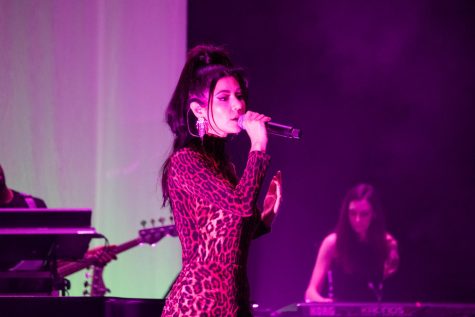 MARINA took the stage in an oversized leather jacket fit for the Chicago weather only to cast it aside, revealing a leopard-print bodysuit that had fans cheering in surprise.
The setlist consisted of seven songs from "Ancient Dreams in a Modern Land," including "Purge the Poison" and "Man's World," as well as some of the greatest hits from her earlier works.
By including songs like "How to be a Heartbreaker" from the fan-favorite album "Electra Heart," the highly requested title track from her album "Froot" as well as songs like "Oh No!" from her debut album "The Family Jewels," MARINA curated a setlist fit to please newcomers and the most nostalgic of her fanbase.
The setlist did not disappoint fans looking to sing along to her most dance-worthy tracks, but the concert was filled with emotional moments that gave fans, myself included, plenty of opportunities for catharsis.
Halfway through her set, MARINA sat at her piano and gave a performance of "Happy" that was so raw with emotion fans began to raise their flashlights until the entire theatre resembled a starry sky.
For a moment, despite the pandemic, we were able to feel a little less alone with the help of her music.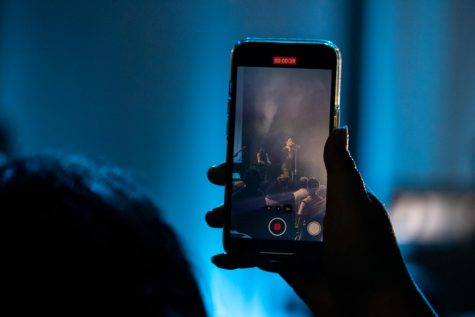 Following "Happy" was "Forget," a pop-infused anthem about letting go of what you cannot control, before which MARINA told the audience to pick something, a person, an event, to let go of that night with her. Needless to say, the audience was more emotional than ever, but the tears did not truly fall until two songs later when MARINA sang "Teen Idle."
"Teen Idle" is a song MARINA wrote in 2011 about feeling suicidal that her manager at the time urged her to withhold from the album "Electra Heart "because "no one will relate to it."
It went gold in the U.S. on Feb. 5.
This song has held a special place in my heart since I was in high school and struggling with the same feelings of loneliness and inadequacy that the lyrics convey.
I had waited for years to hear this song live, the song that got me through some of my darkest moments of adolescence. Naturally, I cried. But as I looked around at fans to the left and right of me, even to the two "diamonds" I made friends with in the row behind me, I realized I was not alone.
MARINA has mastered the art of reinvention throughout her career and "Ancient Dreams in a Modern Land" is no exception.
While staying true to her vulnerable and biting lyrics about everything from love and loss to the harsh realities of life in the spotlight, the sound of "Ancient Dreams in a Modern Land" is evocative of an evolved MARINA who wants to share what she's learned in her time on earth with her fans.
When the stage lights dimmed and MARINA left the stage, the audience began to chant for an encore, an act that convinced the band to return to the stage for her to sing "Goodbye," ending the concert on a sentimental note.
Seeing MARINA live gives new meaning to her lyrics. As a witness to MARINA herself jumping from the stage to run along the aisles of the theatre alongside her fans, I can tell you that she is truly "never gonna give you anything you expect."