Column: It's time to picture the future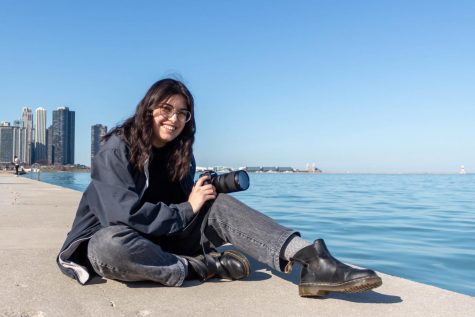 I have been thinking about how to write this column for months. In the spirit of full transparency, I'll admit that the writer's block I've found myself entrapped in while attempting to verbalize 700 coherent words to encapsulate my Chronicle experience mirrors how I felt when figuring out how to leave this position.
In short, writing this column feels wrong, traitorous even. This whole experience has been an absolute blur in the same cruel way that the best things often are.
Working in student journalism is harder than it's made out to be—especially at the Chronicle, lovingly dubbed "the Chron," where General Manager Travis Truitt and Faculty Adviser Curtis Lawrence are quick to remind you that publications like the Chicago Sun-Times are your competition over other student newspapers.
The pressure can feel maddening, but man, it's worth it. Not for the awards and bylines—although they are nice—but for the bonds created by crawling your way through the experience alongside your colleagues.
As disgustingly melodramatic as this sounds, I owe this paper the most incredible experiences and tightest relationships of my college career. From covering more protests than I can count, to capturing my first election and taking pictures from the back of a motorcycle, I cannot envision what the last two years would have looked like without this job.
When I first applied to the Chron, I had no idea what I was doing. All I knew was I loved making images, and working for the student paper felt like a natural first step in pursuing that passion. This next step feels equally terrifying, although sadder, because I have something to lose for the first time.
If you look back at the endless archive of sappy goodbye letters written by past staffers, you will find a common thread throughout all of them: although the work is what pulls you in, it's the people who keep you around.
As I enter the larger world of journalism and chase down my next big story, rest assured I will do so informed by the experiences and work ethic that the Chronicle has drilled into my ethos forever.
The guidance and encouragement I received from former-Director of Photography Mike Rundle and former-Senior Video Editor Ignacio Calderon allowed me, from the very beginning, to flourish beyond what I ever considered myself capable of.
Their support allowed me to carve out space for myself within the multimedia desk and uplifted me until I felt at home in a profession where I so often feared I didn't belong. They may never fully understand the impact they had on how I viewed myself as a visual journalist, but I'll forever consider them my earliest mentors.
They gave me the confidence to take on a leadership role I had only ever imagined I would hold. Through that, I got the greatest gift of all, an opportunity to guide the wonderful people I've had the fortune to oversee through my work as Director of Photography.
To all of the incredible photojournalists, old and new: Thank you for making my job as rewarding as it has been. Your talent inspires me daily, and I cannot wait to continue looking at your beautiful images and amazing stories, even if from a distance.
I could not have made it through the past year without the wonderful team of editors who helped me crack a smile when it felt like the world was spiraling out of control and kept me grounded through this very strange time. Seeing your faces every week, even just through a screen, gave me the courage to push forward when I was not quite sure where forward led.
Finally, none of this would have ever been possible without Co-Editor-in-Chief Mari Devereaux, my partner in crime and dearest friend. Not many people get to say they worked for so long with their best friend and came out of it closer than before. I still cannot believe she never got sick of me.
Working alongside all of you has been the greatest stroke of luck life has afforded me so far. I can never thank you enough.