Column: It could have all been so different, ever-grateful that it wasn't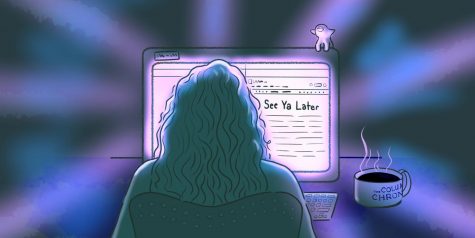 At the tail end of the fall semester of my junior year, I knew going into the spring that I needed to focus on my future career—which at that time had yet to be determined—so, therefore, I needed a job, any job.
On a whim, I submitted an application to The Columbia Chronicle. I applied for the role of copy editor, not knowing exactly what that entailed—I thought, "Well I can write, and I've edited the work of my peers. That counts, right?"
On the last day of the application deadline, I turned in my materials I had spent the previous 48 hours combing over. When I hit the virtual submit button, I then thought, "Well at least I did it," and figured I wouldn't even get as much as a call back in regards to the application.
Then, on the last day of classes of that fall semester, I did, in fact, have my interview and meet my future bosses and the faces of people who would soon be my trusted coworkers.
Weeks later, when I got a call from now-executive producer Blaise Mesa asking if I would accept the position, I had to calm myself down from being so giddy to say, "Yes."
The Chronicle was my first job in any field semi-related to my major—creative writing. Before I worked there, I had nary an idea what I would do post-graduation.
Since then, I've held three positions in my time here—copy editor, copy chief and opinions editor—a transition of opportunities I would have thought impossible at any point in my college career before being hired.
I think a lot about the hypotheticals surrounding my time at the Chronicle. "What if?" is a big question for me. One thing I've never had to question over the course of these three semesters, however, is the dedication of the people who went the extra mile to help me and others in the newsroom.
"
Something wonderful happens when you are continuously in a room full of people who will simultaneously be your biggest critics and your most avid supporters.
— Margaret Smith
Something wonderful happens when you are continuously in a room full of people who will simultaneously be your biggest critics and your most avid supporters. There is drive and passion; fear and intimidation; failure and the ever-elusive success, mingling in the air as we ask each other's advice, tell each other when we come up short and "Oooh" and "Ahhh" over our finished products.
The personal success I have derived from the Chronicle is not without the absolute dedication of my editors and colleagues. If it was not for them seeing my weaknesses and then requesting more of me, I wouldn't leave after these three challenging yet rewarding semesters confident in my skill set.
If it wasn't for their trust in me, I wouldn't know I was capable of the things that have become routine for me. It may seem like a lot of hoopla over just some job, but the newsroom, with its roller coaster of thrills and disappointments, is a saturated experience you can't help but be impacted by, whether it is a subtle change or not.
The Chron, as we affectionately call it, is a self-proclaimed place for students to learn. Homework assignments and hypothetical scenarios are fine and good inside our classes, but using what we know to work on deadline and often at the mercy of professionals in their fields—that's how you really learn.
If there is one overarching ideal the Chronicle has cemented for me, it is this: The sooner you allow yourself to be critiqued, the closer you are to achieving things you didn't even know you were meant for.
A favorite quote of mine, which predates the Chronicle, is "Life begins outside of your comfort zone." Each passing opportunity I have had since that quote has come into my life only further actualizes it for me.
To the people who put me outside of that zone—my editors, managers, the photojournalists, copy editors, reporters, graphic designers, the ad sales reps and every person I've seen come and go over the course of my Chronicle career, from my first day to my last—thank you for all you've done for me. I hope you know just how grateful I am for you.