Column: How I designed for the Chronicle, and how the Chronicle designed me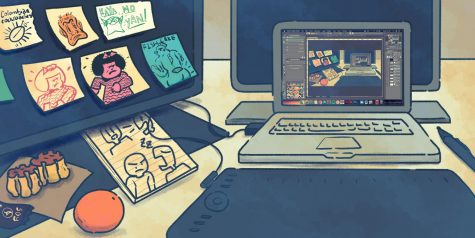 It was just another day in my "Typography for Graphic Design" class when Grace Senior, former Chronicle creative director, advertised an opening for graphic designers at the campus news organization.
Unsure at the time, I didn't act right away, but I was eventually swayed by the slew of hiring ads that were somehow appearing before me around campus. Fast forward a few months to a morning in June 2019—I had just finished my internship and was rushing to get to the Chronicle's office for my interview, the outcome of which should be apparent by now.
I thought my position at the Chronicle would be mainly dealing with the type and layout of each page, but I found myself designing graphics way more than doing layout work—which I, personally, found very exciting as I am an illustrator on the side. Every day, I slowly found myself doing tasks outside of my comfort zone, such as collaborating with fellow coworkers; getting the approval of three or more people within the office for a single graphic; designing advertisements and factually accurate graphs; and writing for the paper itself.
The Chronicle made it so easy for me to reach out to people and has changed my process for approaching graphics entirely. Inclusiveness, meaning and flexibility are some words that come to mind when I think about how I design for the Chronicle and all projects moving forward. I will always keep those experiences and the fun memories I've had with everyone with me no matter where life leads me. I may be leaving the Chronicle, but I guess the Chronicle is never leaving me.