Column: Goodbye and thank you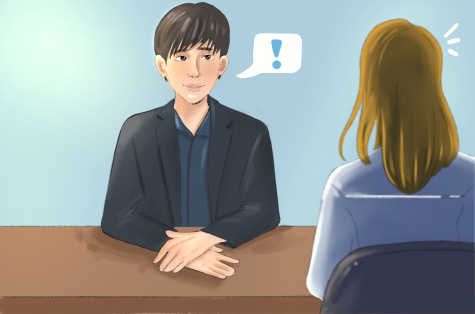 Writing this feels surreal. I've been in college for as long as I can remember, since 2017. However, I switched my major four times and took a break for mental health reasons.
There have been a lot of hurdles with my mental health. I never thought I would be able to get through college, let alone be able to accomplish the many things I did prior to my graduation.
When I switched my major to journalism in 2019, I never imagined I would be published in the Chronicle or in discussions about being an editor, reporter or a news producer after I graduate.
I remember walking in the hallway of the second floor of the 33 E. Ida B. Wells Drive building to the bathroom during class and seeing all the Chronicle awards, along with plaques acknowledging all the accomplished people who attended our school on the walls.
I thought it would be so cool to be accomplished (whatever that means), but I never thought I would be able to describe myself that way. I wanted to have my name somewhere at Columbia where I would be remembered as being a part of this school. I didn't want to just graduate and be forgotten.
But, I always felt insecure with my writing. I never felt like I would be good enough. I vividly remember a past Chronicle staff member coming into my "Introduction to Journalism" class and my "Reporting I" and "Reporting II" classes, talking to us about applying to join the staff.
They said if we had certain things on our application, they would throw them away. Regardless of whether this was a joke or not, this comment painted a scary image of the Chronicle in my head, which made me feel like I would never be good enough to apply.
It wasn't until I read Kaylie Slack's goodbye column in the spring of 2021 that I felt confident enough to apply. This particular goodbye column spoke to me because I saw myself in it.
Slack talked about having joined the Chronicle staff after only taking one journalism course, and she even felt like she bombed her interview. This changed my perception of the Chronicle, as being filled with perfect students who lived and breathed journalism.
It made me feel like I could give it a shot. So, in my last year at Columbia, I applied and was selected to join the staff with a bunch of other classmates who are regularly in my journalism classes.
In my time here, I've worked on feature stories, campus stories, non-profit stories and even a few hard news stories. I've interviewed faculty, staff, union members, the provost, police and more.
I've gone from not knowing how to find a story or where to start when writing an article to feeling confident with my writing and having multiple bylines to show for it.
Even with these accomplishments, I am still human and flawed. At the end of this semester, I had a teacher tell me I need to improve on my writing. Yes, you heard me right. Of course, we all can improve.
If you take anything from that or this article as a whole, it would be this: You have to believe in yourself. You are more capable than you probably know. You need to advocate for yourself. It's okay not to be perfect or to make mistakes along the way. Don't be afraid to take risks.
Whether I continue with journalism or not, I will not forget my experience at the Chronicle. I've worked remotely for the most part, but there really is a giant family here I've connected with. Every article you see has an entire team behind it. Thank you all, and here's to what's next.