Column: From intimidation to pride, I look back with immense gratitude and awe for this staff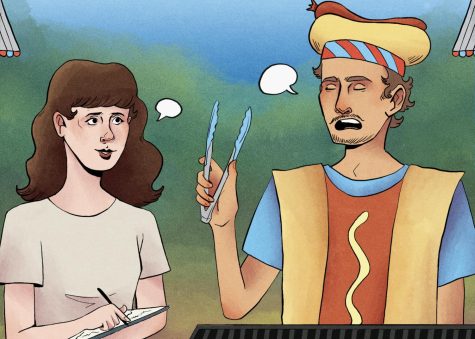 I remember sitting in my high school newspaper class flipping through the Chronicle's website as a senior getting ready for my Columbia experience as a journalism major.
"Fat Tuesday: glazed with heritage," was the first article I came across and was instantly intrigued by the Chronicle's coverage not only on campus, but on the culture and people in Chicago.
From then on, I knew working for the Chronicle would be a goal of mine, though I had no idea how I would acquire a position on its staff. I was incredibly intimidated by the work the Chronicle produced.
The way the reporters were always out and about finding new stories, asking the hard questions and interviewing one person after another — something my self-conscious 18-year-old self refused to do — I looked up to them for their ambition and curiosity.
It took me two and a half years before I felt ready to step into this dream of mine, when I had a better idea of who I was as a reporter and what I wanted to accomplish when it came to the stories and issues most important to me.
It's funny how three and a half years later, I'm sitting on the couch in my living room where I've written and edited a variety of articles published with the Chronicle and now I'm writing this goodbye column.
Thank you to General Manager Travis Truitt and Faculty Advisor Curtis Lawrence for encouraging and pushing me out of my comfort zone as a reporter. Also, to associate professors Jackie Spinner and Betsy Edgerton; truly I would not be the journalist I am today without the advice and guidance they have consistently given me since day one.
Now, looking back on my time as a staff reporter and news editor, I'm so blessed to have been a part of this staff and to have covered so many stories, specifically events like Taste of Chicago during the summer. Staff Reporter Irvin Ibarra and I had the pleasure of eating an alligator hot dog and I have to say, it was not bad.
Working on this staff has immersed me into what it means to be a student at Columbia, not only embracing diversity and creativity, but also exposing me to the reality of being a citizen in Chicago and the stories built into every corner of this city.
Despite the many uncertainties that occurred during my time as a student at Columbia, working for the Chronicle has redeemed my time here, especially when faced with a pandemic that severely damaged the in-person college experience I expected to have.
The Chronicle provided a place for me to connect with other passionate students who were, like me, ready and ambitious about following in the footsteps of the Columbia alums we looked up to. I'll forever be proud I got to be a part of that kind of staff.