Column: Conan Gray cures Chicago-sized 'Superache'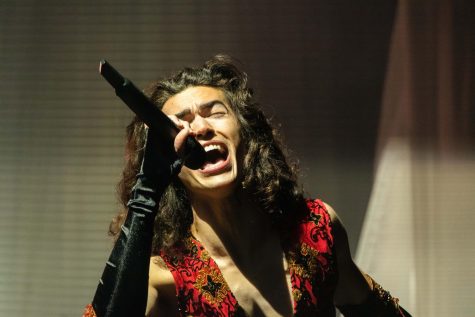 A lot has changed for Conan Gray in the six months since he last played a show in Chicago.
He released his sophomore album "Superache" to critical acclaim and toured around the world in venues triple the size of those in which he performed during his previous tour.
On Wednesday night, Gray traded up venues from the Byline Bank Aragon Ballroom located at 1106 W. Lawrence Ave., where he last played in Chicago, to selling out the Huntington Bank Pavilion, located at 1300 S. Linn White Drive, for what he called "the biggest show of his career."
The hearts — and bodies — of fans were warmed by Gray, with the support of his opener, "Arm's Length" singer Kacy Hill, as fans dressed in coats and multicolored cowboy hats filled the venue.
The stage was set in the melodramatic, hopelessly romantic style of "Superache," adorned with projections of red roses, handwritten lyrics and, at the center of it all, a giant open heart from which Gray entered in his patented platforms and red two-piece. This bold new style marks the beginning of the "Superache" era, abandoning the "Heather" sweater and pleated skirt he once clung to for a similarly androgynous, but less delicate look.
Gray's set opened with "Disaster," the fourth and final single from "Superache," an upbeat synth-pop, over-thinker anthem, followed by "Telepath," which was an energetic opening to what would become a roller coaster of a show.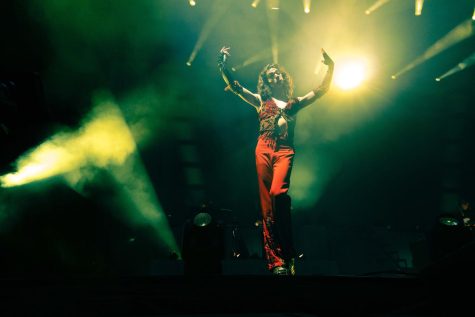 Gray, who introduced himself as Conan, expressed gratitude to the crowd for showing up for him and promptly ended with, "I hope you enjoyed that, because that's all the fun we're going to have."
While Gray has his fair share of party pop songs, his fans do not come for those; they come for the cathartic release of crying over the person they never even dated.
Gray proved to be well aware of that, as he transitioned into the second act of his set with a viral clip of him on "TODAY," where he dispelled media speculation of his personal life by saying, "I've never dated anyone. So, really I'm just a liar."
As a former YouTuber turned pop star, Gray can attribute much of his success to not only his talent, but also for his constant occupation of an entire generation's "For You" page. However, internet fame for artists comes at a price, as live performances become more frequent just in time for younger fans to attend their first concerts.
One of the pitfalls of going viral on TikTok is that while it attracts new and younger fans, it does not turn them all into album listeners.
Gray's younger audience at times has failed to reciprocate the singer's energy during performances of B-sides like "The Exit" and "Footnote" or, surprisingly, even songs like "The Story," which has long been considered a fan favorite — simply because many of them had only heard snippets from his songs in short TikTok videos.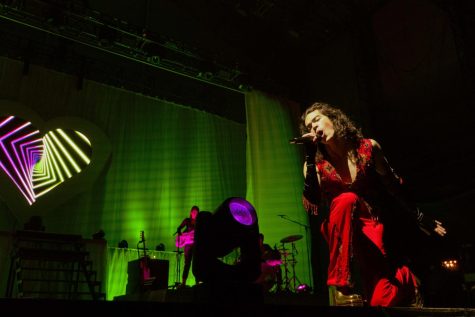 Knowing an artist's entire discography is by no means a requirement to enjoy them live, but audience familiarity with the music plays a role in the overall enjoyment for all participants — including the artist.
Gray knew to play to those strengths and didn't miss any opportunities for crowd participation during the most popular parts of his songs — I'm looking at you, second verse of "Jigsaw" and the entirety of "Heather."
Gray gave a heartfelt speech before performing "Family Line," a vulnerable look into his traumatic childhood that he explained he has spent his entire adult life trying to run away from, and he reassured fans that they "are not their past."
The show ended with the electrifying "Maniac" from his 2020 debut album "Kid Krow," and Gray prefaced the song with a disclaimer, "This is my last song, and I'm totally not lying to your face."
Of course, he came back afterwards for an encore of "Memories," which finally ended the night with what Gray does best: gut wrenching lyrics, powerful vocals and infectious melodies.
If the funeral-paced exit of the Huntington Bank Pavilion is any indication, Conan Gray surely puts on a show that will "stay in your memories."