Column: Bye, y'all!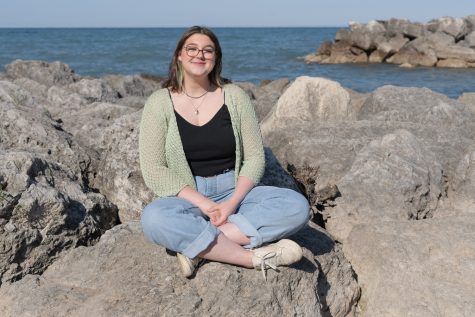 I have been waiting nearly eight months to write this goodbye column. This is my fourth time sitting down to say goodbye, and writer's block is still infecting my mind.
I think the reason it has been so hard to write is because when I submit this article, it is officially over, which is something that I have been dreading since I started at the Chronicle. I want it to be perfect; I want my farewell to be memorable and unique, but that would not be representative of my time here.
Twice I applied for the photojournalist position, was interviewed and then rejected. I moved back to Chicago in August 2020 feeling very lost and confused. Then I got a call in late September from Travis Truitt, the general manager, asking if I was still interested in the position.
I started in the middle of the fall semester, without the full training others received before the semester, and cried after submitting my first article because no one told me I needed to put timestamps at the beginning of the quotes. (Thank you to Managing Editor Dyana Daniels!)
That same story took way longer to pull together than it should have, and when it was time to take photos of the lighting studio, I had to call Camilla Forte, my former boss, in a panic because I was afraid to walk through the door. I still remember the kindness that oozed out of my phone.
The 2020 presidential election was the night I finally felt a part of the photojournalism family. Photojournalists Zac Clingenpeel and K'Von Jackson were the first co-workers I met in person, and I will never forget the way K'Von took me under his wing. I later met the rest of the team at Audience Engagement Editor Paige Barnes' apartment, and every single person offered to walk me home.
In December my life changed when my relationship ended and my father's health took a turn. The confidence I once had in myself as well as my writing evaporated. I spent much of winter break feeling sorry for myself. But then this really cool thing happened: I got the full, official Chronicle training.
Upon returning to Chicago, I threw myself into my work. I began writing stories that fascinated and amazed me, and the folks I once considered co-workers started becoming my friends.
Just when I thought nothing could bring me down, my idol—Camilla Forte—stepped down from the Chronicle to pursue other work opportunities. There are not enough kind things I could say about Cam, our former director of photography, but I genuinely do not think I would be the journalist I am today without her.
The only good thing to come out of her stepping down was that I got promoted to deputy director of photography and spent the rest of the semester with my close friend Kaylie Slack, who became the new director of photography. She is one of the most hardworking, honest and unapologetic people I have ever met.
I wish there were a brilliant conclusion to the roller coaster that was my time at the Chronicle, but there is not. What I know, though, is that the Chronicle changed my life. It sounds sappy to say, but I met some of my best friends, wrote some super cool stories and got to take the raddest photos because of this job.
I will be eternally grateful for the time I have spent with all of you. Thank you for taking a chance on a girl who had no idea what she was doing.