Column: Billie 'the bad guy' Eilish puts on a show worth camping out for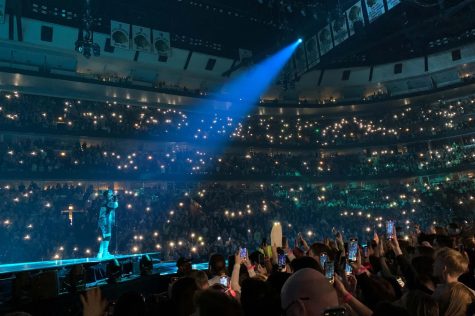 Standing in the general admission line for a Billie Eilish Show is an experience unto itself, with her most dedicated fans opting for tents to camp out for the best seats before the sun rises on the day of the show.
As the line shrinks, your anticipation grows, until you're making friends with blue-haired strangers waiting in line with you and chit-chatting about anything that helps you forget about the Chicago wind.
Any doubters of Eilish's ability to command a crowd have very little to argue in light of her "Happier Than Ever" world tour, which made a stop in Chicago March 14.
The United Center is an intimidating venue even for the most seasoned performers, but Eilish conducted the floor-to-ceiling crowd with the expertise of someone who already played two shows at the arena in 2019, for her "When We All Fall Asleep" tour.
The crowd chanted a chorus of "Billie, Billie" after a rhythmically inclined performance by her opening act, DUCKWRTH, whose charisma and stage presence enthused both familiar and unfamiliar concertgoers alike.
Then, in a mist of fog and the flashing of strobe lights, Eilish appeared, clad in her battle armor — a trippy oversized two piece with abstract white hands reaching out of a black abyss, knee pads and her signature inky and unkempt pigtails.
She opened the show with fan-favorite "Bury a Friend," a choice that exemplified the way she would exquisitely blend the ghastly world of "When We All Fall Asleep, Where Do We Go?" with the more mature, efficacious "Happier than Ever" era.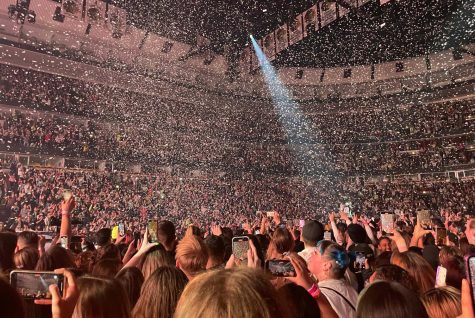 Eilish said there was one rule for the night: Have fun.
She made the crowd promise to follow that simple rule before continuing her set and periodically checking in to ensure everyone was enjoying themselves while still being safe. Eilish even instructed the upper levels to sit down and for her excitable pit to take several steps back on more than one occasion throughout the night.
The songstress gave the black, white and highlighter green audience plenty of her simultaneously dark yet sultry stage persona throughout her performance.
Her signature siren-eyed look paired well with both the sensual dancing used for songs like "Billie Bossa Nova" and the more erratic thrashing movements for songs like "Oxytocin," during which Eilish instructed the crowd to get as low as possible and jump up and down on her cue.
Midway through her set, Eilish slowed things down for a time, singing the haunting "ilomilo" followed by an acoustic shared performance with her co-collaborator and brother, FINNEAS, who is accompanying his sister on tour and received his own praise from the crowd throughout the night.
During this stripped-down performance of "I Love You" and "Your Power," Eilish shared with the audience that the latter was perhaps her favorite song she has written with her brother.
"We need to protect our young girls," Eilish said to a crowd of predominantly young girls, who cheered in support.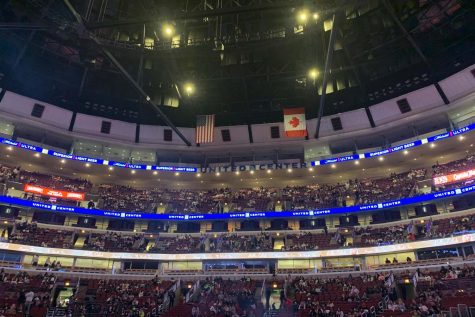 After that heartfelt dialogue, the conversation pivoted to talk about Eilish's evolving image as a young woman growing up in the entertainment industry, with "Overheated" and "Male Fantasy" being followed by a digital performance of "Not My Responsibility."
Each song offered its own commentary on how large a role body image and ownership has played in her career in recent years, a trend Eilish openly draws attention to and critiques.
Eilish appealed to her longtime fans by including a medley of older songs like the TikTok trending song "Bored," as well as "bellyache" and "ocean eyes" — a nod to her humble beginnings as a young girl recording songs with her brother in their childhood home and posting them to SoundCloud without knowing where it would lead them.
The night closed with the title track from "Happier Than Ever," which is unparalleled in its encapsulation of Eilish's innovation in song composition but also in the catharsis it offers fans who screamed the lyrics "You made me hate this city," in place of Eilish, who watched with a smile on her face.
Eilish has made a lane of her own in the worlds of music, fashion and celebrity, with the help of her brother, family and team who she thanked at the end of the show.
Eilish and her band slid down the stage's platform like a penultimate roller coaster underscored by the ever plaintive "goodbye" as they refused an encore, unapologetically presenting the audience with a fully realized show that packed 29 songs into 90 minutes, like fans into a GA pit.
If only the 13-year-old Billie Eilish had known she would go on to inspire the next generation of girls to forget being good and embrace being the bad guy.