Column: A bittersweet goodbye to the Chronicle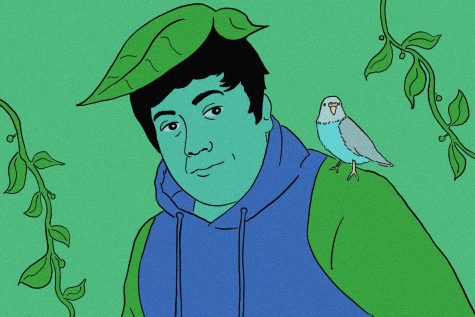 Bittersweet. This word has been repeating over and over in the back of my mind since the start of this semester.
There was always a feeling of anticipation felt since I started at Columbia in 2019. That same feeling was there when I was hired at the Chronicle in 2021 as a staff reporter and photojournalist.
It was the feeling where I knew this moment would conclude as quickly as it arrived.
I'm reminded of a time when a teacher at my former high school told me that the next four years of my college experience would come and go in the blink of an eye. At the time, I doubted her.
It was daunting to believe the past four years could be such a blur, yet here I am. Roughly 3 1/2 years of my college experience wrapping up in the coming weeks.
Graduating has always been a dream of mine, alongside that of my parents who immigrated from Mexico to the United States in the late '90s.
Even with the excitement I feel to finally receive my degree, I couldn't shake the distressing realization that these are my last few moments as a student — and as a reporter for the Chronicle.
Yet, I found comfort in these feelings stemming from the major appreciation I have for the Chronicle staff and what they have provided me.
When I first started as a commuter student, I would show up to my three-hour classes, do the work for the day, then commute back to my home in Pilsen.
It was that same cycle for my first two semesters, which broke when the pandemic hit, halting the Spring 2020 semester.
The pandemic exacerbated the disconnect I felt towards the Columbia community both physically and mentally; it led me to question the point of me being here in the first place.
I didn't have a community at Columbia, and as a first generation student I was conflicted by the feeling that I was only pursuing higher education for my immediate family, rather than for nurturing my own education and passions.
I hated that feeling, and the additional feeling of guilt for prompting the question of dropping out and pursuing other interests weighed in the back of my mind.
Yet, I knew I always had an interest in journalism – I just didn't know it until after I started at Columbia.
The following Fall 2020 semester, I took my first couple of journalism classes over Zoom, unaware that writing and reporting was an interest I had; it was something I wanted to attempt out of curiosity.
It was only then I was introduced to the Chronicle by Professor Sharon Bloyd-Peshkin and Associate Professor Curtis Lawrence.
Applying to the Chronicle was a wildly anxious process for me, but I found comfort in understanding how competitive it was — how probable it was that I'd be rejected.
But when General Manager Travis Truitt called me, letting me know I was hired on as a Fall 2021 staff reporter, it would be an understatement to say I was excited. Apologies to Truitt for screaming into the phone!
The Chronicle gave me a community to depend on at Columbia — a space on-campus to get to know people in and out of my department, further fostering those connections.
It gave me a platform to tell stories about my neighborhood, Pilsen, and explore the city further. Most importantly, it gave me the ability to learn from my mistakes under the guidance of other student journalists and incredible advisors.
I want to thank Truitt and Lawrence for taking a chance on me and guiding me as I practiced reporting, writing, photography and for letting me tell stories about my community.
A massive thanks to the former and current management team at the Chronicle; they are incredible leaders and journalists, and I am happy to have worked beside them through multiple stories and issues.
Thank you to the entire Chronicle staff who have been such immense inspirations to me and even greater friends.
Shout out to former Associate Professor of Instruction Shanita Baraka Akintonde, Associate Professors Elio Leturia, Yonty Friesem and Jackie Spinner, who all have been some of the best instructors I've had in my college experience.
I'm thankful for the relationships I've made at the Chronicle and at Columbia as a whole.
Thank you for these bittersweet memories. Now, who is going to tend to the Chronicle plant garden when I'm gone?