Columbia's Black student talent highlighted at the 'Black Carpet Showcase'
Performances from Black students including singers, dancers, fashion designers and more lit up the stage at the "Black Carpet Showcase" over the weekend.
CK "Deadshot" King, a sophomore dance major and organizer of the event, said she was inspired to organize the showcase because of the "lack of inclusiveness" at Columbia.
"I had to step up for my people and create something Black people at Columbia [College] Chicago can call their own," King said.
The "Black Carpet Showcase" took place at Columbia's Conaway Center first-floor event space at 1104 S. Wabash Ave. from 8:30 to 11 p.m. on Friday, April 15. 
The event kicked off with King, assistant creative director Kayla Gilmore and secretary Mecca Winston welcoming the audience to the show.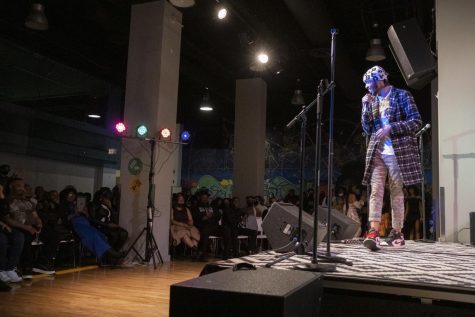 The showcase also served as a charity event for The Color of Autism Foundation, a nonprofit organization dedicated to "educating and assisting African American families with Autistic children."
With April being Autism Acceptance Month, King said she felt it was her responsibility to give back. She wanted to do something to represent her little brother, who is autistic.
"I sent an email to Camille Proctor, who is the founder of the Color of Autism Foundation, explaining the event. After a few emails, we set up a Zoom call, and we instantly clicked," King said. "I chose this foundation because, like me, Camille did not have the proper support for her son, who is autistic and Black. She decided to create something that could not only benefit her child but others that looked like her son as well."
The showcase was separated into color-coordinating sections dedicated to the rainbow of neurodiversity and the autism spectrum. Performers dressed in either red, orange, yellow, blue or green, depending on their area.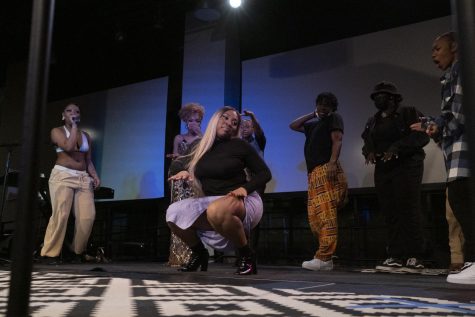 Creatives who graced the stage ranged from painters, poets and fashion designers with their models to singers and dance performers.
Jasmyne Strong, a junior dance major, showcased her crochet clothing brand Jasmyne Creations at the "Black Carpet Showcase."
Showcasing three sets of collections, an orange-themed, black and white-themed and butterfly top collection, Strong said this was her first-ever fashion show.
Strong is a self-taught crochet artist. She has crocheted as a hobby for six years and decided to take it more seriously.
"I started off just making house slippers, hats and scarves until I became interested in wanting to make actual outfits," Strong said. "My goal is to be as diverse as I possibly can, so I'm not aiming for a specific style, but rather hoping to challenge my creativity in every aspect of designing and making clothes."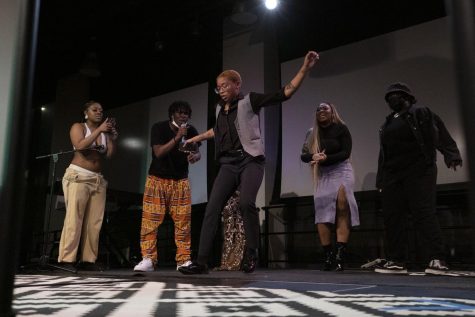 Danny Lock, a sophomore music major, performed a rendition of "Glory" by John Legend and Common.
Lock said she believes King organizing "Black Carpet" is a way to let the college know that "we're here" and showcase what Black creatives can do.
"Yes, there is some Black representation here, but it usually always starts with a Black student," Lock said. "Even when it comes to us [Black students] having events, it doesn't really get promoted, and I feel like Black students don't really get the credit they deserve when it comes to their performances and what they can do."
The show ended with a group dance performance, with dancers dressed in colors of the neurodiverse rainbow performing to a mixed song that included "Freedom" by Beyonce and "DNA" by Kendrick Lamar.
King said more events will be coming soon. She is creating her organization, the Black Artistry Chapters at Columbia, where Black students can "rejoice and celebrate the astonishing beauty of being Black and the amazing work and art we have to offer."