Columbia to host first sensory-accessible commencement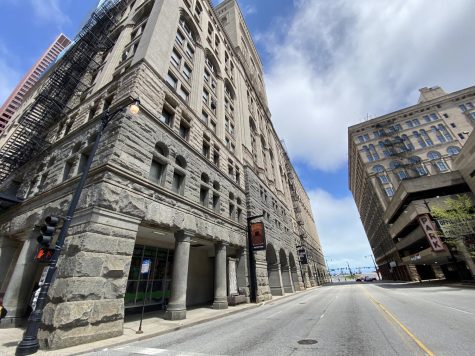 In a first-ever initiative for the school, Columbia is making a designated sensory space at the Auditorium Theatre for this year's in-person commencement ceremonies.
The sensory space will be a quiet room at the venue that will include bags to borrow containing headphones and fidget toys available for guests, students, faculty and staff who might need it if they forget their own sensory items.
In an email to the Chronicle on April 28, Jackie Spinner, associate professor in the Communication Department, said she first proposed the idea of a sensory-accessible commencement for the 2020 ceremony before it shifted online, but always thought about the idea of having sensory spaces available for public events at Columbia, starting with the screening space of her first documentary "Don't Forget Me" in 2019 at Film Row Cinema, 1104 S. Wabash Ave.
Jessica Meharry, associate professor and interim co-director of Academic Diversity, Equity and Inclusion, said discussions about having a sensory-accessible commencement ceremony were put to a halt once the pandemic started and Columbia's graduation ceremonies moved online.
Once commencement for this academic year was announced in-person, talks of creating the sensory space resumed between Spinner, Academic DEI and the Student Diversity and Inclusion office.
Charee Mosby-Holloway, director of SDI at Columbia, said her office serves in a support role for the sensory-accessible commencement, and the team is excited about their ability to make more spaces at Columbia accessible.
"It's been a learning experience hearing from folks who are neurodivergent or live with autism about what they need to be fully present and fully participate," Mosby-Holloway said. "All students should be able to fully participate in their college experience from orientation to commencement."
The Fashion Studies Department is hosting a sew-a-thon event for the creation of the bags for the sensory items on Thursday, May 5 in the seventh floor Fashion Studio, 623 S. Wabash Ave., from noon until 8 p.m.
Colbey Reid, chair and professor in the Fashion Studies Department, said the event for making the bags was put together after Spinner approached her about connecting with fashion students.
"I thought a lot of our students would love this project," Reid said. "It's very aligned with the values of our department."
Meharry said Columbia having a commencement ceremony like this is a really important step in the school's DEI efforts. She said she values the knowledge of people across the school when it comes to making campus a more accessible and equitable space.
Spinner said whenever she goes out with her oldest son who is autistic, she makes sure the space is inclusive and doing so helps her rethink the ways she teaches and makes her classroom more accessible to neurodiverse students.
"I'm applying that same thinking to commencement," Spinner said. "If we are successful, every autistic person who comes to our campus will be able to count on us."