Columbia students scramble for commencement tickets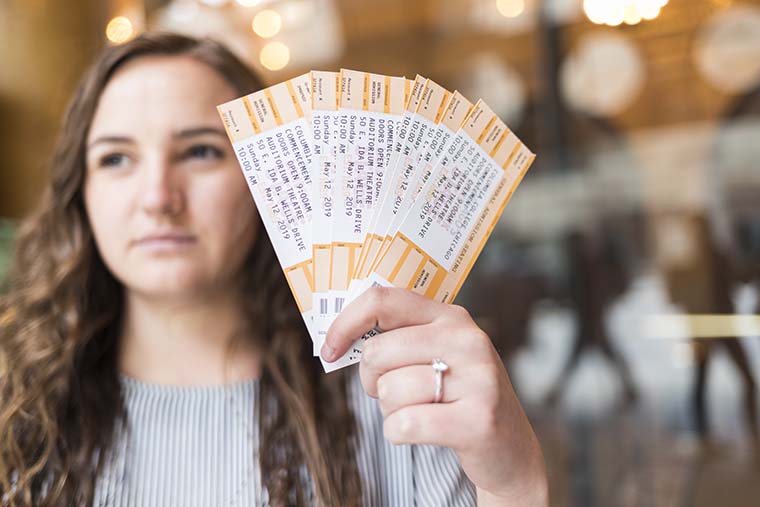 Guest tickets for commencement this year are in high demand among graduating seniors, with some students turning to social media to make sure friends and family can attend.
This year's ceremonies will be held May 11 and 12 at the Auditorium Theatre, 50 E. Ida B. Wells Drive. The college's commencement website states graduates can reserve up to six tickets. It also specified that all attendees must have tickets regardless of age.
Graduating students often offer and find additional tickets during classes and on social media. From Feb. 20 to April 25, seniors in the Columbia College Chicago Class of 2019 Facebook group have made approximately 58 posts regarding extra graduation tickets.
Senior photography major Jackie Ferreira said she did not need all six of her tickets, so she decided to post on the Facebook page and offer to sell them.
She said she received multiple messages from students interested in purchasing her tickets, but when it came time to claim them, only one person actually jumped at the opportunity. Ferreira said she sold the tickets for no more than $10.
"I feel like [they] should at least ask people how many tickets they need and then try to configure it," Ferreira said.
According to Senior Director of the News Office Lambrini Lukidis, the number of tickets each student can reserve is based on the anticipated eligible graduates. For this academic year, there are about 500 graduates per ceremony.
Columbia allocates 2,700 tickets for students and their guests for each of the four ceremonies, according to Lukidis.
Dispersal of leftover tickets occurs during cap and gown distribution the week of the ceremonies and are on a first-come, first-serve basis. Lukidis said these tickets are only available if the Office of the Registrar feels confident about the number of unclaimed tickets.

Other institutions, such as Northeastern Illinois University, handle ticket distribution differently.
Similar to Columbia, Northeastern determined six tickets to be the standard number for registered graduates, according to Director of Student Union Event and Conference Services Kyle Burke.
However, Northeastern students are asked during ticket distribution if they would like to be put on a waiting list for potentially two additional tickets, Burke said.
A week before Northeastern's commencement, Burke said they take inventory of the tickets they have remaining and then contact people in the order of which they signed up on the waiting list.
Burke said Northeastern's ticket distribution process is possible due to commencement ceremonies being held at Credit Union 1 Arena, 525 S. Racine Ave., which seats a large audience. Columbia commencement ceremonies have been held at the arena in past.
Roosevelt University also determined six guest tickets per graduate, according to Tammy Bunville, who works in Graduation Services at Roosevelt.
Unclaimed tickets for Roosevelt's ceremony are returned to the Auditorium Theatre, which Roosevelt also uses for its commencement, Bunville said.
Since December, senior comedy writing and performance major Tommy Bezreh and his family have been planning to figure out who would be flying to Chicago from Boston for his graduation. Bezreh said he had to tell his family he was not sure who would be able to attend the ceremony.
Bezreh posted in the Facebook group saying he was looking for two more tickets. He was able to get the two tickets he needed and said he was very lucky.
"They didn't make me pay them. I offered to pay and they said, 'It's all good,'" Bezreh said.
According to the Facebook group, ticket shortages among seniors are not specific to either of the four ceremonies held during the two days.
Students desperate for tickets have attempted to make their posts stand out more than others by adding gifts, photos or even rewards on top of paying for the ticket. One student, who works at a flower shop, offered to give an extra ticket holder flowers, while others have tried to entice people with food and discounts at stores where they work.
Senior live and performing arts management major Alise Wagner asked in multiple posts in the Facebook group for three tickets, but never received any responses.
"I just know that other people were getting responses, but it was only if they were paying for the tickets," Wagner said.
Wagner was able to avoid paying for extra tickets after eventually getting tickets from a co-worker and friend for free.
"We've worked our butts off, we've paid our way to get to this final moment of graduation, and I think it's just such a proud moment in our lives and in our families' lives," Wagner said. "We shouldn't have to stress about who needs to come, who can come or how many tickets I have."