Columbia students say these are the top fashion trends that will reappear this fall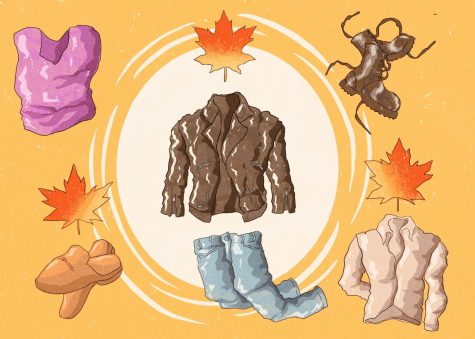 With fall approaching, the fashion universe takes a rebound from a year full of loungewear and athleisure as people go back to their in-person schedules. Columbia students shared their opinions on some of the biggest fall trends to watch for on campus.
1. Bright, vibrant colors — especially green
Summer may be ending, but the saturated hues that were loved during the warmer months will stick around a little longer. Junior social media and digital strategy major Haleigh Winterbauer said green will continue to be a popular color many will see this coming season.
"I think a '70s color palette is going to be in," Winterbauer said. "I've seen a lot of orange, brown — originally the colors I've been into this year are a lot of green, brown and earth tones, so I think that's going to be really big this fall."
2. Argyle, houndstooth and dark academia making a comeback
First going viral on TikTok last year, these two patterns will make a return as students expect to be able to wear them out more often this semester.
Jessi Abramovitz, a senior fashion studies product development major, believes the argyle and houndstooth patterns will come back.
"I know [these prints are] usually very classically a black and white pattern, but I just think we're gonna see it come out in color this season," Abramovitz said.
Perfect for back-to-school season, the moody "dark academia" aesthetic draws from Greek arts, writing and architecture, interlaced with Gothic elements. Reflecting the subculture that emphasizes education, this aesthetic takes an edgier approach to the classic preppy school look and spotlights fall's color palette of rich greens and dark browns.
3. Recycled blouses, knitwear and trousers for transitioning weather
Milkmaid blouses, wide-leg cotton trousers and knitwear that were popular over the summer will have some time to shine for the time between the two seasons.
Senior acting major Victoria Owen said that for her, crop tops easily worked as transition pieces for the cooler weather when paired with layers.
"I have a knitted crop top that I'll wear in the summer, and then I can easily switch it to something in the fall by putting a cardigan or a shawl over it," she said.
Winterbauer also mentioned knitwear, as well as statement necklaces and beaded jewelry.
"I don't know if [the beaded jewelry trend will] continue until the fall, but I really like that trend that's going on right now," Winterbauer said.
4. Oversized sweater vests
Early '90s meets private school uniforms with vests set to make a return in the fall and beyond. Perfect for layering, these versatile staples broke the internet in September 2020.
"I think we're going to continue to see [the sweater vest trend] in 2022 because there's so much you can do to play with that," Abramovitz said, believing the vest will be a popular piece on campus. "There's so much color, print and patterns … we'll see even more in the sweater vests and in the academia trend."
Mikaella Lukban, a sophomore playwriting major, said she also thinks vests will make a comeback this fall with their versatility.
5. The classic boot, plus loafers for the season's shoes
Combat boots will come back, accompanied by a new internet favorite: loafers. Another '90s inspired piece, these allow for a subtle platform without heels.
"I'm personally a big fan of a platform," Abramovitz said. "I think with the Y2K trends we're going to see a lot more of that platform and high-inch loafer."
Lukban also agreed that loafers would be popular, adding that in fashion, many trends tend to be recycled.
"Fashion is like a cycle, so everything will come back," Lukban said. "If [something] doesn't come back soon, it will come back again."