Columbia students impacted physically and emotionally by protests, police violence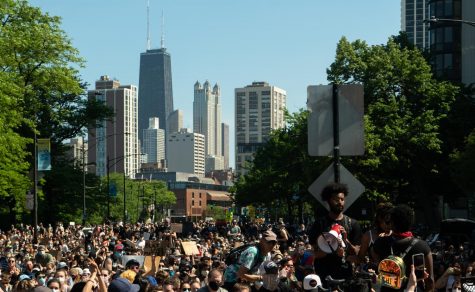 Protests
"I just remember telling [the police], 'Are you going to kill me, too?' … Because it felt like I was on the cusp of death. … I have never witnessed such a hatred from anyone."
Shortly after protesters at Federal Plaza began marching for justice on Saturday, May 30 following the death of Minneapolis resident George Floyd, a sophomore Columbia student referred to as Jane Doe—who shared her story but asked the Chronicle to protect her identity—said she found herself being dragged away from her friends by six police officers.
Doe was just one of the Columbia students who protested against police brutality in support of Black Lives Matter. Four other Columbia students also spoke to the Chronicle about how the protests and ensuing riots and looting in the South Loop the last weekend in May affected them emotionally, mentally and physically.
Doe said she was using a dry erase marker to write "no justice, no peace" on a police vehicle when she heard the words "you're being arrested."
In the middle of the otherwise peaceful demonstration, Doe said it was "like an ambush" when she was grabbed by a group of officers and pulled toward a squad car. She lifted her legs to avoid being hit by a baton and cried out in pain as a police officer twisted her right arm to place handcuffs on her wrists.
"I was thinking, 'Oh, this is it, this is the end,'" Doe said. "But I had to fight past that and fight for my freedom, and I got it."
Before she knew it, Doe said she was surrounded by a large crowd of protesters who came to her aid and were able to separate her from the police.
It wasn't until three hours later when her cuffs were removed with the help of a fellow protester that she realized something was "really wrong." A trip to UChicago Medicine revealed she had a broken arm.
Doe said it has been hard to adjust after the protest because life and her work as an editor have not stopped, and she still has to take in everything happening to the black community.
"As a black woman, a lot of times we feel as if we have to be the strongest. I'm very independent," Doe said. "So to not have both of my arms, I really didn't know how much it affected me until I dropped some Chinese food and completely lost it. … Emotionally I'm still processing."
Anthony Spicuzza, spokesperson for the Chicago Police Department, said in a Wednesday, June 10 email that he was unable to verify Doe's interaction with the officers, but encouraged the Chronicle to submit a Freedom of Information Act request for further information.
Freshman journalism major Seanice Batchman, who had to work during the initial protests in the South Loop, said she wishes she could have been on the front lines with her friends, one of whom was arrested, and her brother, who was pepper sprayed by police officers.
"When I couldn't go to the downtown protests I felt horrible because … I am very passionate in black rights and the betterment of black people," Batchman said. "After protesting [later], I felt kind of liberated. I felt like I did what I was supposed to do."
Batchman said she and her friends will continue to attend various protests across the city, not just for Floyd, but also for those killed before him like Breonna Taylor and Eric Garner. She said they also plan to return to communities afterward to help clean up any messes that were made following protests and separate acts of looting.
"I'm inconvenienced, and I don't care," Batchman said. "Because at the end of the day, I'd rather be inconvenienced for one or two months than petrified of what's going to happen in the future, for years to come. I would like to live an easier life."
Although sophomore photography major Marilyn Martinez cannot attend protests because she is immunocompromised and self-isolating, she said she is doing her part by speaking out and providing educational resources as well as petition and donation links.
"I don't agree with the looting and stealing, but merchandise can be fixed; it can be replaced," Martinez said. "We can't bring [back] all the lives that have been lost because of police brutality."
Aftermath
Senior journalism major Rachael Perry said she and her boyfriend will be staying away from the South Loop after the convenience store below their apartment was looted and burned, filling the building with smoke. Shortly after, all of the building's residents were forced to evacuate.
In addition to Columbia buildings and other businesses being damaged in riots on the night of May 30, some Columbia students chose to leave their apartments in the South Loop for fear that the looting and destruction could continue to escalate in the coming weeks.
Perry, who was staying at her parents' house when the protests escalated into riots on Saturday night, said she became worried about how to get to her partner due to road closures. The next day, Perry said she and her aunt were able to reconnect with her boyfriend using Divvy bikes.
"I hope the protests continue, but the looting and burning buildings and damaging property I feel like will die down eventually," Perry said.
Yasmeen Qahwash left her Chicago apartment early Sunday morning after protests on her street escalated into chaos the night before.
When she arrived at her parents' home in Michigan and turned on the TV, the first thing she saw was a car driving past her apartment building, which had shattered windows.
"It was terrifying, and I just started crying," Qahwash, a graduating senior in journalism, said. "It is just so scary when you know homes are being affected. … A sense of safety is lost."

Qahwash said she originally had no plans of going back to Michigan and had attended the Saturday, May 30 protest which began at Federal Plaza on South Dearborn Street, which is the same street as her apartment building.
She said the protest was peaceful until later in the day when there was yelling, people running and groups of police on State Street.
"Our apartment building was broken into, and I think the first two floors are pretty destroyed," Qahwash said.
She planned to stay in Michigan for just one day, but is now waiting it out to see when her apartment building will be safe.
Columbia's Response
President and CEO Kwang-Wu Kim sent a collegewide email Monday, June 1 addressing the impact on Columbia's campus and community, stating he "backs its commitment to establish an anti-racist institution and be a safe space for people's voice to be heard," as reported by the Chronicle.
Beverly Anderson, associate dean of Student Health and Support, said, "Counseling Services is accessible to students who during this difficult time need a safe space." Normally, only students enrolled in summer classes would have access to Counseling Services during the summer, but she said because of recent events counseling sessions are available to all students who were enrolled for the 2019-20 academic year.
Anderson said non-Illinois students can be assisted in locating community resources near them, but are not offered counseling sessions per regular guidelines during Summer term.
"Let us lift and hold each other up at this painful moment, opening our hearts most generously to those among us who are suffering the most acutely," said Kim in the email. "And even in the midst of our collective dismay, let us begin imagining better creative solutions to the ills that plague our nation and society."
Updated for further clarity and with additional reporting Wednesday, June 10 at 5:40 p.m.