Columbia students from California grieve the damage of record-breaking wildfires in their home state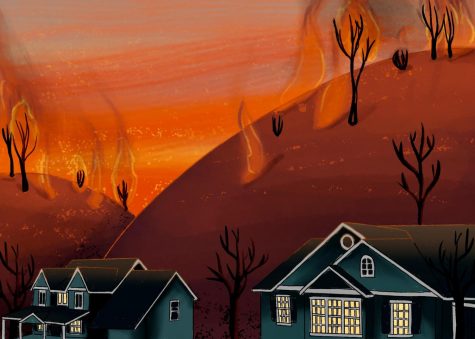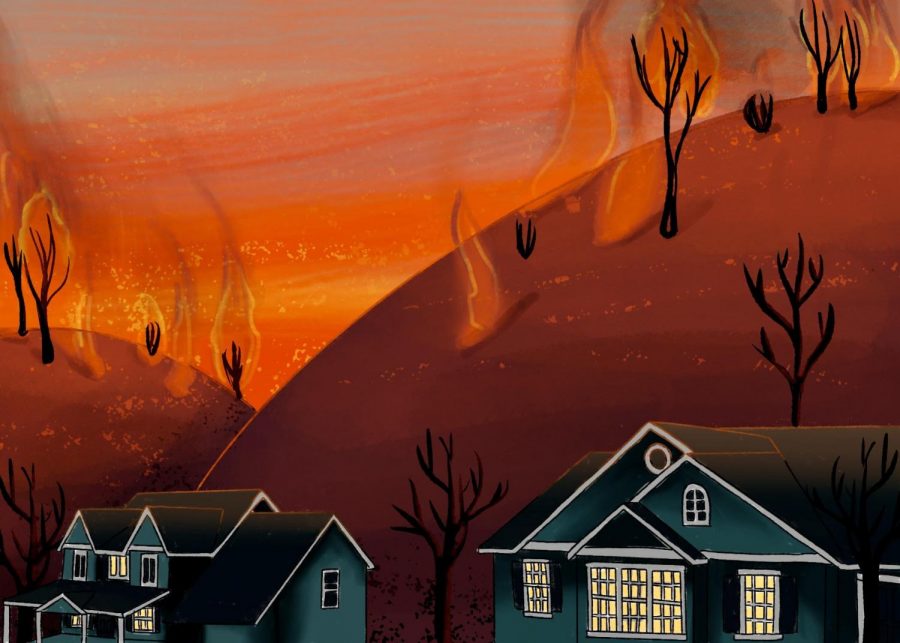 Grace Davis had 15 minutes to pack everything she needed for the fall semester before evacuating her house in Carmel Valley, California, just a week before leaving for school in Chicago.
The River Fire and the Carmel Fire merged together and came within a mile of her family's home this past August. As Davis' family evacuated, they saw flames coming down from the hills. 
"When it actually comes down to it … and you hear sirens, there are trucks speeding by, you hear helicopters, planes, and you're just standing in the middle of your room like, what do I bring, what do I even care about?" said Davis, a sophomore public relations major. 
According to the California Department of Forestry and Fire Protection, the Carmel Fire and the River Fire lasted 121 days and burned 48,088 acres. 
Davis' family of five was evacuated from their home and lived in a hotel for four weeks. However, she only stayed for a week before heading to Columbia to begin the Fall 2020 semester. 
"It was absolutely devastating to leave them because I knew there was so much stress … and at that point, the fire was still burning," Davis said. "We didn't know if the house was going to make it."
According to CNN, California has broken its own wildfire record in 2020, with more than 4.1 million acres of land burned, and over 9,200 structures destroyed as of Oct. 17. 
Miles away from Carmel Valley, Aaron Atkins, a junior comedy major, was living in Berkeley, California, during this year's wildfires. Atkins said he had never seen the sky look "so evil."
"We couldn't open up our windows or anything in the house," Atkins said. "It would get way too smoky. We couldn't breathe and had to wear our masks indoors."
Atkins mourned the loss of his childhood campground, Camp Big Basin, located in the Santa Cruz mountains. It was home to many memories and one of the oldest redwoods on the planet. Now the campground is in total ruin.
Fiona Good-Sirota, a junior journalism major from Bonny Doon, California, in Santa Cruz, was in Chicago when her family was evacuated from their home. The CZU Lightning Complex fires had come within a mile of her house. 
The CZU Lightning Complex fires burned 86,509 acres and destroyed 1,490 structures, according to the San Francisco Chronicle. 
"I started seeing all of these news articles pop up about the fires, and I've already been through two different fires as a kid," Good-Sirota said. "So this time was really weird not being with my family and being frantically on the phone with them just hearing what they were experiencing."
Although her family home was left standing despite severe exterior and interior smoke damage, much of her neighborhood including her elementary school was lost, she said.  
There were fewer wildfire personnel this year due to the pandemic and roughly 2,100 fewer inmate firefighters, according to the New York Times. Good-Sirota said her neighbors came together to save houses with their own equipment such as hoses and other water supplies.
"I haven't been able to go back since the fire happened," Good-Sirota said. "It's definitely going to be a different way of seeing my hometown than I ever have before."
Joshua Medina, a senior comedy major from Rolling Hills, California, was also in Chicago while his family was mandated to stay inside due to the poor air quality. 
Medina said his family has experienced wildfires before, but nothing to this extent.
"This year it was really difficult because I wasn't there," Medina said."Everyone was talking about the fires, whether it was in class or on social media, and my family was right there."
Wildfires are a natural occurrence every year in California due to the dry climate, but some  scientists, like Michele Hoffman-Trotter, adjunct faculty member in the Science and Mathematics Department, say there is more going on that is fueling these fires.  
"What we worry about from [a] science perspective is the increasing intensity, frequency and severity of wildfires," Hoffman-Trotter said.
She said the prolonged periods of drought are a direct result of climate change and that the expected fire season has become unpredictable and dangerously long.
"We have to embrace that this is the evidence that it's happening—that climate change is real; it is on our doorstep, and it's not going to get better unless we are more proactive about restoring green space and reducing our carbon emissions," Hoffman-Trotter said.
For Davis, her neighborhood in Carmel Valley is now a much different place from the green hills it used to be. Everything on her family's property was burned up to their front door, and the entire infrastructure of the neighborhood was destroyed.  
"It definitely is a life-changing experience for sure; it's something I had already been through, but I think this time was definitely the worst," Davis said. "I think it's something, too, that people just don't understand until you've been through it."