Columbia students finalists in E3 game competition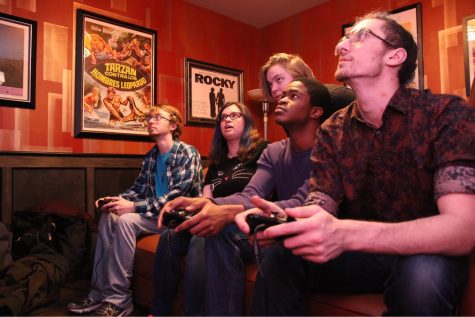 Recent game design graduate Ja'ire Vaughn travels to Los Angeles with his game this week for the E3 College Game Competition, something that did not seem in arms reach just a few weeks ago.
Vaughn, a game design major who graduated in May, and three other students—Will Rossi, Sophie Kneznekoff and Josh Whittom—were part of the Fall 2018 "Indie Game Studio" capstone class, where they created the video game "Kakatte Koi Yo!" Alex Riak, a graduate student studying music composition, joined the group during the spring semester as well. Rossi and Whittom are senior game design majors and Kneznekoff, also a senior, is a game programming major.
The students are one of five groups of finalists and will compete at the Electronic Entertainment Expo June 11-13.
Vaughn was surprised to find out his team's game was one of the ones selected from across the nation. With only 30 weeks to complete a "solid" game that set them apart from others, he did not have much time to think about the outcome of their submission.
The game is a multiplayer platform fighter where people play as cats collecting fish. Vaughn said players can use the points collected from the fish to put fish in baskets, knock other players out or score a giant bowl in the center that can win the game.
Vaughn said the group developed the game throughout the year, and will continue to keep working on it after the competition.
"I haven't talked about it too much until [May 23] when I saw E3 actually make a Twitter post about our game," Vaughn said. "It all of a sudden really hit me that I got to be in with all of the indies. Being a finalist, that's pretty big … so I'm pretty excited about the credit … that comes with that."
A lot of it came together on the spot when the four students were throwing ideas around for the game, with inspiration coming from the game "Killer Queen," a game where two teams of five battle for three different objectives.
The theme for the game was based mostly on "cuteness layering over deeper things," Vaughn said.
Vaughn said only one game can be submitted from each college; each game finalist will receive a prize of up to $6,000 and the contest winner will receive a trophy and an additional $300. All games entered in the competition also give E3 the right to publish it on any media, including online.
David Antognoli, adjunct professor in the Interactive Arts and Media Department, said this is the first time Columbia has entered the E3 competition. Normally, students participate in the Chicago Toy and Game Fair, Playtest Party held at Logan Theatre and Intel University Game Expo at the Game Developers Conference in San Francisco.
"This [game] has a really strong art style and a really strong theme," Antognoli said. "It has a very visual and thematic presence."
Alex Damarjian—assistant professor in the Interactive Arts and Media Department, who instructs the "Indie Game Studio" capstone course—said in a May 31 email interview with The Chronicle that the game has a solid design mechanic and art style, and most games suffer from not having that in place, which often stops them from being completed.
He added it can be emotionally exhausting to develop a game.
"It can be hard to hear your ideas may not work for a project," Damarjian said.
Vaughn said the group wants to continue to develop the game further and incorporate fun, goofy cult aspects in it. He added there are religious concepts and designs in the game that connect to the indie cult theme they were going for.
Antognoli said the students only had 30 weeks to create something, when on average it could take multiple years to develop a game.
"It was a smart game for them to make, sometimes students embark on [projects] that are an uphill battle," Antognoli said.