Student to star in self-written zombie apocalypse film
Grace Govostis' summer vacation in Wisconsin will be a little different than most. Instead of a leisurely retreat in the dairy state, she will be immersed in the ruins of a zombie apocalypse.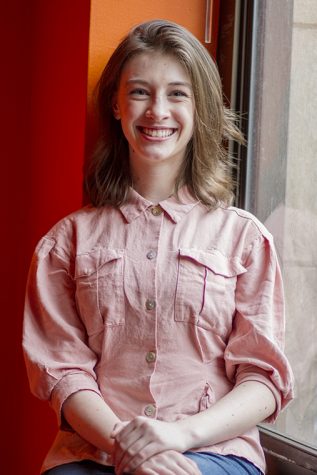 The junior interdisciplinary major has cast and finalized the script for the upcoming production of "Z is for…," a film about a girl surviving the zombie apocalypse.
Govostis said the movie is about the character Minnie, who is living alone in a cabin after the apocalypse. After losing her mother, her sole companion is a fish she tells everything to.
"[Minnie] has this routine life," Govostis said. "One day this other young woman, Miles, finds her, and she's forced to have real human connection for the first time in a long time. That actually proves to be a greater threat to her than the zombies."
Govostis is enthusiastic about the film going from script to production,  as well as playing the lead role.
The location for the film is Govostis' family cabin in Minocqua, Wisconsin. She said the cabin has been in her family for about 40 years.
"I had this idea to write the film because I thought last year, 'What would I do if there was a zombie apocalypse? Where would I go?'" she said.
Cinema and Television Arts Professor Del Harvey is directing the film. Govostis originally wrote the script for his class, and he encouraged her to make it into a film.
"The best words  I can give to any student are to do it no matter what because that's what people in the industry do," Harvey said. "They set up a budget, and they assume they will get a certain amount of money. If they don't get it, they go ahead and figure out how to make the project work."
The film will mostly be live action, with a one-minute animation sequence. Senior animation major Lilian Bermas is the lead animator on the film and will also be covering the
visual effects.
"Being able to animate an alternative horror flick is very cool," Bermas said. "Horror isn't generally explored that often in terms of animation, so I am pretty excited about that."
Junior filmmaking major Shelby Easum is the social media coordinator for the film.
"The Facebook page is really my biggest job on the film," she said. "Telling more women's stories is, of course, important, especially in the horror genre. [It shows] women can survive and will survive."
The April 6 lauch party from 9 p.m. to midnight, will be at Wicker Park speakeasy Bru Chicago, 1562 N. Milwaukee Ave. The party is a fundraiser for the film and there is a $10 fee at the door.
"It's a very cool, underground, creepy location to launch our film at, which I'm really excited about," Govostis said. "It's open to anybody and everybody. If you feel like maybe you should come, then you should come."