Columbia student makes $300,000 selling NFTs using only an iPhone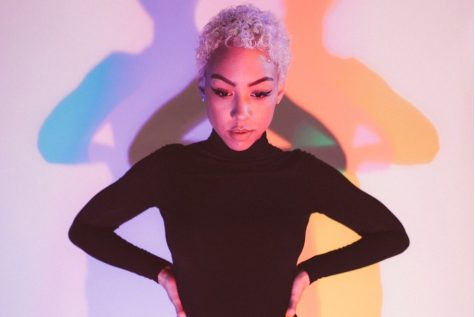 The first NFT Elise Swopes, a senior arts management and graphic design major, took was from a helicopter flying over New York City. Using only her iPhone to shoot and edit the NFT, she made it look as if a waterfall was actively falling from the edge of the city. She sold this piece in February 2020 for 11 ETH, or the equivalent of $17,000 at the time.
NFTs, or nonfungible tokens, are digital representations of ownership or rights to original pieces of content or art. Swopes, still using only an iPhone, has now made 104 ETH, a cryptocurrency called Ethereum, which is equivalent to $300,000 in the current market.
"I've been tactical about it in every single way, and I've been able to rebuild my own project," said Swopes, a 32-year-old who currently resides in Brooklyn, New York, and attends Columbia remotely. "I'm glad I came in when I did."
This is not the first time Swopes has made headway on a digital platform sharing her work. In 2003, MySpace made its debut, and at 13 years old, she started selling MySpace layouts while attending middle school in Gurnee, Illinois. During the same year, she created a website that taught others how to edit and create their own websites.
"I've been a teacher since I was a kid," Swopes said jokingly. "Just educating others and helping people and still what I do to this day, I guess I get that from my dad."
Swopes, who was homeschooled until third grade by her father, found her love for the online world through her introduction to digital learning, where she says her obsession started. It was within this new world that she felt a sense of belonging after entering a public school where she felt out of place as a biracial child.
"I wasn't Black enough; I wasn't white enough," Swopes said. "I do believe that the internet was kind of my escape and my opportunity to kind of control my life where I didn't feel control outside of it."
After graduating high school in 2008, she was accepted into Columbia but dropped out within the first year to pursue her career outside the walls of a classroom.
"I'm a troublemaker," Swopes said. "I like to shake the system. I like to ask questions. I've had some great teachers, but other teachers were very adamant about me being disruptive or that I didn't know when to stop talking, or I didn't know when to listen or when to just follow the rules."
This is when her career would take off, as Instagram had just been introduced and became her new playground as a suggested user on the platform. Now with a following of more than 280,000, she uses the platform to show off her latest work and brand deals, most of which spotlight Chicago and the occasional giraffe that tramples through downtown.
Swopes made her way back to Columbia in 2013 for another two years, before dropping out again after failing her classes and leaving to take time for herself. She also wanted to work on her health after fighting a drug addiction in 2016 and coming clean in 2017.
Swopes has since worked with brands like Apple, Adobe and Coach, and she even met Lady Gaga backstage while working on a project for Verizon. She's been interviewed on Chicago's Windy City Live and recently went international after being featured on South Korean public broadcast station KBS World TV.
Swopes is in her last semester with plans to graduate in May after receiving Life Experience Credit for her work as an artist.
According to the Columbia Catalog, a student upon application can receive up to 16 credits in their major for life or work experience through evaluation of their "non-college" opportunities.
"She's kind of what you would think of as like the prototypical Columbia student in a lot of ways," said Clayton Smith, associate professor of instruction in the Business and Entrepreneurship Department.
Smith taught Swopes in a marketing data analytics class.
"She's a very strong advocate for her own work. She knows the value of her work, and she is very direct and clear about it in a self-assured way," he said.
Swopes, as an artist who thrives off of NFTs and the platforms they are sold on such as Bitcoin and Ethereum, said she's aware of the detrimental environmental impact of NFTs.
According to the Cambridge University Bitcoin Electricity Consumption Index, Bitcoin consumes an estimated 128 terawatt hours a year. To put that into comparison, Bitcoin consumes more energy than entire countries like Ukraine, Norway and Sweden.
Ethereum plans to launch an upgrade with the hopes of cutting their energy consumption by more than 99%, according to Fortune Magazine. They would plan to switch to a "proof of stake" model that would rid it of energy-consuming crypto mining and replace it with "staking."
According to Coinbase, "Staking serves a similar function to mining, in that it's the process by which a network participant gets selected to add the latest batch of transactions to the blockchain and earn some crypto in exchange."
"I think that the hard part about people being educated about this is that it's easy to say that something affects the environment," Swopes said. "What's not easy to say is that the blockchain is consisting of different crypto coins that are run completely different on each platform."
Swopes has been using her platform as an NFT artist to pour back into the smaller art community through her Sunrise Art Club, which is a 365-day art drop of unique photos she took from her 21st-floor apartment in Chicago before moving to Brooklyn. From all sales made from the art drop, 25% goes back to her team, and 75% goes to funding women of color-involved NFT projects.
"We've seen a ton of different percentages when it comes to how many sales women are making in the space," Swopes said. "I felt like I'm a solution-based person, so I wanted to make a solution-based project."