Columbia student hospitalized by falling debris does not let injury define her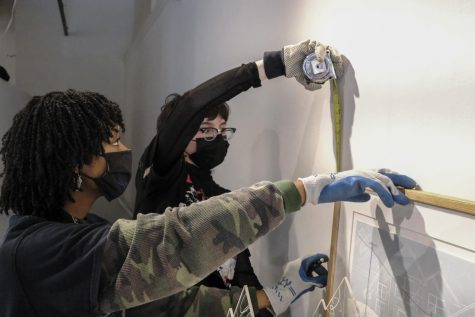 Annie Shea Wheeler has been in the news recently due to her injury in the Wicker Park area, but she does not let this accident define her. Wheeler is a senior fine arts major and is deeply involved with the Columbia community by working in the School of Fine and Performing Arts Makerspace Facilities, being a president of Students of Fine Arts and a Hokin project nominee.
Before the injury, Wheeler was getting ready to graduate, move into a new apartment, save money by working temporary jobs and get into an art residency.
But on April 6, outside a building in Wicker Park at 1227 N. Milwaukee Ave., she was struck by debris from a crumbling building and suffered a head injury. She was initially in critical condition and was later hospitalized for two weeks and underwent two surgeries, according to a Block Club Chicago report.
Wheeler moved back to her family's house in Michigan and is very limited in the things she can do. She said walking, reading and looking at a screen for a long time are hard for her so she spends her days in bed, reflecting, but she stays positive.
"I'm here indefinitely at the moment, and I'm feeling a lot of emotions, but overall I'm feeling comfortable," Wheeler said. "It's going to be a long journey of a lot of emotional and physical stress, but I'm hanging in there."
Wheeler always loved making art, but calls printmaking the "love of her life." Her love for printmaking is mutual, and people around her notice it.
One of them is Joan Giroux, associate chair and professor in the Art and Art History Department, who nominated Wheeler for the Hokin Honors exhibition.
"People ask me sometimes for recommendations, and there are recommendations that [I don't know] what can I say about the student," Giroux said. "Annie's one of the kinds of students where the recommendation writes itself because she's very disciplined in class, she has very ambitious ideas, she's really careful with her work."
Hokin Honors is an annual exhibition that showcases the talent of graduating seniors who were nominated by professors across 12 departments. The exhibition will take place at 623 S. Wabash Ave. from May 13 to Sept.16, 2023. Wheeler presents her two-part piece called "Catnap," which explores her childhood as a queer person using a stuffed animal lion as a representation of themself.
"Catnap" has also been a way for Meghann Sottile, a staff member at the SFPA Makerspace Facilities, to stay in contact with Wheeler in a fun and lighthearted way. Sottile takes the picture of the plush toy in different places around Chicago and calls it "Catnap Adventure A Day."
"[Annie is] very hard working, they have high expectations and they do things to the fullest," Sottile said. "They definitely don't half-ass projects, they like to exceed, they like to go above and beyond and they definitely don't do the bare minimum."
SFPA Makerspace Facilities staff created a package for Wheeler that they are sending to wish her to get better.
Wheeler said the Student Relations office, along with her understanding professors, is working hard to make sure she will graduate on time.
"Since my accident, everyone's been very, very full of love. I have one of the best communities I could ask for at our school," Wheeler said.
Wheeler said she misses making art and her independence; the first thing she will do after recovering is get a job and move back to the city.