Columbia reports first on-campus case of monkeypox virus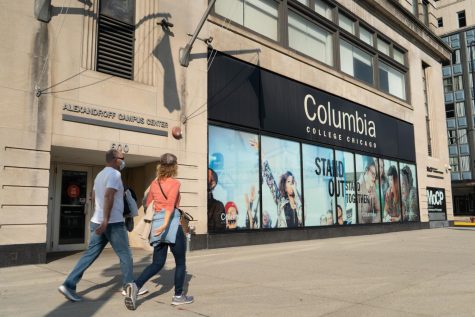 Students, faculty and staff were notified by email late Wednesday of the college's first on-campus monkeypox case, but the positive case itself was reported to the college a day earlier.
"The college has been notified of the first reported on-campus case of monkeypox … the individual is in isolation," the email said.
In an email to the Chronicle, Lambrini Lukidis, associate vice president of Strategic Communications and External Relations, said the infected individual is isolating off-campus and there are no new guidelines at this time. The college did not identify whether the infected person is a student or employee.
Columbia's contact tracing for monkeypox is being handled by the Chicago Department of Public Health, and the college has been in contact with both the CDPH and Rush University Medical Center experts for next steps.
Lukidis said the college worked to provide key information for them so the CDPH can notify close contacts.
The college said future on-campus cases will be posted on Columbia's website, on a page specific to monkeypox. Information on monkeypox on a city-level can be accessed through the CDPH's monkeypox website.
"If you receive a positive diagnosis, we ask that you report it to the college. While providing this information is voluntary, it can greatly assist in coordinating with CDPH and allow for potential cleaning of college spaces if necessary," the email said. "Moreover, it allows close contacts an opportunity to get vaccinated as soon as possible, which can lessen their chances of getting sick or getting severely sick."
The email from the college added that someone who suspects they have monkeypox should isolate and contact a medical professional "immediately" to seek out testing, in addition to notifying the school.
Lukidis said one possible point of confusion among the Columbia community is the fact that monkeypox spreads mainly from "close, intimate skin-to-skin contact" but the CDC also lists the virus spreading by respiratory secretions, which Lukidis said has made some students, faculty and staff nervous that it could spread in the classroom, like COVID-19.
"There is no risk of airborne spread in a classroom, for example, like there might be with COVID," Lukidis said.
Lukidis pointed to the CDC, which said "long-range (e.g., airborne) transmission of monkeypox has not been reported."
According to the CDC: "There are important differences between airborne transmission and transmission via respiratory secretions. Airborne transmission occurs when small virus particles become suspended in the air and can stay there for periods of time. These particles can spread on air currents, or sometimes even infect people who enter a room after the infected person has left. In contrast, monkeypox may be found in droplets like saliva or respiratory secretions that drop out of the air quickly." 
In a Chicago Tribune article published Aug. 9, regarding monkeypox on college campuses, Lukidis told the Tribune that the college will respond to monkeypox similarly to the way the administration did with COVID-19.
According to earlier reporting from the Chronicle, Columbia's Chief of Staff Laurent Pernot said monkeypox is unlike COVID-19 because it is easier to identify and is less likely to be a "silent spreader" throughout communities.
"The good news is that it does not appear people are infectious until there is [a] manifestation of the illness on someone's skin, and therefore it is less likely than with other diseases like COVID that there might be a lot of 'silent spread,'" Pernot said in the Aug. 31 article.
At the time of publication of the Chronicle's previous monkeypox story on Aug. 31, there were 1,069 monkeypox cases in Illinois that had been reported to the CDC. According to data from the CDPH on Aug. 31, there were 856 cumulative monkeypox cases reported in Chicago, 49 hospitalizations and zero deaths.
As of Sept. 15, reported state-wide cases have inched up by 118, bringing the total to 1,198 cases. Chicago cases have also increased by 91 positive reports in the 15-day period. The city has also seen an uptick in hospitalizations, but it has remained at zero deaths.
The college has asked for students and employees who have a rash or skin lesions on the body or inside their mouth to not come to campus and to seek medical attention.
A full list of monkeypox symptoms can be accessed here. 
This is a developing story. The Chronicle will publish updated information as it is released.