Columbia Renegades dance team takes home multiple awards at their first national competition since 2019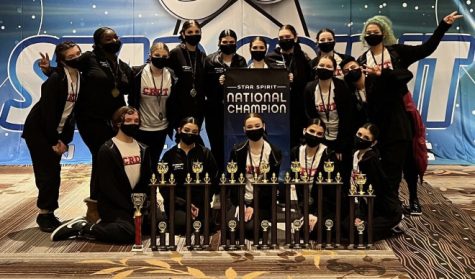 The Columbia Renegades dance team saw an incredibly successful spring competition season, their first since 2019. The team took home nine awards this March at the collegiate division of the Star Spirit Production competition.
Senior English major Abbey Nelson said the team's passion was a big reason for their success.
"It is a passion project and we don't get paid to be here. We are here six to nine hours a week, which is a lot on top of coursework," Nelson said. "A lot of people … are at an age where you are realizing that what you are going to do for work does not mean that you have to stop doing everything else that you care about."
Nelson, who started on the team during her first year, is now one of the team captains.
"I feel like my goal is for everybody to have as much fun as I did as a freshman on the dance team," Nelson said.
Nelson said the COVID-19 pandemic halted the spring competition season for two years.
Marissa Riley, a senior dance major, said more people are auditioning this semester than ever before.
"It's at the point where we don't have enough uniforms for the amount of people that we brought on the team, which has never been an issue before, " Riley said.
Their last competition season, they had eight participants. This year, they had 18. Nelson said this was redemptive for the team.
Riley reflected on how far they've come as a team.
"The first practice is really awkward," Riley said. "Then you're at this competition and these people are your best friends, and like you're crying together. You're making memories together and winning first overalls together."
Caroline Keenan, a junior ASL major and dance team member, said it's fun to represent Columbia at competitions.
"We're making a name for our school and for ourselves," Keenan said.
To cover the cost of competing, the team received funding from multiple sources, in addition to the fees team members pay to participate.
"We do get funding from the school, but the majority of competition funding came from dues and from people," Nelson said. "Everyone got to participate and know that they contributed to it."
According to Riley, they even received funding from the competition director himself after he saw their passion and spirit.
"I went up to the competition director and I thanked him and he was like, 'We love you guys. Whatever numbers you want to bring, we'll pay everything,'" Riley said.
The team is confident they can continue their success in the future.
"There's a lot of rapport that we've built with organizations around Chicago that are going to be great to continue to have relationships with," Nelson said.
Riley and Nelson are graduating and leaving the team this year. However, they are confident they will remain a part of the family spirit the team built.
"Once you're a part of the family, you're always a part of the family," Riley said. "You can always come back and you always have help no matter what."