Columbia professor creates 'Project of Appreciation' to thank health care workers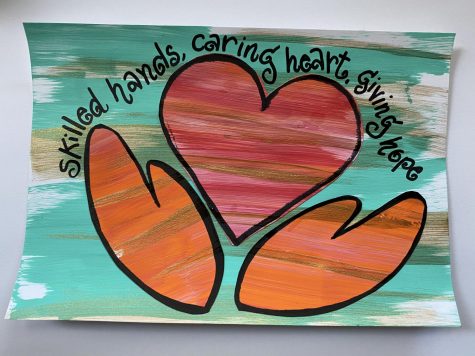 When Nicola Elder heard of a project to send artwork and cards showing appreciation for health care workers on the front lines of the coronavirus pandemic, she immediately thought of her boyfriend's mother, who is a health care worker, and knew she had to participate.
The junior dance major's professor, Susan Imus—an associate professor in the Dance Department— began the Project of Appreciation, or POA, to invite artists from Columbia, Rush University Medical College and the School of the Art Institute to create handmade pieces, artwork, poems and cards to be sent to health care workers at Rush University Medical Center.
Imus has worked closely with physicians and health care workers and understands how difficult their jobs can be from her part-time teaching at Rush and also from her extensive background. Initially trained as a nurse, Imus has worked as a dance/movement therapist at 10 hospitals across the Midwest and on the East Coast, according to her biography on the Columbia website.
"I know the pressure they're under and the fear that they live with on a daily basis, and I thought, 'What's something I could do?'" Imus said. "I paint and do stuff on the side and I thought, 'Well, I can make cards.'"
The project name, "POA," means "good" when translated from Swahili—a word Imus learned from a colleague while attending the therapeutic arts program Global Alliance for Africa in 2017.
"He was teaching hip hop to these kids, and he kept going, 'poa, poa, poa,' and that Swahili word has just always been really powerful to me," Imus said.
The Project of Appreciation has been an outlet for her to overcome the distance from others during the pandemic because people are creating something that feels more personal, she said.

For the project, Elder is creating a wooden collage with the words, "When the heat is on, thank you for protecting the people of our universe." She will also include a card to show her gratitude for those who are helping others fight the virus.
"It's really easy to get caught up in the monotony of everything and get caught up in our own troubles that we're having in [relation] to the virus," Elder said. "But it's more important to … really zoom out and look at our society as a whole, and really see what's happening as far as our structures of who's being affected by the virus in so many different ways."
Elder said she realizes students already have a lot of work on their plates, but it is important to participate in the project to demonstrate awareness and kindness for those on the front lines.

Students, or any other artists interested, can mail or deliver their artwork to Imuscreate-The POA, 2528 W. Thomas St., Chicago, IL 60622. If there is a specific department of the medical center participants want their work to be sent to, Imus said to indicate that on the card.
There will be a plastic bin outside the Thomas address if artists decide to drop off the art, and once it is full, she will deliver it to the Wellness Room at Rush University Medical College.
"I hope it gives [health care workers] a sense of hope, and also a sense of appreciation, that they're not in this alone," Imus said. "People do appreciate and value their skills, their knowledge and the courage on the front lines … against this invisible enemy."