Columbia professor celebrates Aguijón Theater's 30th anniversary with illustrated historical book
When the Aguijón Theater opened in 1989, it was going against the grain by showing a culture that many people did not know about.
"Anything Latino was strange, people didn't know what cilantro was and what an avocado was," said Associate Professor in the Communication Department Elio Leturia.

But also in the '80s, Latino culture was gradually increasing its presence in many ways. On the political scene, Luis Gutiérrez and Jesús "Chuy" García were elected as aldermen in a 1986 special election as part of Mayor Harold Washington's coalition, helping to bring an end to Council Wars and increasing political representation for Latino communities.
And in 1989, Aguijón opened its doors, beginning a history that would eventually make it the longest-running theatre company in Chicago. The theater first opened in a house at 4318 N. Central Park Ave. and later moved to Truman College for ten years. Finally, in 1999, the theater moved to its current home at 2707 N. Laramie Ave.
Leturia first connected with the theater in 2007 when he was writing a review on one of the productions for Hoy Chicago. After writing more articles on the theater, Leturia mentioned he had acted in Peru and the Aguijón took interest. Leturia acted in his first production in 2009 and, since then, has been in five additional plays.
In April, Leturia was approached by the Aguijón to write a book documenting the theater's 30 years. He recently published the book, "Aguijón 30 Años | Aguijón 30 Years," documenting the theater's extensive history through photographs and illustrations from all performances and written passages in both Spanish and English.
"I thought, okay, this is a great opportunity to do something," Leturia said.
He was excited the book would be written in both Spanish and English because it would be able to reach a larger audience.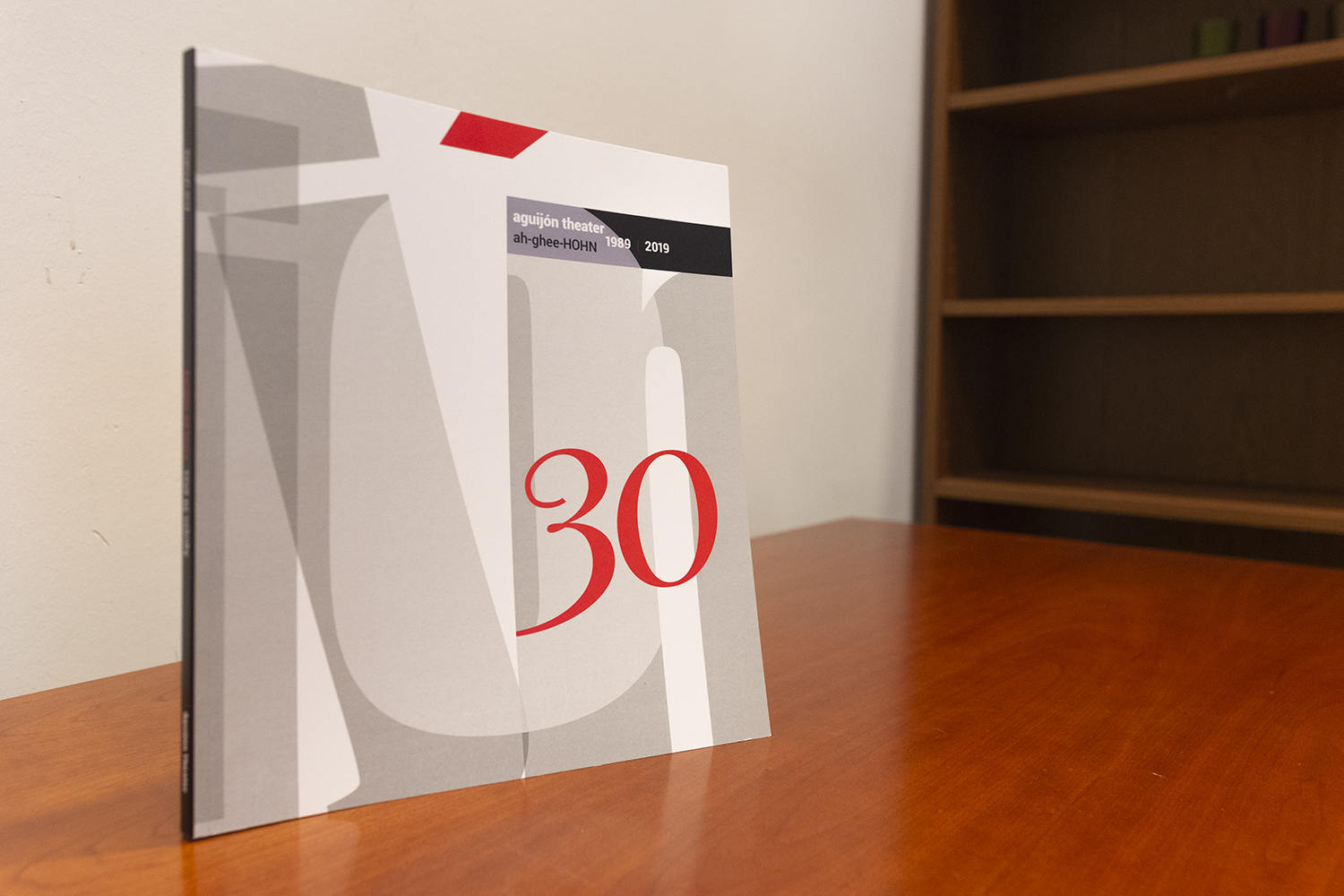 The book was completed in five months with Leturia not only writing and translating the book, but also designing the layout and even taking some photographs of the productions. Leturia said it was often difficult writing in two languages because he wanted to encompass the richness of the Spanish language while also making the book accessible to non-Spanish speaking readers as well. 
The book has eight chapters and includes 14 testimonials from different researchers and theater scholars from various countries. Leturia said the book and the theater embody the vast Latino cultures in Chicago. 

The Aguijón produces plays that are both Latino and non-Latino stories, said Co-artistic Director and Managing Director Marcela Muñoz. The plays are done entirely in Spanish, but English supertitles—projected captions typically used in an opera—are displayed on stage for every showing. 

"Theater is a way to bring people together. Language could sometimes be a barrier, not just for non-Latinos but even Latinos who maybe Spanish is not their first language," Muñoz said. "So, we wanted to make sure that was not an obstacle [and] that you could still come in and see the play."
Producing plays in Spanish is sometimes difficult because of a changing political climate, according to Muñoz. She said Spanish is sometimes seen as "cool," but other times it is seen as an inferior language.
It is important for the artistic community in Chicago to have Latino companies in order to expand the community, she added.
"Once we start expanding, I do think it's important for our community at large—our community being the Latino community—in that we are so many voices [and] so many aspects, even within our own culture," Muñoz said. "It is important to have these places of artistic expression where people can come to see their stories and also universal stories, in which they see themselves reflected."
Since opening, Aguijón has done many productions and workshops. Currently, Aguijón partners with After School Matters, a program that gets high school students involved with, among many things, theatre. The program is used as a way to help students expand their horizons and realize "the world goes beyond their neighborhood," according to Muñoz.
Leturia's book features four testimonials from people who are either currently in the After School Matters program or who have gone through it before.
Muñoz will be directing the next play at Aguijón, "Exquisita Agonía," or "Exquisite Agony," by Pulitzer Prize winner Nilo Cruz. The production, in which Leturia will make his seventh appearance with the company, is set to run Oct. 17 through Nov. 24. It will follow the story of a woman whose husband dies in a car crash, and his heart is used in a transplant.
"When people come in for the first time, they may not know what to expect from a theatre company, definitely not one that's doing work in Spanish," Muñoz said. "What you see when you go there is that you are able to find yourself in the works that we do, regardless of whether you speak the language or not."