Columbia: loud, proud and coming out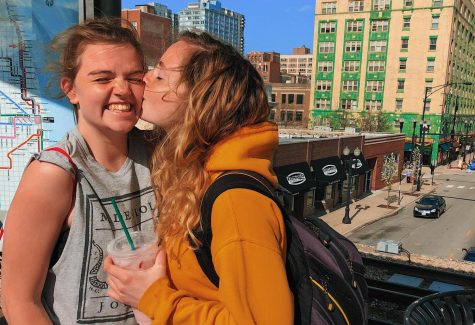 In honor of LGBT History Month, the Columbia Student Diversity and Inclusion Office will "spill the tea" on coming out.
National Coming Out Day—a historical day dedicated to celebrating those coming out about their sexuality takes place Oct. 11, recognizing the Second National March on Washington for Lesbian and Gay Rights in 1987.
"It's such an honor when folks feel comfortable sharing a piece of their identity with me," said SDI Director Charee Mosby-Holloway. "[Whether it's] the first time someone is coming out … or 100th time … it can always be scary."
SDI partnered with Columbia Pride—an on-campus LGBTQ+ organization—for "Spill the Tea," on Thursday, Oct. 10, which aimed to create a dialogue about coming out and the different ways to navigate that process.
"[Coming out] needs to be celebrated until people aren't being attacked and people aren't being harassed for it," said sophomore photography major Jackson Smith.
Smith came out as gay to their best friend when they were 13-years-old and came out to their parents two years later because they felt there were different levels of "coming out." Coming out to themself was one thing, they said, but coming out to friends and family was more serious.
Their parents took it well, Smith said, but were also concerned about the repercussions of being "out" and vocal about their sexuality.
"I grew up in the South, [and], in the church especially, I was trained to view myself as a sin and view the things that made me, me, as evil," Smith said.
Looking back, Smith said they wished they had more trust in their loved ones.
Smith has one piece of advice for people receiving coming out news: do not overreact.
Mosby-Holloway said she wants Columbia students to know they are not alone and there is no set way to come out.
"If you lead with kindness and if you lead with your heart, nothing bad will happen," Smith said.
Sophomore television major Izzy Youmans was 12 years old when she first came out to a friend. She later came out to her parents by writing both of them individual letters.
"I went into it [thinking], I know this is something that people will hate me for, but I am very true to myself," Youmans said.
After telling her parents, she said they were understanding and that she even got a celebratory haircut, with her mom by her side, to embrace her newly-proclaimed identity.
"Everyone talks about coming out and what a big deal it is … but what happens afterward?" Youmans said, wishing there was more education regarding the steps that follow coming out.
Mosby-Holloway used the word "solidarity" as a replacement for "allyship" stressing the importance of having a diverse support system. Also, she said heteronormative allies should reflect on their own power and privilege as part of their support for others in the community.
She said people can make an effort to ask for pronouns to show that they stand in solidarity with the LGBTQ+ community.
"Everyone has their own, completely different story," Youmans said. "And I feel like it's really important to highlight all the different kinds so that nobody feels isolated … from their own community."