Columbia gives new and returning students 'Good Vibes' during last day of Welcome Weekend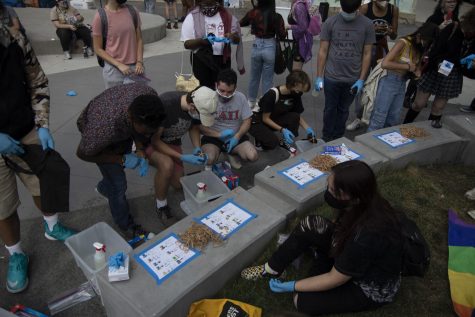 Multiple activity stands were set up along a curvy path, with bright and colorful backdrops where students posed for Instagram-able pictures during "Good Vibes in The Garden," a COVID-friendly social gathering in Columbia's garden space to close Welcome Weekend.
Grassy areas held blankets for students to sit and relax on, with upbeat music playing on speakers set up throughout The Garden, inviting people to come and stay.
The Student Programming Board (SPB) hosted 154 attendees at The Garden, 20 E. 11th St., an outdoor space owned by Columbia, on Sept. 5. to give them a chance to socialize and meet new friends while engaging in activities outside.
Shannon Bourne, director of Student Activities for Student Life, and Carlos Diaz, coordinator of Student Activities for Student Life, checked in Columbia students at the front entrance to make sure they wore masks. Students were asked to RSVP in advance or scan a code to prove their student status for this Columbia-only event.
Bourne said her goal for this event was to bring students together.
"We haven't been in person for quite a while," Bourne said. "So we wanted to create an opportunity for everybody to get together, have fun and do it safely."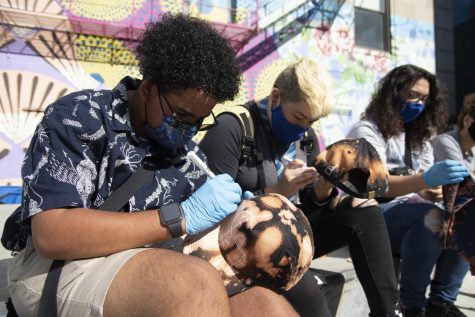 The name of the event stems from a social media campaign under the hashtag #GoodVibesOnly, which ran on the Student Activity's Instagram page at the beginning of the pandemic. The program started in 2020 to promote positivity during uncertain times.
Madison Satterfield, a sophomore musical theatre major and vice president of SPB, said the board asked students to always wear their masks, except while enjoying paletas, provided by El Sabor La Michoacanita, a Mexican dessert shop located in Jefferson Park.
The activities offered to students—to accompany the delicious treats— included a tie-dye station with the option to draw on tote bags or bleach them; "Pic-A-Frame," which involved the decorating of a frame for a Polaroid picture of students taken by Satterfield; cornhole, the classic bag-toss game; and "Get-To-Know-You," which gave students a chance to learn about their peers' similar interests through different interactive games.
Caroline Jones, a sophomore film and television arts major, said her favorite activity was the tie-dying station.
"I really like how it's something where you can work on a craft of some kind, and you're stuck sitting next to people and borrowing supplies," Jones said. "It's a very natural way of initiating conversation."
Corlin Leonard, a junior audio arts major, said the event was a great way to meet people in a positive environment.
"It's a positive vibe everywhere," Leonard said. "Immediately, when we first came in, we just saw all the festivities. It seems like people are connected and people are together, and that's what Columbia represents."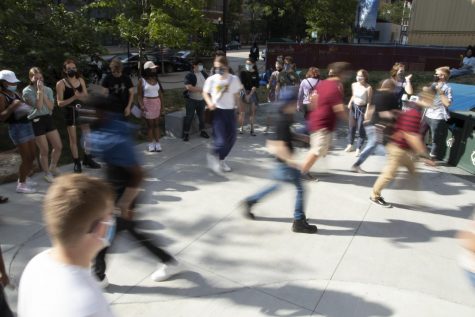 Sol Nolasco, a sophomore music major and director of productions for the SPB, said the board uses the garden location for many of their events. With the event being held outside, it was easier for students to socially distance themselves while interacting in activities.
Freshman animation major Helena Brophy was pleased that the event was held outdoors.
"I was really excited for this activity, it sounded pretty chill," Brophy said. "I do appreciate sitting outside and just talking to people and hanging out."
Zachary Bernstein, a junior film and television arts major and president of the SPB, shared the importance of this event being held on the last day of Welcome Weekend.
"It's a get-to-know-you thing," Bernstein said. "Letting people interact with one another, relax and enjoy themselves before the semester starts and it starts to get stressful. We're here to create good energy for the school year."