Columbia buildings damaged, thousands march downtown for George Floyd protests
Residents in the South Loop woke up to businesses and buildings damaged by broken glass, looted storefronts and spray-painted messages after protests escalated and riots broke out Saturday night.
Protests and rioting spread nationwide and signaled the tipping point for the growing racial unrest in the U.S. following the killing of Minneapolis resident George Floyd.
Floyd's death went viral after a video was released May 26, showing Minneapolis police officer Derek Chauvin kneeling on his neck while he was handcuffed and in police custody.
The Columbia properties at 623, 916 and 1104 S. Wabash Ave.—as well as 33 E. Ida B. Wells Drive and the Student Center—were hit during the riots.
Three buildings—33 E. Ida B. Wells Drive, 916 S. Wabash Ave. and 1104 S. Wabash Ave.—had windows broken and were vandalized with graffiti. Another building at 623 S. Wabash Ave. also had windows broken.
The Student Center, 754 S. Wabash, was vandalized with graffiti, but it was later removed.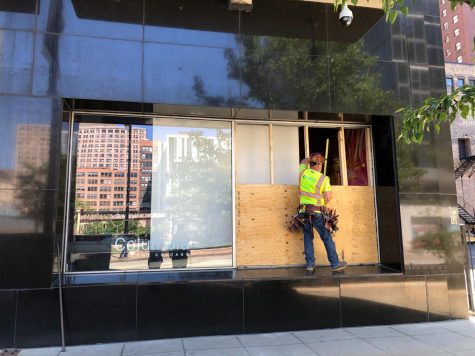 A Columbia spokesperson was not immediately available to answer questions about damages sustained to Columbia's properties.
Protester Indaca Brown said if she did not march Saturday, May 30 honoring Floyd, her silence would indicate an acceptance of generations of oppression.
Brown, an Albany Park resident and flight attendant, was one of hundreds of protesters who gathered in Chicago Federal Plaza, 219 S. Dearborn St. at 2 p.m. Saturday, to march to Trump International Hotel & Tower, 401 N.Wabash Ave. in memory of George Floyd.
Cars blocked side streets as people stuck their heads out of the windows, honking and clapping for the marchers.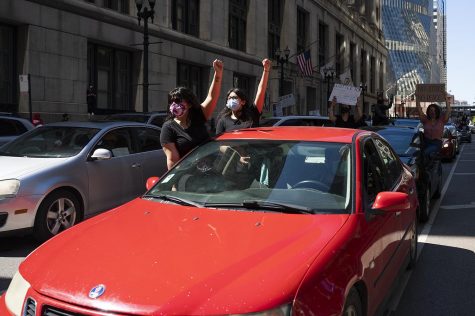 "Silence is the problem," Brown said. "If you shake a freaking soda can enough, it will pop eventually and that's what's happening. Right now, the voices are being heard."
Signs etched with words calling for justice bounced up and down as protesters chanted, "No justice, no peace" and "The whole damn system is guilty as hell, indict, convict, send those killer cops to jail," as they marched over the Chicago River.
Later, as the protest continued into the night, thousands of people occupied the streets of the South Loop as the DuSable Bridge, Wells Street Bridge and the Chicago and Northwestern Railway Bridge were raised to prevent people from crossing over.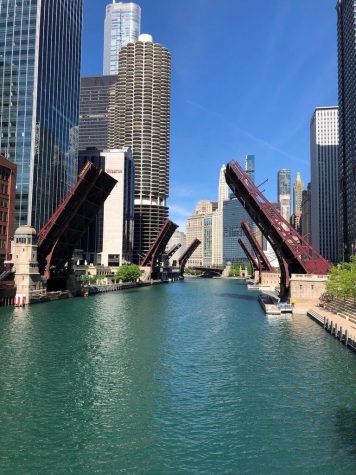 Brown said she was taking proper precautions while protesting during the coronavirus pandemic by carrying hand sanitizer, physically distancing herself from others and wearing a face mask.
Marshawn Frencha, a South Side resident, was giving away free bags of supplies to protesters including water and snacks. He said as part of the black community, he no longer wants to justify why he has black pride after facing years of "oppression, racism [and] discrimination."
Frencha said to be an ally, people need to be open to conversations about race and talk about the power they have to create change.
"Don't stay away from it because it has to happen," he said. "We all have to come together in some way—black people need to talk, white people need to talk—we have to talk about it."
Marches continued from East Wacker Drive to North Michigan Avenue where chaos erupted causing damage to stores along the Magnificent Mile, State Street and in the South Loop area.
Businesses on South Wabash such as Central Camera, Floyd's Barbershop, Dunkin' Donuts, Peet's Coffee and Tea and Harold's Chicken were badly damaged, many boarding up their windows in the aftermath of the riots and lootings.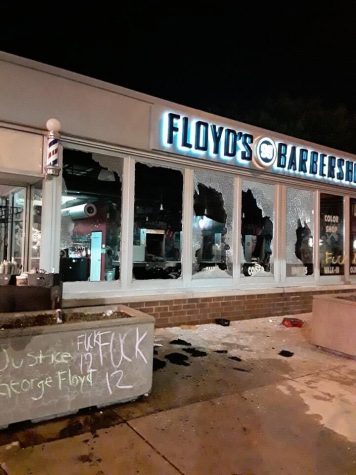 Mayor Lori Lightfoot announced during a Saturday night press conference that there will be a citywide curfew 9 p.m. to 6 a.m. until further notice.
Gov. J.B. Pritzker's office said in a statement he has sent 375 Illinois National Guard members to Chicago per Lightfoot's request, to assist the Chicago Police Department and prevent further riots and vandalism downtown.
Some roads and highways to the downtown area have been closed and CTA service in the Loop was suspended. Metra trains entering and leaving downtown Chicago were canceled for Sunday. The CTA announced early Sunday evening that all service throughout the city was being suspended at 6:30 p.m., with service "expected to resume tomorrow morning."
Dustin Halton, a sales representative from the West Town neighborhood, carried a sign that read, "No justice unless crooked cops are convicted" and on the other side, "George Floyd deserved better. He was a human being."
"It's not enough to arrest them. It's not enough to just put them on trial there needs to be a conviction…they need to have justice brought upon them," Halton said.
More updates to come.