Columbia alums perform in Kanye West Soldier Field event and reflect on how they got there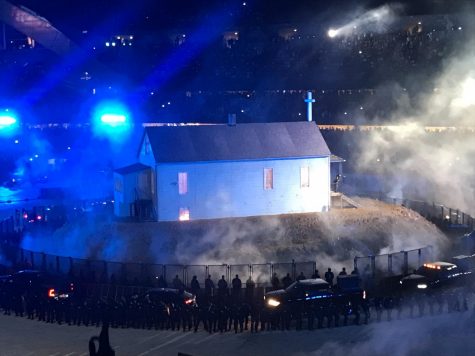 From stepping onto campus for the first time ready to pursue a degree in music to almost not graduating due to financial setbacks, gaining the opportunity to dance on stage with Kanye West was just the icing on the cake for Deshawn Carthen.
Carthen and fellow Columbia alum Daniel "NDPNDNT" Weisberg, recently discussed their roles in West's "DONDA" listening party held Aug. 26 at Soldier Field.  The album is a tribute to the performer's mother, Donda West, a Chicago State University professor who died in 2007.
For NDPNDNT, Weisberg's stage name, Columbia kept him in Chicago longer, as opposed to going to colleges somewhere out-of-state, which helped him meet his mentors that inspired his career.
NDPNDNT graduated Columbia in 2018 with a bachelor's degree in music business management. Since then he has been working on his own music as a hip-hop rapper and is currently working on an album. NDPNDNT wears many hats in his career; he's a songwriter, an actor, a model and professional dancer. NDPNDNT has also made TV appearances, conducted radio interviews and performed at music festivals.
He dropped his new single "All The Time" on Aug. 29, which is a tribute to his grandfather who had recently died.
Carthen, who graduated alongside NDPNDNT in 2018, also obtained a degree in music business management and has been able to expand his resume by working as a stagehand for some of the biggest music festivals such as Summer Smash and Lollapolooza.
"What's crazy for me—I'm not the person that's typically on the stage, so the whole thing was surreal to me," Carthen said.
NDPNDNT's years at Columbia helped prepare him for moments like this.
"Columbia's real, real good at teaching you to network," NDPNDNT said. "It's not just the school [where you] go to class and go home. There's people everywhere, doing all types of things that surround your field. [Columbia's] a great place to be able to just meet people that are on the rise, that are almost as passionate as you, and [Columbia] has created that [environment] for me—being able to network better and meet people that are hungry."
Hoping to one day lead his own management company—named Aveil—specifically focused on event management, Carthen's goal is to create a thriving music industry here in Chicago, where his business can help artists find managers.
"I was just thinking about how one of my [professors] at Columbia and one of my stage managers at the House of Blues said how artists are so mistreated nowaday,"  Carthen said. "I want to be the exact opposite of that, so I started looking up words … similar to 'help' and 'avail' came up. I just changed the spelling of it."
Being in the music industry has its perks, and like Carthen, not everyone who was a part of the listening event dance crew was a dancer. Based on the casting agency Carthen works with, 4 Star Casting, a lot of the "DONDA" performers were stand-ins and extras from previous projects.
"Half the people there weren't dancers either,  it was really just a bunch of people in the same industry as I'm in," Carthen said.
NDPNDNT spoke on having long days of rehearsals, how difficult it was to see out of the masks dancers wore and the massive heat on stage. Unable to keep their iconic "DONDA" vests, performers were left with only pictures and memories.
Approximately 700 dancers performed for West. Everyone from graphic designers and rappers were cast, some being Chicago natives and others from out of state, like Char Smith, a hairstylist and a vegan chef from Toledo, Ohio.
With a background in dancing for the glee club and experience performing ballet in high school, this was just the next step in her career.
"It really helped me with my resume a lot," Smith said. "When you have artists like [Kanye] behind your name, a lot of doors open for you."
The opportunity to perform with West opened new doors for the dancers. NDPNDNT gave an interview on Chicago's local radio station, WGCI-FM. Carthen had the chance to network with other talents such as graphic designers and rappers, with plans to work together in the future.
"From doing the glee club to jumping straight to being a dancer for Kanye was a big accomplishment," Smith said. "A lot of people can't say they were background dancers for Kanye; that's something big."
Carthen, as well as other dancers, enjoyed his surreal experience and trying to figure out what was behind West's persona.
"Nobody is really going to know his process and what he is thinking unless he actually comes out and says it," Carthen said. "If you were on that field or just inside that stadium, you felt so much emotion."